Migrate Notes from Evernote to OneNote with Evernote2Onenote
Evernote and OneNote have always been in competition to store your digital stuff in the Cloud. OneNote lost quite a few users to Evernote because Microsoft never really pushed OneNote beyond its own ill defined borders. But Evernote pushed hard into the world of mobile computing and quickly became a favorite because it worked on any platform and users could access their notes anywhere. In fact Evernote even created a migration tool that would let you transfer over your OneNote data if you were so inclined.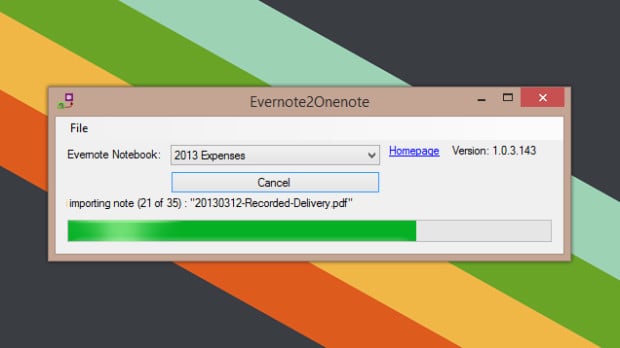 Now that Microsoft is making its new mobile push and actually hyping OneNote a bit there is resurgence of interest. OneNote is free to download and use and that certainly helps attract users. Both Evernote and OneNote can now be used on any platform mobile or desktop and with browser extensions and clipping tools, users can grab and save info from any number of sources. While the Windows version of OneNote is still the more powerful version of the software, the mobile and Mac versions aren't too shabby when it comes to saving notes and data.
If you've been an Evernote users and thinking of migrating your data from Evernote to OneNote there is a tool to do just that. It's not courtesy of Microsoft, but it comes via developer Stephan Küng. It's Windows only and you'll need OneNote 2013 and the latest version of Evernote to make it all work.
Read: OneNote for the Mac: Review
The migration tool can be found at this link and is called Evernote2Onenote. At the moment the latest version is 1.0.3. Lifehacker, where we found this tip, notes that there is also another utility to do this migration between the two apps called Ever2One that is no longer recommended. So we won't link directly to it, but be careful if you're searching for this kind of tool.
Essentially the process imports each of your Evernote notebooks into a separate notebook in OneNote. Stacks aren't supported so you'll most likely be doing some rearranging of your notes once the migration is completed.
I will use both Evernote and OneNote going forward to see how things compare between the two. Quite frankly, I'm not interested in importing my data from one to another. I never exported my OneNote data over to Evernote when I started using that tool more extensively and don't see the personal need for to do either way now. But maybe you do. We're all different when it comes to our needs. I haven't tried this tool, so do so at your own risk and let us know if it works for you.

As an Amazon Associate I earn from qualifying purchases.