Minecraft Story Mode Season 2 Release: What to Know
The Minecraft Story Mode Season 2 release date is finally here. For those who don't know, this is a completely different approach to Minecraft. Rather than building in the endless Minecraft world, Story Mode is a point and click adventure game. Here we'll go over everything you need to know about the gameplay, price, and how to play Story Mode Season 2 today.
Building on the success of the first Story Mode, the developers have been busy working on a new series with five episodes. It's now here, with episode one kicking off in July. Four more will arrive soon, but for an extra charge.
Read: How to Play Minecraft from a Flash Drive
Developed by the popular game developers TellTale Games and Mojang, the second season of Story Mode is loaded with tough choices as the story and episodes develop. If you're interested in playing Minecraft and the character Jesse, here's what you need to know as you start this narrative adventure.
What is Minecraft Story Mode?
Minecraft Story mode is completely different from the regular game we all know and love. Instead of being an open map to explore and build things, it's a narrated story full of decisions. You pick and choose, to a degree, how the story goes and what happens to the main character Jesse.
Hero In Residence is the name of the first episode, and the video above gives you a good idea of what to expect. Showing all the characters and the return of Jesse. You'll be tasked with saving the realm while finding Llamas along the way, facing scary gauntlets, and fighting off enemies in bitter rivalries. Players will make decisions during the episode that will change the direction of the game, all while running into mystical creatures at temples in the Minecraft realm. It's a point and click adventure game, rather than building with blocks.
Mojang states that some of the decisions and choices in the first season will carry over to season 2, at least to a degree. Meaning those who played the original will feel right at home and see how those choices impact the game. Additionally, this season features a voice cast that includes Patton Oswalt, Catherine Taber, Ashley Johnson and Scott Porter. Not to mention a few YouTubers visiting the game like Stampy Cat and StacyPlays.
Keep in mind that this is just episode one of five coming in the near future.
Minecraft Story Mode Season 2 Release Date
The second season of Minecraft Story mode is available starting July 11th. This is a digital download only, although we expect a digital copy sometime this fall.
In 2015 the first Story Mode arrived, and more seasons got released over the course of six months. From October 2015 to March of 2016. Then, three more episodes arrived up until September. We're expecting something similar for Season 2, with additional episodes coming through the end of the year and beyond.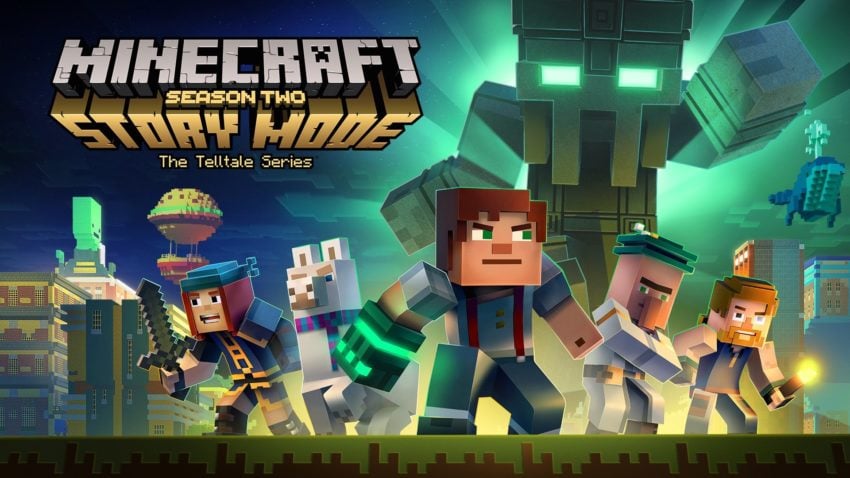 How Much Does Minecraft Story Mode Season 2 Cost?
Those interested in playing the new Story Mode should know that each episode costs more money. The first release, available now, is $5 for Windows 10 and mobile devices, or you can spend $25 for the full season on Xbox One for $25. Meaning you'll get each season as they're released.
Expect to pay around $5 for each extra episode as they're released. You can buy them via an in-app purchase inside the game on mobile devices. Otherwise, get the full season for Xbox.
Keep in mind that there's no Xbox Play support, so if you want to play it on Windows 10 too you'll have to buy the game twice.
How Can You Play Minecraft Story Mode Season 2?
The game creators and developers at TellTale Games support a wide array of different devices. If you don't have an Xbox Story Mode Season 2 is also available on PlayStation 4.
Season 2 is available for Xbox One, PlayStation 4, PC, Mac, iOS, and Android-based devices. Although some Android smartphones and tablets may not have support. Check the Google Play Store listing to see if your device will work.
When Will The Next Episodes Arrive?
Story Mode Season 2 episode 1 came out on July 11th, but we don't know when to expect the others episodes. In earlier years they came as fast as a few weeks, or up to two months. Meaning the game could stretch into 2018, especially if they release additional episodes later.
Other TellTale games don't have a specific release window, so we're not expecting anything different with Minecraft. For now get the first episode, which only takes a few hours to beat, and we'll update once we know more for the rest of the game.

As an Amazon Associate I earn from qualifying purchases.