Minisuit BluBoard Universal Bluetooth QWERTY Keyboard Review
Tablet owners increasingly use their Android tablets or iPads for writing, and the Minisuit BluBoard Bluetooth QWERTY Keyboard offers a nice solution at a good price. Users will enjoy a large regular sized keyboard that feels good while typing as they work with their tablet.
Unlike other keyboards, the Minisuit BluBoard Bluetooth QWERTY Keyboard ($39.95) doesn't work like a typical tablet keyboard that comes in a thick case used to house both the tablet and the keyboard. Instead, we get a case just for the keyboard that looks and feels a lot like the black leather Apple Smart Cover. Open it and fold the cover underneath and use the keyboard on raised typing platform thanks to the keyboard and case. The tablet slides into a slot behind the keys fitting at a decent angle for typing with most tablets. Some tablets wobble a little if a typists bangs on the keys.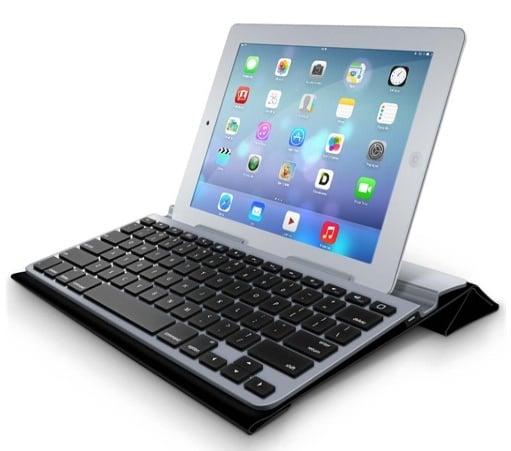 Typing on the keyboard itself feels good. We can tell it's not the most expensive keyboard, but for $40 it's an excellent budget option for people who use their tablet during long typing sessions. Nothing's out of place or spaced too close together. The Enter/Return key gave us fits at first because one must press on the left side of the key to make it work, but we adjusted and got used it quickly. This is evidence of the budget status of the keyboard.
A row of function keys across the top of the keyboard work with both Android and iOS.  Unfortunately, Android users can only use a few of the keys, including the brightness adjustment keys, the onscreen keyboard toggle, the settings key, the lock/unlock key and the home button key. They either don't work or offer limited functionality. The media player buttons and volume keys work fine on Android. All of them work as expect on iOS.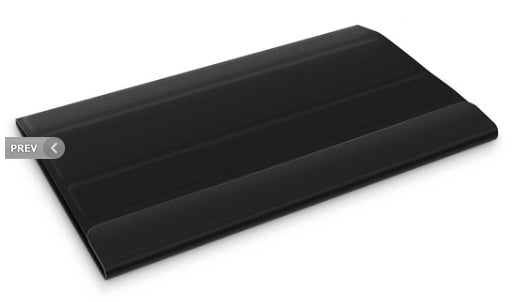 They keyboard paired with all the tablets we tested quickly and easily. The battery lasts a long time on a single charge. It feels light and looks nice too, despite being plastic. The Nexus 10 wobbled a bit and leaned back a little far for our tastes. The tablet didn't feel stable at first, which concerned us. We intentionally tried to get it to fall and it never did. Other tablets felt more stable.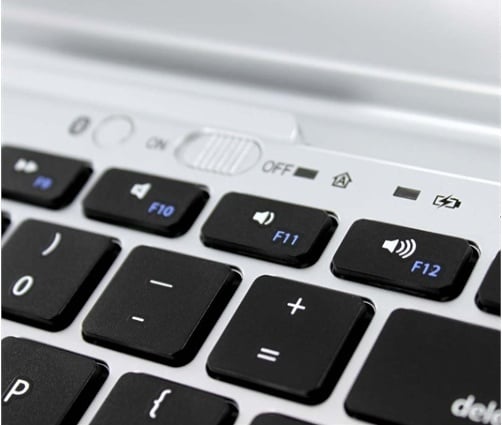 The Minisuit BluBoard Universal Bluetooth QWERTY Keyboard isn't the best keyboard we've used with a tablet. Few come at this price, so budget minded buyers should give it a look. Those who expect more and want a high-end keyboard will need to spend at least $10-50 more. We don't think it makes sense to spend nearly $80-$100 for a Bluetooth keyboard that only gets occasional use. Serious typists who don't want a keyboard case should look at the Logitech EasySwitch Bluetooth Keyboard. It costs more than twice as much, but feels like typing on a great MacBook keyboard. Budget conscious buyers who plan to use their keyboard occasionally will like the Minisuit BluBoard.

As an Amazon Associate I earn from qualifying purchases.