MLB At Bat Chromecast Support Arrives: What You Need to Know
MLB At Bat Chromecast support is finally here, with the mobile app finally being able to stream live games to Google's streaming stick, allowing baseball fans to beam games to their televisions from their iOS or Android device. This means that you can watch your favorite team take the field on the big screen rather than be stuck watching it on your phone or tablet.
Of course, if you have a streaming set-top box like the Apple TV or Roku, or a gaming console like the Xbox One or PS4, you can load up MLB.TV and stream live games on your TV that way, but for those with just a mobile device and a Chromecast, this is the next best option.
However, there is a caveat for using the Chromecast with MLB At Bat, and that's the requirement that users need an MLB.TV Premium subscription in order to take advantage of Chromecast support. A Premium subscription costs $130 for the entire 2014 MLB season (or $25 per month). There's a cheaper option that costs $110 for the season (or $20 per month) with less features, but the MLB and Google require that you pay up in order to use its hardware and streaming capabilities.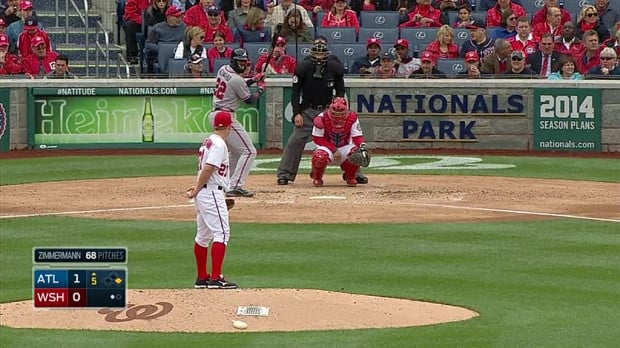 The added support comes at a perfect time with the start of the MLB regular season, although we would've preferred it back in March during Spring Training, but beggars definitely can't be choosers. If you're curious about MLB At Bat or the Chromecast streaming device itself and want to learn more, be sure to read on.
What Is MLB At Bat?
MLB At Bat is a mobile app that allows you to watch live baseball games right on your phone (or use Apple's AirPlay or the Chromecast to beam it your television). The app itself is a free download, and a one-time $20 charge will get you access to all sorts of stats, highlights, replays and more.
However, in order to get the ability to stream any live game you want, you first have to shell out for an MLB.TV subscription. We suggest getting the MLB.TV Premium package anyway, as that will get you full access to the MLB At Bat mobile app for free, as well as give you the option between home and away broadcast feeds. Plus, it's only $20 more for the entire season, and you'll be paying at least $110 anyway, so it's a bargain upgrade.
What Is Chromecast?
The Chromecast is Google's version of the Apple TV and Roku streaming devices, although it takes a bit of a different approach. It's an HDMI dongle that plugs into the back of your TV, but instead of the device having its own user interface where you can navigate through menus and select different streaming apps, your mobile device is actually the user interface, and the Chromecast merely just grabs whatever content you want to watch and streams it to your TV.
Better yet, the Chromecast doesn't receive the signal from your phone for the entire time that content is playing. Rather, it receives the TV show or movie you want to watch and it takes over from there, freeing up your mobile device for other tasks.
It's a pretty unique piece of hardware, and it's only $35, compared to $99 with the Apple TV, Amazon's Fire TV and Roku.
Read: Google ChromeCast Review: $35 Apple TV Alternative
Furthermore, Google just recently opened up development with the Chromecast, which means that we'll be seeing more and more third-party app developers add Chromecast support to their apps, which will only make the streaming stick better as time goes on.
What About Blackout Restrictions?
One big complaint with MLB At Bat (as well as other live sports apps), is that it has blackout restrictions, meaning that if you live near the team you're wanting to watch, you won't be able to. This is to get more people to the stadium to watch the game, rather than just stay at home and watch it on the TV. It's a clever move on the stadium's part, but kind of annoying for us fans.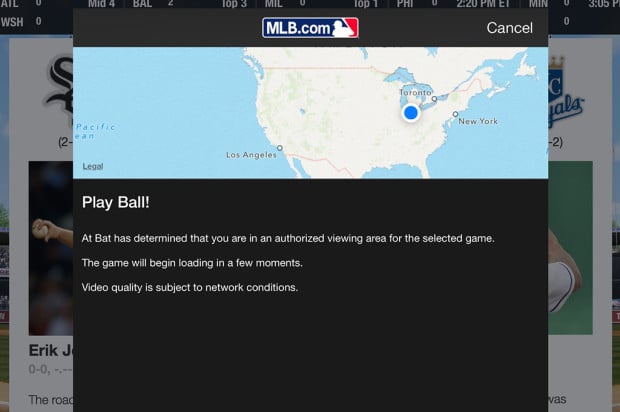 There's an easy way around blackout restrictions if you watch the games on your iOS or Android device, but we're curious as to how this bypass trick will work with the Chromecast. Since the mobile device itself doesn't handle the streaming of live games when used with the Chromecast, we're not sure if using a VPN on your phone or tablet will matter, thus rendering the bypass unusable.
We'll be trying this out ourselves to see how the Chromecast handles the VPN bypass as soon as we get the update for MLB At Bat on your mobile devices, but our guess is that the bypass won't work when using the Chromecast. However, we hope we're wrong.