How to Watch MLB Online: MLB TV on Every Device
If you're a baseball fan, you've probably heard of MLB's streaming service, known as MLB.TV. We'll show you how to watch MLB online, no matter where you are.
It might surprise you to learn that one of the most advanced and stable video streaming services on the Internet is actually the technology that powers baseball's video on demand service. A few years ago, Major League Baseball saw where the future was heading and had its Advanced Media arm construct what we now know as MLB.TV.
The effort was so successful, in fact, that companies like HBO are actually using the MLB platform to power their own video streaming services.
Is MLB TV worth it?
This is obviously going to be a subjective answer, but if you're a baseball fan, it's a pretty safe yes. MLB has really polished this service, to the point where it delivers a superior experience to just watching it on the regular television feed.
With an active subscription, you can watch whatever games you like (barring games that you get locked out of for being too close to the stadium), stream them on multiple devices concurrently, pause and replay live broadcasts, and re-watch archived games – it's a pretty slick package (for an extra $25, you can get access to all the minor league baseball teams and games as well).
On supported devices, this year the service includes 1080p video running at 60 frames per second – which is awesome for watching live sports; it makes tracking players and balls easier than at 30 frames per second.
If you're watching through a web browser (that is to say, on a PC not using the Windows 8 MLB app, or on a Mac), you also get access to what the service calls Mosaic View. This splits your video into either two or four segments – it's really neat to watch a game from four different angles at the exact same time.
Additionally, when you stream the game, you're not limited to just one feed – MLB.TV gives you the option of watching either the home feed or the away feed, and they'll even let watch one video feed and play a different audio feed (like, say, from a local radio station) on top of the video.
How much does MLB TV cost?
When it comes to actually streaming baseball over the Internet, you have a number of options to choose from. Casual baseball fans might be happy with the MLB's Game of the Day – if you're watching from a computer web browser or MLB.TV app, you can watch these games for free (watching them using the mobile At Bat apps may require an At Bat subscription).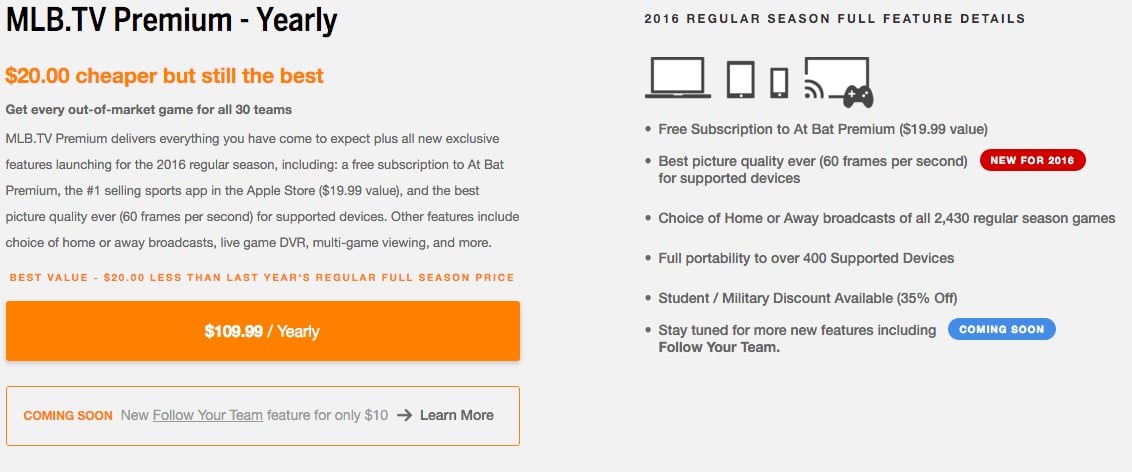 Accessing archived footage, or watching more than the free Game of the Day requires an active MLB.TV subscription. Last year, this cost around $130, but thanks to a class action lawsuit about antitrust laws, the price has been lowered to $110 for 2016 (if you're a student or active military, you can snag a 35% discount). You can also choose to pay $25 for a single month, but unless you know that you're only interested in a month of service, it doesn't seem like a great value.
If that doesn't appeal, there are a few other options: you can subscribe to the MLB At Bat mobile apps for iPhone, iPad, and Android for $20 a year or $3 a month. You won't get unlimited live games, but you'll be able to watch the free Game of the Day on your mobile device, you'll get access to the audio streams (both home and away), computer recreations of the pitching and batting, and all the stats and scores you could ever want – see a full list of At Bat features here.
How to watch MLB TV online:
First, you'll need to sign up for an MLB account over at MLB.com.  You can sign up for either the monthly or the yearly plan, but as mentioned, the yearly plan is the best deal for most people who want to watch baseball throughout the season.
Some subscribers might sign up for the streaming content through their pre-existing television provider. If that's you, you need to go here to activate your subscription and link it with an MLB.com account. After that, you'll be able to follow the rest of the suggestions.
Once you have an active account, all you need to do is sign in on the correct device. Chances are extremely good that you already have a device, besides your computers, that can watch MLB games. The digital team has been proactive in supporting just about every kind of device you can think of.
If you've got a PS3, PS4, Xbox 1 or Xbox 360 hooked up to your TV, all of those consoles have an MLB app that you can download. It'll be called MLB.TV. Other devices with an MLB.TV app include smart TV boxes like the Roku, Fire TV or Apple TV (2, 3, and 4), some smart Blu-ray players, and DVRs such as TiVo.
If you wanted to watch it on your iPhone, iPad, or Android device, you'll instead want to search your respective app store for MLB At Bat (we mentioned the subscription model for the At Bat apps earlier, but don't worry – if you subscribe to MLB.TV, you get the At Bat premium features at no extra cost). Any iPhone 4 or newer, iPod Touch (5th gen) or newer, or any iPad 2 or newer can run the apps. Most recent Android devices can run it as well, but MLB explicitly notes that video playback on Android isn't guaranteed.
Something I discovered after recently installing the At Bat app on my iPhone – when you're watching a video stream on your phone or computer, it might be a few seconds behind (the audio will always be synced, don't worry). If you let the At Bat app deliver notifications, you'll get alerts for a Grand Slam right as the batter steps up to the plate. It can take some of the drama out of the game.
In terms of how much bandwidth you'll need to enjoy a game, good news – the minimum requirements aren't that high. If you're listening to MLB.com Gameday Audio, you'll need at least 512 kbps; if you're streaming MLB.TV in SD, you'll need 1800 kbps, and if you want stream in HD, you'll need 3000 kbps.

As an Amazon Associate I earn from qualifying purchases.