Mobile Playwriting and Rehearsing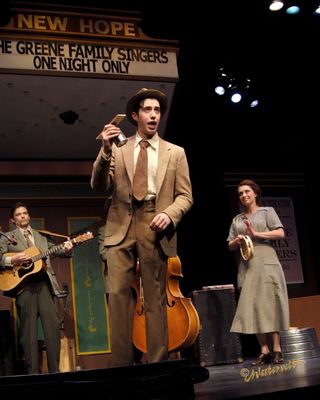 We're in playwriting mode, or rather play creation mode here again at Wayside Theatre. While we do plays all year long, it is only once, maybe twice, a year that we create one essentially from scratch. The one we're working on now will be just such a world premiere. It's called Southern Crossroads: The New Orleans Adventure. It's a musical of sorts, but an unusual musical in terms of its form. The New Orleans Adventure is actually a prequel to a piece we created in 2009 called simply Southern Crossroads. Set in the Great Depression, both plays feature The Greene Family Singers, a fictional family of singers who specialize in old time, bluegrass, and gospel music in addition to specializing in getting into and out of tough scrapes. The music is performed by the family on a variety of instruments as they are performing their act, which keeps getting interrupted and intertwined with the story.
The New Orleans Adventure, as I said is a prequel, and that's because we created a story point in the original about the family's history that the audience really wanted to hear more about. One of the family spent some time in The Big Easy and while there killed a woman but was eventually acquitted of the charges. It also allows us to explore the wild mix of musical styles coming out of New Orleans and the collision of that music with what the family traditionally plays.
But enough about the play, this is a gadget blog. This last week we've been simultaneously learning the music and creating the script so that we can begin staging beginning this tonight. It is a very creative and collaborative atmosphere as we have an amazing collection of actor/musicians who can sit together in a room with our music director and arranger, Steve Przybylski, and take one of the tunes he's selected for the show and riff off of each other and create an arrangement that is not only really magical, but the result of a real collaborative effort.
This is the point in rehearsal where actors traditionally are making recordings of their notes in the songs so that they can then work on their own. In the rehearsal this past week, we've seen a collection of devices being used for this from iPads and iPhones to Android phones to iPods to computers all around the room. Script pages and new lyric sets get distributed via DropBox and email, and yes there's still a few trees being killed for some hard copies. Research into the time period and New Orleans, as well as some Cajun slang, gets distributed via Evernote. Artwork for the scenic design and program materials is following similar digital paths of dissemination.
The trick in all of this, regardless of the devices and technology, is getting folks to check for new changes as they come fast and furiously at times.
Tonight as we take the stage for the first time, I'll be using my iPad to block the action from the script and also refer back to the research when the inevitable actor question comes up. I'll be making notes as a writer and a director along the way and then after rehearsal I'll incorporate those into the script using a laptop. At this stage we'll add as much as we cut and it's crucially important that everyone be on the same page when t comes to changes. We tackle new material each night for the next few days and won't come back to what we've already staged until closer to the weekend. So, everybody having good notes is a must.
We've got two weeks to go before we open on January 30 (with previews on January 29) and I'm sure I'll update the progress here along the way and on my personal blog. If you're in the area and would like to see the show I'll set up a deal for GBM readers. I happen to know the guy who can make that happen. ;)
Laissez Le Bon Temp Roulez!

As an Amazon Associate I earn from qualifying purchases.