mophie powerstation USB-C XXL Review
The mophie powerstation USB-C XXL is a new battery pack designed to charge MacBooks on the go. At $149, it is expensive, but Apple fans used to paying a premium will likely snap them up.
A mophie representative dropped off a powerstation USB-C XXL for me to try a couple of weeks ago and I've been very pleased with it so far and can fully recommend it to MacBook and MacBook Pro users.  I've used it with my MacBook, MacBook Pro, iPad Pro, iPhone 7 Plus, and Sony RX100 V camera as I travel through the last weeks of summer.
It looks similar to batteries designed to charge phones and tablets, but it's much more versatile and is truly an all-in-one solution for MacBook users.
The mophie powerstation USB-C XXL is available exclusively at Apple stores, Apple.com and mophie.com. As you can see in the above photo, the battery pack's cloth exterior blends in nicely with Apple's MacBooks. At first I thought it was odd that mophie wrapped the battery in the soft material, but it's actually useful since it grips smooth surfaces to keep it from sliding off desks.
Read: Best MacBook Accessories
The battery can output up to 30W to a MacBook,  which means it charges just as quickly as when it's plugged into the wall.  It can also charge a MacBook Pros, though it will do so at a slower rate than wall chargers. It doesn't have enough juice to fully recharge a MacBook Pro, but it's still a lot better than carrying around a dead computer. On a recent flight from San Francisco to Seattle, I opened my 15″ MacBook Pro to find that it only had a 12% charge. My MacBook Pro's AC adapter was in my checked luggage, but I was able to get along just fine for the two-hour flight thanks to the mophie battery.
There are four LEDs that indicate how much energy the powerstation USB-C XXL has left. There's also a small button that activates charging. Pressing and holding the button reverses the flow of current in case you need to charge the battery from a computer rather than a power adapter.
The battery has about the same footprint as the iPhone 7 Plus, but it is a little more than twice as thick. It's a little too big to put in my pant's pocket, which means I've kept it in my backpack and sweatshirt pocket.
The mophie powerstation USB-C XXL has about 125% of the capacity of the new MacBook's battery. That means I can charge my MacBook once and have enough power leftover to charge my iPhone 7 Plus a couple of times. In other words, it's way more battery than most people will need on most days.
One thing I really like about the mophie powerstation USB-C XXL is that it doesn't require a second charger when I'm traveling. I simply plug the MacBook's adapter into the battery, then connect the battery to my MacBook via an included USB-A to USB-C adapter. The battery is smart enough to pass energy through to the MacBook first before charging the battery cells. When I wake up in the morning, my MacBook is fully charged and I never have to worry about running out of juice.  Apple states that the MacBook can run for up to 10 hours on a single charge, but I generally need to recharge after anywhere from five to eight hours, depending on my workflow.  Carrying the mophie powerstation USB-C XXL's gotten rid of my battery anxiety when using my MacBook for productivity and helps me stretch my MacBook Pro's battery enough that I don't have to think twice about using power-hungry applications on the go.
As with a lot of products sold at Apple stores, the mophie powerstation USB-C XXL is a premium product and the price point reflects that. It is clearly designed and marketed to Apple users that don't outfit MacBooks with hundreds of dollars worth of dongles, cases and other accessories.  Visit Apple.com or mophie.com to order the mophie powerstation USB-C XXL.
Looking for more MacBook and MacBook Pro accessories? Check out our list of some of the best below:
The Best MacBook Pro Accessories in 2020
USB C to Lightning Cable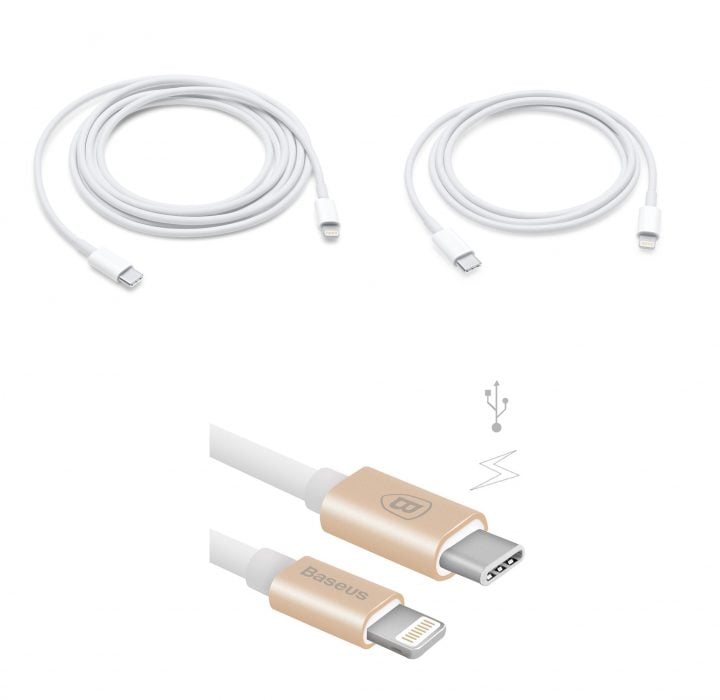 When it comes to connecting your iPhone to your MacBook Pro, the best option is to buy a USB C to Lightning cable instead of using an adapter that is more likely to get lost or left at home. Sure, an adapter would double as a USB adapter for other devices, but we're looking to remove adapters as possible.
I own two of these cables and I love them. Not only can I connect my iPhone directly to the Mac, but if I plug this cable into my MacBook Pro charger I can fast charge my iPhone X. This also works for the iPhone 8 and 8 Plus. When fast charging the iPhone charges up to 50% in 30 minutes.
Apple sells two official USB C to Lightning cables.

You can use this to charge your iPhone or iPad, sync to iTunes and even to use with Duet to use your iPad as a second display for your MacBook Pro.

As an Amazon Associate I earn from qualifying purchases.