More Details on Nokia Lumia 928 Leaked
A new leak from ETrade Supply shows what could be the front panel of the upcoming Nokia Lumia 928, the Lumia 920 variant that's likely coming to Verizon in the near future.
The leaked front panel looks very similar to the Lumia 920, which makes sense as a recent render of the Lumia 928 showed a phone that looked similar to the Lumia 920. One notable cosmetic difference is the addition of the Verizon logo in the top right corner above the screen on the leaked part.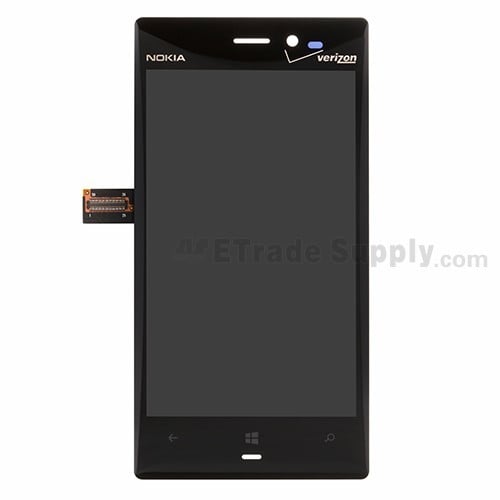 ETrade Supply claims that Nokia will use a Samsung Super AMOLED screen in the Lumia 928 instead of the IPS LCD dispaly with a high refresh rate that it used in the Lumia 920. The Samsung display is lighter and thinner than the 920's "PureMotion HD+" display. The change may help Nokia keep the Lumia 928 thinner than the relatively thick and heavy Lumia 920.
The leaked front panel for the Lumia 928 is also about 50mm taller than the front of the Lumia 920. The difference is likely due to the new, thinner display and the new placements of the speaker, camera and microphone.
The speaker and camera of the Lumia 928 are place slightly above the logos at the top of screen. Nokia also moved the microphone to just below the capacitive Windows Phone 8 buttons. The Lumia 920 put the speaker and camera just above the screen next to the Nokia logo and placed the microphone on the side of the phone.
Aside from the cosmetic differences and the possible inclusion of a Xenon flash, the Nokia lumia 928 will be about the same as the Lumia 920 before it. It has a similar 4.5-inch display and will likely have the same specs as well.
The rumored Nokia LUmia 928 will likely come to Verizon sometime in the near future, though an exact date isn't really known at the moment. Between the leaks of the phone and the accidentally shared test photos, it seems the phone is just about ready to come to stores.

As an Amazon Associate I earn from qualifying purchases.