Most Used iPad 2 Apps: What's On My iPad 2's Home Screen
My favorite iPad apps end up on my iPad 2's home screen and dock.  Interestingly, my home screen has only changed slightly now that I have the 3G iPad 2.
For more iPad 2 Apps, check out The Best iPad 2 Apps for May 2011
Of the apps below there are only a few that are iPad 2 specific. Three of them have to do with the camera – Quickshot and the Apple Camera app as well the camera feature built into Evernote. I added Navigon for directions because my new iPad is a 3G model. There are a couple of newcomers that are sitting there temporarily while I test them out for reviews.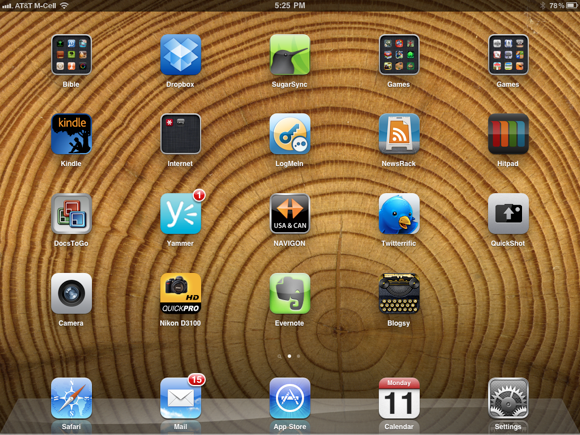 Here  is a screen shot showing the apps I most use.
Some people put all their apps in folders on the Home screen. I find that doing so slows me down, so I categorize my apps into folders but place them in the second screen unless it is a category that I use a lot, like some of the ones below.
Apple Installed Apps
Of the apps that Apple installed for me out of the box, I use most:
Safari – I haven't found another browser that I like enough to replace it. Embedded links always go to Safari anyway.
Mail – I triage my email on the iPad- meaning I delete the junk and quickly read the good stuff, but seldom respond unless I can do so quickly or have to do so quickly.
App Store – I'm always looking for cool new apps.
Calendar – I've tried a few including Pocket Informant HD ($14.99) and Calendars from Readdle ($6.99), but I keep coming home to the iOS Calendars. It's the worst calendar app around, except for all the others.
Settings – I'm always tweaking or trying to reconnect to Wi-fi networks so Settings stays in the dock.
Open – I keep a spot open for an app that might graduate from the home screen to the dock. I justed deleted Toodledo ($2.99). I thought I'd use it all the time, but I was wrong.
Camera – It's not on the dock but does have a spot on my home screen. I didn't think I'd use the iPad camera that much. I was wrong. I use it primarily as a scanner for papers handed to me in meetings.
Productivity Apps
Some of favorite productivity apps have also been reviewed at Notebooks.com as our iPad App of the Week – a weekly recommendation series of iPad apps. To get things done I mostly use the following:
Documents to Go Premium ($16.99) – I just recently stopped using Pages and Numbers and instead use this old friend which I used in my Windows Mobile days. It is a nice office suite for the iPad that integrates with cloud storage sites like DropBox, SugarSync and Google Docs. It reads documents and allows editing of all Microsoft Office formats. Other files it reads are PDFs, iWork and most image formats. At the end of this list is our video review of Documents to Go Premium.
Yammer – this is a virtual water cooler that we use at Gottabemobile.com and Notebooks.com to organize our work. To be honest, I would love to delete it since the app is not very good with a lot of little annoyances. Also, it is an iPhone app that I run in 2X mode. I don't recommend it and only mention it because it is there and I have to use it for work.
Evernote – this is one of those must-have apps. It organizes notes and syncs them between any machine you have. It is not perfect but is the best of its kind available. You can take audio notes and pictures as well. I often store shots of paper given to me in meetings. I use the built-in camera instead of taking a picture with the Camera app.
Bible Study Apps – I'm a pastor first and a tech blogger second so I use a number of Bible apps which I highlighted at Notebooks.com.
DropBox and SugarSync – I mention both of these because I have been using DropBox. I am currently working on a SugarSync review and will likely be switching over to the service for a number of reasons. These are both great file synchronization and backup services that are incorporated into many other apps for iOS and Android. I prefer SugarSync because it lets you sync any folder including those on external drives.
Blogsy ($2.99) – I haven't found a great iPad blogging app, but Blogsy is the best of breed. It is more stable than the other few options that are in the app store and has a few more features. I am just learning the ropes and haven't even posted with it yet.
LogMeIn Ignition ($29.99) – This is the most expensive of the remote PC control apps, but it is easily the best. A close second would be Jump Desktop ($19.99). With these you can log into your desktop or laptop system remotely and control it quite easily. You don't have to be on the same network. An Internet connection is needed and the remote system must be online too. LogMeIn just added the ability to transfer files to/from the computer and iPad.
Navigon Mobile Navigator USA/Canada Edition ($59.99) – Turn-by-turn directions are great on the huge screen. Navigon offers voice directions, traffic info, and 3D views of the terrain.
Entertainment Apps
Games
I have two folders of games on my Home Screen, but I categorize them as my favorite and then the rest. The rest are here only because I want all my games close to one another. Here is the list of games I play most often on my iPad.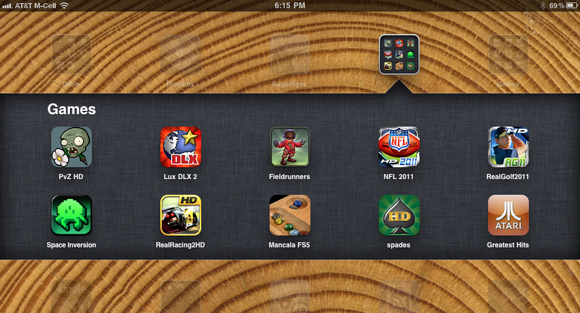 https://youtu.be/AW3nE1IJESg

As an Amazon Associate I earn from qualifying purchases.