Moto 360 2nd Gen: What I Learned on the First Day
Earlier this month Motorola officially announced the new Moto 360 2015 (2nd Gen) smartwatch and immediately put it up for pre-order the same day. I've been able to enjoy it for over 24 hours now, and it's one beautiful watch. Below is our Moto 360 2015 first impressions, and a few details for potential buyers.
Last year the original Moto 360 was released in September, and went on to be one of the most popular smartwatches in all of 2014. New for 2015 we have a somewhat redesigned but still round watch with two different size options, a model for women, more colors, tons of leather straps, and over 400 possible versions thanks to a slew of customization options.
Read: Moto 360 2015: Everything You Need to Know
Right out of the shipping box users will instantly see the all-new Moto 360. Put in clear packaging so it's neatly put on display for owners with a sticker showing one of the many new watch faces available. I went with all black but a textured silver face and bezel. So far my initial impressions are very favorable, but read on for a few things I learned on the first day.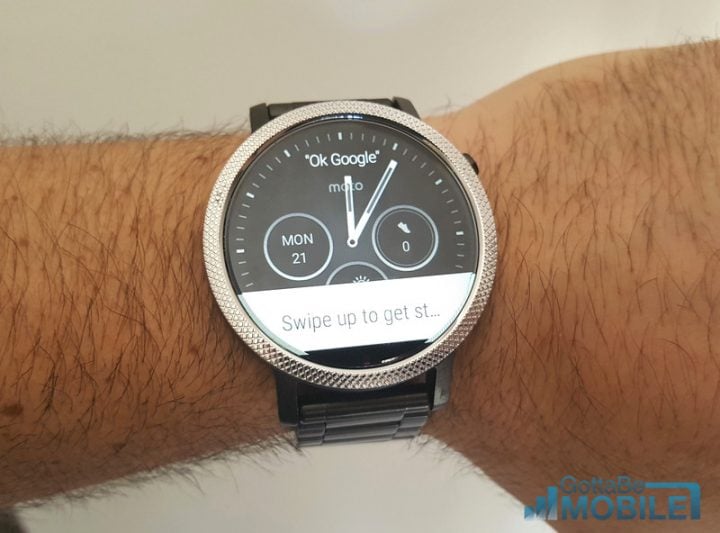 The new Moto 360 for 2015 comes in at $50 or $100 more than last year, starting at $299 for the base model, but again is highly customizable so buyers get exactly what they want. And while the gold model, stainless steel straps, and textured front do cost extra, it's highly worth it.
Some of the pricing likely went into the packaging, but the leather straps do feel much better than last year, as I grabbed an extra. However, our photos and my initial impressions are all about the pure stainless steel model pictured here today.
Moto 360 2015 Design
My first thoughts right out of the box were impressive, as it's extremely lightweight, but very well built. This year Motorola opted for a design that closely resembles an actual watch, with lugs for the straps, and even a new easy-removal unlock slider to snap different straps on and off with ease.
The metal design feels similar to last year, but that's a good thing as it was a very popular device. The lugs make it look better, and the textured front is very unique and different. We do wish the bezel was able to turn or rotate for navigation, similar to Samsung's new watch, but maybe next year. For now, it's all about looks. The small things like a Moto logo on the button, which is now easier to press and higher up, are a nice touch.
It's still round, and we still have the famous "flat-tire" look with a flat black spot on the bottom of the screen. This is actually an ambient light sensor so it adjusts brightness on the fly, which is extremely convenient. That said, it will cause the battery to drain faster than if users turn that feature off. Those using a black watch face will never notice it, which is primarily what I use for personal reasons, and battery life, but more on that below.
Overall the design has minimal changes compared to last year, but they're worthy changes. It looks more like a watch, feels very comfortable, they've slightly changed the bands, and everything is just a hair better than last year. I'm really liking the textured front bezel.
Display
This year Motorola decided to give buyers two different choices, a 42mm face, and a bigger 46mm (1.56-inch) face that's the same size as last year. The bigger model is what we have here, and it comes with an LCD display, and a 360×360 resolution.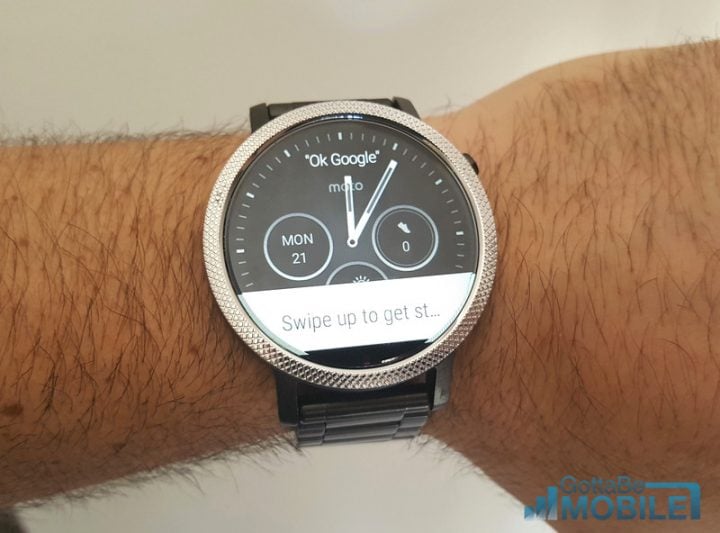 So far I'm noticing a decent improvement in terms of the display. It looks better, brighter, and colors are much better. Viewing angles are pretty good, but viewing the screen outdoors is still quite poor. Even at max brightness, it's hard to see unless I'm at the perfect angle. We were hoping there would be an improvement here, but not seeing much on that front.
For now we don't have too much to say on the screen here, but we'll have more details and additional comments in our full review.
Battery Life
There's only so much that can be done inside of the smaller display on a smartwatch, but Motorola claims to have made some decent improvements this time around. From a more efficient Qualcomm quad-core processor, a better display, and a bigger battery.
It's worth noting that the bigger 46mm model has a 400 mAh battery and promises two days of mixed use, while the 42mm model has a 300 mAh battery with 1.5 days of battery life. This is crucial for buyers. If you don't want to charge the Moto 360 before the end of the day, get the bigger model if you can live with the size.
The first day I used my Moto 360 a lot. More than what Motorola probably called "mixed usage" and it last from 9:00 AM until the next morning. I woke up with 38% battery life remaining. This was with ambient mode turned off, and brightness set at 3/5. Battery life will vary, but I used it a lot more than most. Whether or not users can make it two days, as advertised, depends on usage, but seems unlikely.
Connected to the Samsung Galaxy Note 5 I did a few Google searches, replied to multiple texts, played a game or two to show off to friends or family, then just wore it as usual for the rest of the day while swapping out watch faces a few times. I did use it more than expected, which could be why the battery didn't last a full two days.
The original Moto 360 never lasted an entire day for me, more like six hours at the max, so that's a huge selling point this year. Being able to go an entire day and just recharge overnight, is a welcomed addition. If the poor battery life from the original threw buyers off, the new 2015 Moto 360 is worth considering. Well, as long as you buy the bigger mode.
Stainless Steel Band
I opted for the black stainless steel band, which is a $50 charge over the base model. And to be honest, I wish I went with leather. This year the leather is thicker, more durable, feels smoother, and is just very high quality. On the flipside, it feels like the metal bands are worse. It's very lightweight, which is nice, but so lightweight to the point that it feels cheap.
Even a family member said the same thing. Not about the watch, but about the band. The steel band has a very hollow "tin" sound to it when you put it on or take it off. Yes it's lightweight and comfortable, but a little weight could give it a premium feel. Then again, I'm used to wearing one of the heaviest watches around, a Nixon 51-50.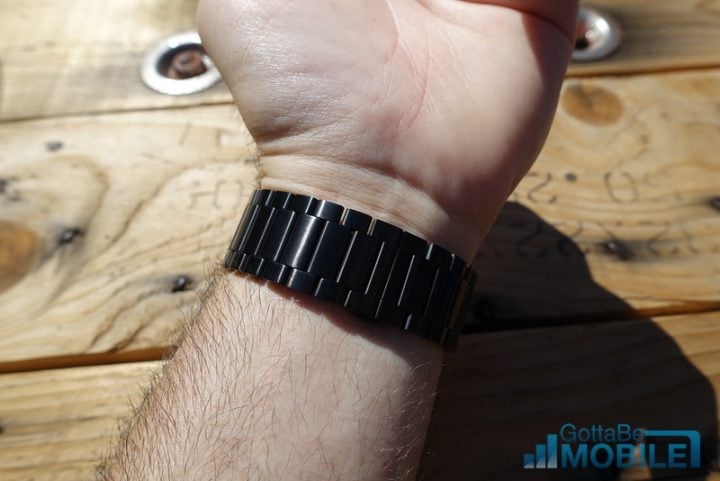 Personally, I'd recommend buyers get leather, then try a steel band in stores like Best Buy and see if it's worth the price premium. For now the stainless steel band feels like it will handle wear and tear during daily use, and I don't have any scratches yet, but the lightweight feel and sound doesn't give me a good feeling. It's hard to explain, but doesn't deliver the "premium" feeling you'd expect from a stainless steel strap, or a $400 watch. Then again, it isn't about the strap, it's about the screen and Android Wear, which all work beautifully.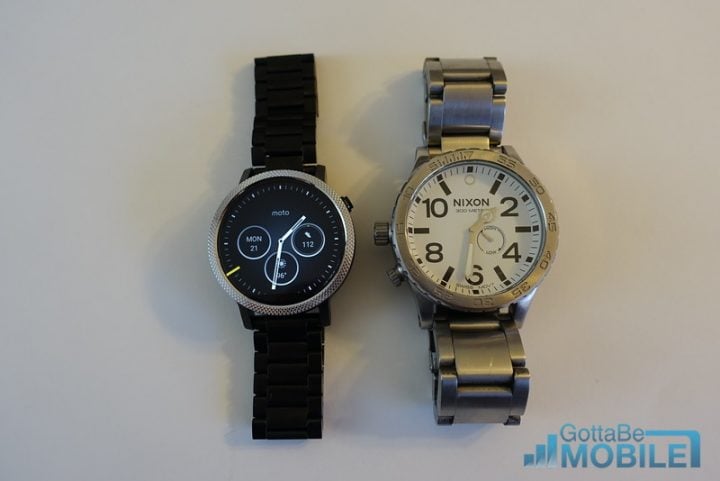 Just for fun, here's a picture of the Moto 360 next to my Nixon 51-50 with a 51mm face. The Moto 360 is big, feels nice, but lightweight all at the same time. This Nixon is one of the heaviest watches I've ever owned, but is what I wear daily. Will the Moto 360 take it's place? Stay tuned to find out.
Software
The Moto 360 2015 had an update waiting out of the box and is now running the latest version of Android Wear. It's more powerful than before, very customizable with 17 watch faces out of the box, many of which can be completely customized with changes to the colors and more, not to mention a slew of options on the Google Play Store. The initial sync took nearly 10 minutes, even though it only found five apps on my phone that needed to sync.
So far the new quad-core processor appears to be making a substancial difference on the new Moto 360. Last year it had an old OMAP processor, a company that is no longer making processors for mobile devices, which was odd. This year we have a Qualcomm Snapdragon 400 quad-core with 512MB of RAM, and it makes Android Wear more responsive than any watch I've used to date.
Android Wear is a version of Android built specifically for watches, and we'll be digging more into Android Wear in our full review. For now this is more about the hardware, and how impressive Motorola's new watch for 2015 is after just one day of using it.
Final Thoughts
The Moto 360 I have on my wrist will cost buyers over $400, simply because I added stainless steel and a textured front bezel, and that's a pretty penny. This is more than many other watches available, but then again this is one of the best and most customizable watches on the planet.
While I've had it all weekend there was only one day I was able to fully use it, and thanks to the latest version of Android Wear it has a lot to offer. I still can't help but feel like the lightweight design is both a pro, and a con. It's so lightweight that you'll almost forget you're wearing it, but for $400, I was expecting a little more.
A leather strap completely solved that problem for me. I quickly found an old black leather strap from my old Kenneth Cole watch, tossed it on, and I'm already loving all the Moto 360 has to offer.
The stainless steel strap is a nice touch and looks great, and the lightweight design may be something that everyone can appreciate. It doesn't need to be heavy to be a well-made and premium smartwatch, but that's just the impression I got after a few days of moderate usage. So far I'm really enjoying the Moto 360 2nd Gen, but plan to buy at least 2-3 more watch straps to fit all my needs and outfits. Again, it's all about customization.
Stay tuned for more photos, videos, hands-on coverage and more with the all-new Moto 360 2nd Gen for 2015.

As an Amazon Associate I earn from qualifying purchases.