Moto 360 Sport Unboxing & First Impressions
Earlier this year Google announced the new Moto 360 2nd Gen smartwatch for 2015, and at the same time confirmed a "Sport" model would be coming soon. The sports and fitness-focused smartwatch is set to be available in the US on January 7th, and below is our first hands-on and unboxing for those interested.
The Motorola 360 Sport is the companies first smartwach aimed at fitness, rather than offering a high-end customizable watch with leather bands and a beautiful aluminum frame. While the Moto 360 has been extremely popular, it may not appeal to those who'd rather take a smartwatch outdoors, to the gym, or are into fitness. The Moto 360 Sport fills the gap, costs less being just $299, and here's what you need to know.
Read: Moto 360 2nd Gen: Everything You Need to Know
Motorola's new fitness smartwatch will be available in the UK this month, but won't be for sale in the US and at retail stores like Best Buy until January 7th. Below is our hands-on video, some first impressions, and other details for those considering getting one once it becomes available.
Overall the new Moto 360 Sport is very similar to the 2nd Gen model released earlier this year. It has the same internals, a similar screen size, and a beautiful design. However, there are some noteworthy changes that could make this the perfect smartwatch for some.
Two key features of the Moto 360 Sport is the built-in GPS sensor, which many smartwatches don't have. This allows users to enjoy the watch and its features without being tethered or connected to a smartphone. The Moto 360 Sport will allow owners to take a run, hit the gym and do other things, without needing to be connected to their phone. The GPS does all the work, while you can still count calories, track steps, heart rate and more all with the built-in sensors.
The second feature is what Motorola is calling the "Anytime display" which allows the Sport to look better than most outdoors with a brand new hybrid display technology, as well as automatically crank to max brightness while outdoors. Our few minutes with it we did notice it looked great in direct sunlight, especially while in the low-power black and white state, but in terms of fully on with full colors, it's about the same as most.
Without talking about it too much, here's our quick hands-on video and unboxing of the all new Moto 360 Sport. We have the Black model, but it also comes in white or vibrant orange.
For those curious, the Moto 360 Sport has a 1.37-inch display, or 45mm. The regular Moto 360 2nd Gen comes in a 46mm variant, and a smaller 42mm model, as well as a 42mm option with an even smaller band for women.
It is powered by a 1.2 GHz Quad-core processor with 512MB of RAM, 4GB of internal storage, the smaller 300 mAh battery (regular 46mm is 400 mAh), heartrate sensor, and a GPS sensor. The sweat-proof silicon band is durable, feels nice, and is very comfortable. At the same time, it's getting extremely dirty and dusty after just a few minutes. Like all silicon cases, it picks up lint and dirt very easily.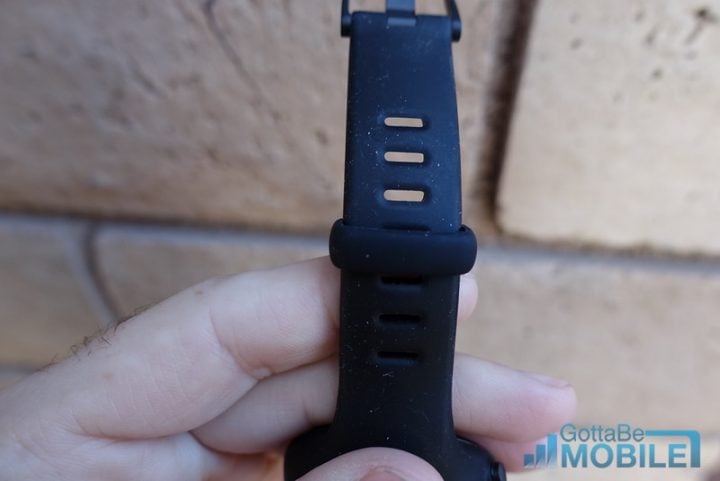 The Moto 360 Sport can be used without a smartphone with the built-in GPS, and is IP67 dust and water resistant. It looks a lot like the Samsung Gear S2, but runs Android Wear, and works with all Android smartphones, as well as iOS.
Motorola promises a "full day of mixed usage" in terms of battery life, and that's with the hybrid display set to auto. The ambient light sensor which makes the screen not 100% round (on bottom) should help automate brightness and improve battery life. This is also something someone can turn off, and set the brightness themselves to get even longer battery life.
Our first impressions are rather favorable. It's very lightweight, extremely comfortable, and feels great on the wrist. I barely notice it, and with the flip of my wrist all the fitness info you could ever imagine is a tap away.
The default watch face is the "Sport" option, which is customizable, but all of Motorola's other faces are also installed out of the box. Tapping each of the four corners shown above quick-launches specific fitness oriented apps. Moto Body on the top left, steps and walking goals or distance is on the top right in orange, then there's a timer and calorie burning meter on the bottom right and left. These are nice additions, and something gym-rats are going to love.
We've only had it for a half of a day so don't have too much more to say in terms of performance, battery life, or features, but so far it's your traditional Android wear smartwatch, but with some added fitness or sports benefits. The aluminum bezel on the top gives it a classy look without ruining the "sporty" side of it, and the button is nice and tactile as well.
So far my favorite part of the watch is just how amazingly lightweight it is, and how good the display looks both indoors and outdoors. We'll need to spend more time with it to say more, but so far it's looking like a great gym companion. This might be the perfect Android wear watch to help users reach those New Years resolutions. Again, the Moto 360 Sport will be available in the UK and select regions later this week, and in the United States on January 7th for $299.