Moto G 2015 Release: Everything You Need to Know
Last week Motorola confirmed the company will be hosting a big event on July 28th where they plan to announce at least one new Moto X, as well as the Moto G 2015. Since then we've received a slew of details, leaks, images and more revealing the phone and everything about it well ahead of the release date.
Up until a few weeks ago all the leaks and rumors were about a new Moto X for 2015, but lately focus has turned to the Moto G and what it will offer all for a low price. Yesterday a full set of specs leaked on some dummy units in a retail store, and late last night Motorola spilled all the beans themselves online, the quickly removed the webpage.
Read: Moto G 2015 Release: 5 Things to Know
We recently learned that this year the new Moto G will be made available on MotoMaker.com, a website reserved for Moto X buyers to fully customize the smartphone. This means the Moto G will get the same treatment, and now thanks to a leak by Motorola, we have all the details. Read on for everything you need to know about the Moto G 2015.
Motorola messed up yesterday when they activated and published the Moto G 2015 webpage on Motomaker.com. It has since been removed, but it's too late and we have a photo sharing all the details. This confirmed all the leaks we've heard thus far, and confirmed the name. It will be the Moto G 2015, not the Moto G (3rd Gen).
Here's what Motorola has to say about the new Moto G:
The new Moto G exactly the way you want it. Choose your front and back colors, storage and memory, and more."
According to that every leak as of late has been accurate, and we'll have two different version of the G at two different price points, and tons of customization. Here's part of the website saved as a screenshot as proof.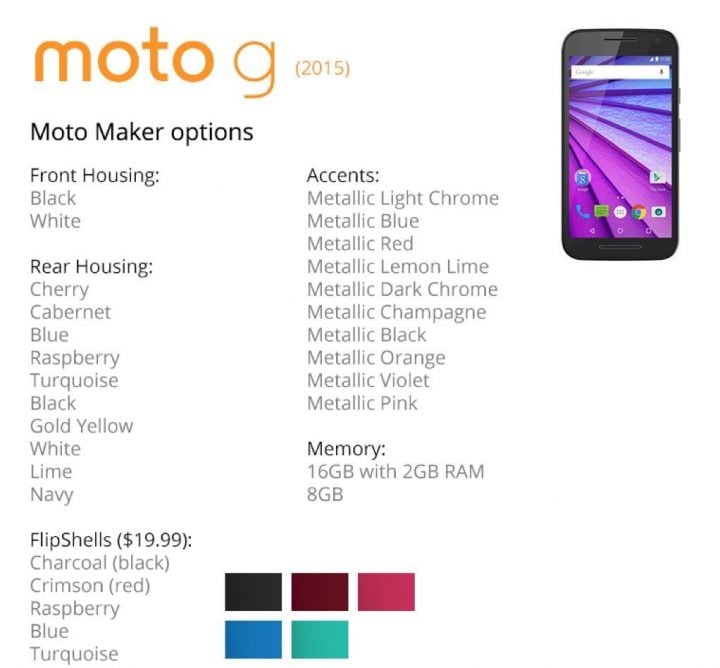 Moto G 2015 Customization
The new Moto G will come in both white or black on the front and be offered on Moto Maker with at least 10 different custom colors for the back, 10 accents that are all beautiful metallic colors, five swappable plastic covers for the back that cost $19.99 each, and at least 10 wallpapers for buyers to choose from, which will be applied before the phone is mailed right to your door.
It also said we could choose our storage, memory and more, which is something we've heard before. Shown in the image above the 2015 model will be available with 16GB of internal storage and 2GB of RAM, or a cheaper 8GB of RAM model will also be available, likely with only 1GB of RAM inside. Either way, it's still a fast and decent smartphone given the low price we're expecting.
Moto G 2015 Specs
5-inch 720p HD display
Quad-core Snapdragon 410 processor
8GB of storage and 1GB of RAM
or a 16GB model with 2GB of RAM
13 Megapixel rear and 5 mp front camera setup
Android 5.1.1 Lollipop
Dual front facing speakers
4G LTE and a micro-SD slot
MotoMaker Support
Water-resistant
2,470 mAh battery
more
So far the new Moto G 2015 is shaping up to be one of the best budget smartphones on the planet, one that buyers can completely customize as they'd like, and get shipped right to their door.
Moto G 2015 Release Date
The first two Moto G smartphones were announced and released in September of the last two years, and many expected the same this year. However, it looks like Motorola will deliver this new phone (and some new Moto X flagship smartphones) much sooner than we originally expected.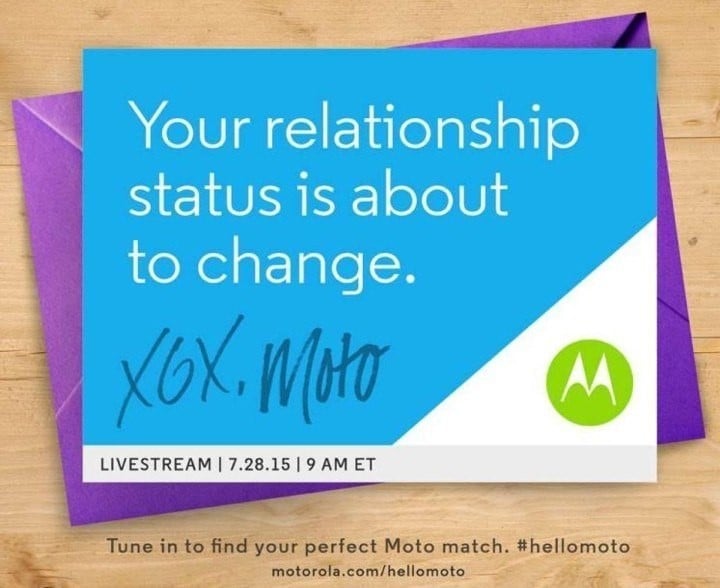 Motorola will announce the new Moto G and possibly two new Moto X smartphones, and maybe even a second Moto 360 smartwatch, next week on July 28th live in New York City. We could see the device become available the same day, but most likely a release date is set for early or mid-August. We'll know soon enough.
U.S. Carriers
In past years we've seen Verizon offer its own variant, as well as some smaller regional carriers. That said, T-Mobile and AT&T didn't offer it, but the device is sold unlocked on Motorola.com and works great with both carriers.
This year we could see the Moto G arrive from T-Mobile, AT&T, Sprint or Verizon, or the company could just offer it online for users to purchase outright for a low price, and take it to a carrier of choice. We're expecting at least one carrier to be on board, but we'll have to wait and see.
Moto G 2015 Price
Last but not least is the price. The last two Moto G smartphones were sold for $179 outright, with no contract. That's a pretty low price for an excellent 5-inch customizable phone as we've detailed above, but we're hearing the same pricing will hold true.
While this has yet to be confirmed, we're hearing the Moto G 2015 with 8GB of storage and 1GB of RAM will be $179, just like the last two years. However, a better 16GB model with 2GB of RAM will be either $199, or $229. These are only guesses based on past devices and a few leaks, so we can't be sure.
That said, on July 28th Motorola will share all the details and we'll update with the final few details for buyers.