Moto G 2015 Leak Reveals All
This weekend the new Moto G 3rd gen for 2015 surfaced in a huge leak and video revealing nearly everything about the phone well ahead of any potential release date. We're not expecting the phone to be released until this fall, but now we have all the details way before the Moto G launch date.
In 2013 Motorola announced and released one of the best wallet friendly smartphones ever, the original Moto G. It was an impressive nearly stock Android smartphone priced at just $179 without a contract. It went on to be its most successful smartphone ever released.
Read: Moto X 2015 Concept Reveals A Design Users Want
The original Moto G was announced and released in November of 2013, then last year things were a little faster and the 2nd Gen Moto G (2014) was announced and released again in the same month, but in September along with the Moto X. This year we're expecting something similar, if not sooner, and now we have all the details extremely early. Read on to learn more about the 3rd generation Moto G.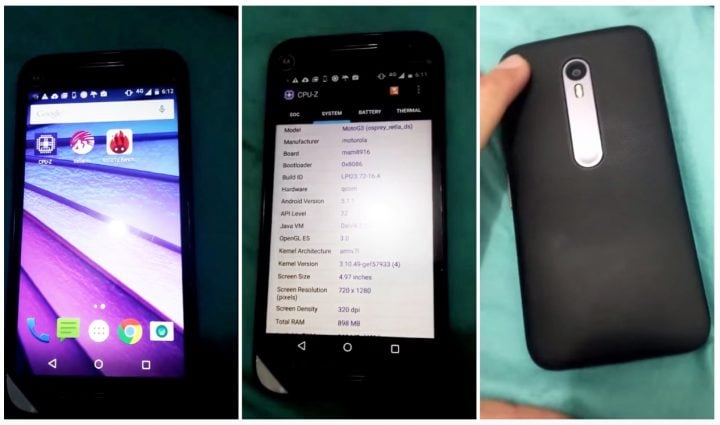 Over the weekend a video leaked revealing everything about Motorola's new Moto G for 2015. There has been absolutely zero reports, rumors, or leaks about this phone until now. Lately we've been seeing a few details here and there about the new Moto X, and those leaks show a similar device to the Moto G, but now we could know everything about it already.
The leak appears pretty real, and most likely isn't a fake. The video gives us a good look at the new Moto G, it's specs, software, features and more. From what we're seeing the new Moto G in 2015 will be very similar to the model last year, but have a slight redesign with an odd metal ring around the camera, Motorola dimple logo, and flash. It only appears to be aesthetic, but we'll have to wait and see if it offers something else. Before we get into specs and details, here's the first big leak revealing the new Moto G 3rd Gen for 2015.
As you can see above, this leakster appears to have an early prototype for the new Moto G. The redesigned back looks similar to recent leaks of the Moto X, so we're assuming this is real.
According to the leakster the new Moto G for 2015 will be very similar to last years smartphone. That being a 5-inch 1280 x 720p HD display, the same quad-core Snapdragon 410 processor with 1GB of RAM, but have an improved 13 megapixel rear and 5 megapixel wide front facing camera. It will be running the latest Android 5.1.1 Lollipop, support 4G LTE, and hopefully have a slightly larger battery.
The video shows this particular device has 4GB of internal storage, but we're expecting at least 8GB when it's released. It should also sport the same dual front facing speakers as last year, a micro-SD slot for user expandable storage, and more.
Read: Moto X Android 5.1 Lollipop Update Breakdown
From what we're seeing the new Moto G for 2015 will be very similar to the model last year. There is hardly anything new, aside from the metal ring on the rear, but hopefully this is only a prototype and there's more coming later this year.
Earlier this year a Motorola exec stated on Twitter the company looks to release devices around the same time frame as previous years as a part of its annual release cycle. This was aimed at a question about the new Moto X, but also applies to the Moto G. Users can expect the new Moto X and Moto G 3rd Generation smartphones for 2015 to be announced and released in August or September of this year. We'll be on the lookout for more details, images or leaks, and report back once we learn more.

As an Amazon Associate I earn from qualifying purchases.