Moto G Android 5.0.1 Lollipop Update Resumes in the U.S.
Today those with the new Moto G (2014) as well as last years model will be happy to know the Moto G Android 5.0 Lollipop update is back on track and rolling out starting today. Way back in November Motorola confirmed the new Moto G (2014) Android 5.0 Lollipop update was officially rolling out, and the same arrived for the Moto X Pure Edition. However, the Moto G update suffered a delay.
Back in October when Google announced the brand new Android 5.0 Lollipop update many manufacturers promised quick updates, and that included Motorola. Google's been busy pushing updates to Nexus users, as well as a new Android 5.0.1 and Android 5.0.2 update to fix some bugs, and today we've learned the original Moto G (2013) is now getting the Android 5.0 update, as well as the new Moto G 2014 model in the United States.
Read: Motorola Android 5.0 Lollipop Update Details Emerge
Motorola was one of the first manufacturers to start pushing updates out for many key devices with Android 4.4, and the same happened with Android 5.0 Lollipop. However, for whatever reason the new Moto G 2nd gen update was delayed with no explanation, but today it's fired back up and rolling out now.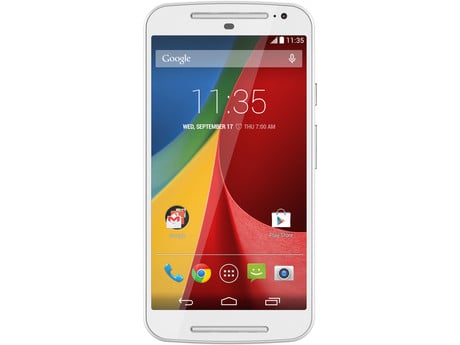 In September of 2014 Motorola announced the new Moto X, Moto G 2014, and released the highly anticipated Moto 360 smartwatch at an event at their headquarters in Chicago. The smartphones were instantly a success, especially the budget friendly Moto G coming in at only $179 outright, no contracts required.
Then in October Google announced a few new Nexus products, as well as the all-new Android 5.0 Lollipop software update. Delivering new features, improved visuals, a redesigned notification bar and lockscreen, and much more.
Read: Android 5.0 vs Android 4.4 KitKat: What's New in Lollipop
In December the Android 5.0 Lollipop update started hitting more Motorola owners, but those updates were mainly outside of the United States. Today though, Motorola has formally announced (on Twitter) that both the Moto G 2014 and original Moto G are again getting Android 5.0.1 Lollipop updates.
#Lollipop is rolling out in phases to #MotoG (2nd Gen) in US & #MotoG (1st & 2nd Gen) in India. Look for the notification on your device!

— Motorola US (@MotorolaUS) January 23, 2015
As you can see from the post to Twitter by Motorola, Android 5.0 Lollipop is rolling out in phases to the 2014 2nd Gen Moto G in the United States starting today, and this is Android 5.0.1 Lollipop. Then they proceed to confirm both the first and second Gen Moto G is also getting updated in India.
When the initial US Moto G (2nd Gen) update started it was canceled almost immediately, and we received countless reports from users looking for it who were expecting it to arrive. Don't worry though, because starting today users should start seeing it arrive.
The Moto G Android 5.0 Lollipop update should arrive as an over the air update right in the notification bar on your smartphone, or users can head into settings > about phone > and check for updates themselves to pull the latest software down. It's recommended to have at least 50% battery life remaining for the update, and just let it complete the process. If your Moto G has Android 5.0 Lollipop already, this update to 5.0.1 should address some of the initial bugs and battery life issues we've been hearing about.
Our own 2014 Moto G has yet to see the update, but we'll be sure and check ourselves and report back once we know more. Again, Motorola said it's arriving "in phases" which means it won't hit all users at once. This will be a staggered rollout and likely make it to all devices over the course of the next few days. Drop us a comment below once you get it yourself.