Moto X Android 6.0 Marshmallow Update Arrives
Today Motorola announced what all Moto X Pure Edition and 2nd Gen Moto X smartphone owners have been patiently waiting for, and that's the update to Android 6.0 Marshmallow. Below are all the details for owners of both phones, when updates should arrive, and what to expect.
On October 5th Google released the newest version of Android that will replace Android 5.1 Lollipop, and as many know, it's called Android 6.0 Marshmallow. Within a few days Motorola revealed some good news regarding which phones would see updates, but no information as to when. Today though, we finally have good news to share with users.
Read: 17 Best Moto X Pure Edition Accessories
Motorola released the new Moto X in mid-September, and a few weeks later Android 6.0 Marshmallow was announced and released. As a result, many weren't sure when it would arrive, but just like last year Motorola is working quick to deliver the update. It's now rolling out starting today in select regions, and will continue to more in the coming weeks.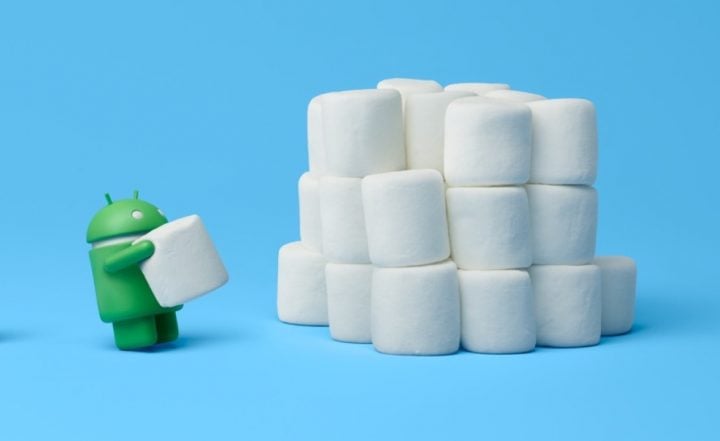 The 2nd Gen Moto X was the first non-Nexus smartphone to receive Android 5.0 Lollipop in 2014, but it was filled with small issues and ended up being one of the last phones to receive the updated Android 5.1 Lollipop with all the fixes. Hopefully the same doesn't happen this year, but we'll have to wait and see.
A few weeks ago we learned that Motorola was already in the early testing phase of Android 6.0 Marshmallow for the Moto X Pure Edition, but didn't know the 2nd Gen Moto X was also in that testing phase. Today Motorola officially announced the update, and here are all the details.
Read: Android 6.0 vs Android 5.1 Lollipop: What's New in Marshmallow
The announcement today is actually for the Moto X Style, which is the name for the Moto X Pure Edition outside of the United States. What this means is the US versions aren't getting updated now, but will likely be next and get the latest version of Android soon.
Starting today the Moto X Style will begin receiving the over the air software update to Android 6.0 Marshmallow in Brazil and India. Then the Moto X 2nd Gen update is also hitting users smartphones in Brazil. Here's what Motorola's own David Schuster had to say.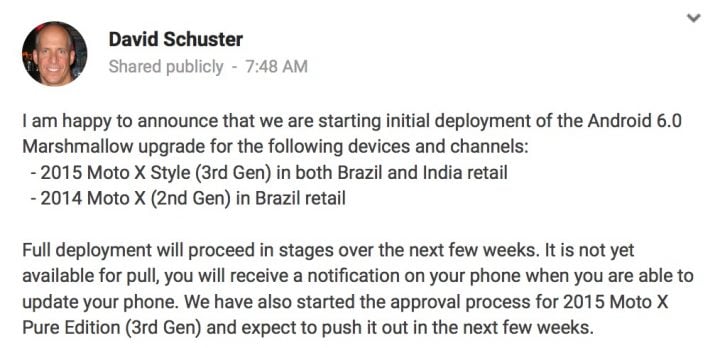 As you can see above, the update is rolling out today in those regions, but he also had great news for the United States. The Moto X Pure Edition (in the US) has started the final approval process as well, and should arrive in the next few weeks, and before the end of November.
David mentions that the update should start hitting devices as an over the air update now, or users can head into settings > about phone > and check for updates manually to pull the update. If it doesn't appear today, it's because this is a staggered rollout and some users may have a few days or a week wait before it reaches their handset.
Because the Moto X Style and Pure Edition run nearly stock Android, most of the changes and new features can be seen in our what's new post linked to above. He did however mention a few noteworthy additions like: Memory Manager, Permission Controls, Doze for battery life, Volume controls, Do-Not-Disturb mode, Google Now on Tap, Automatic app/data backup and more.
It looks like the Moto X Pure Edition will be the first device in the United States to receive Android 6.0 Marshmallow as an update, unless the LG G4 gets their first. LG started its initial rollout in Poland back in October. Stay tuned for more details, and we'll confirm once this update hits the United States, or David and Motorola share more details on the Moto X 2nd Gen for US carriers.

As an Amazon Associate I earn from qualifying purchases.