Moto X Pure Edition Hands-on & First Impressions
The new Moto X Pure Edition for 2015 delivers a better phone than last year with a bigger screen, more customization, a micro-SD slot and one of the best cameras on the market all for $399. After nearly two months of waiting it's finally here. Read on for more details and our hands-on unboxing and first impressions of the 2015 Moto X.
Known as the Moto X Style outside of the United States, the new Moto X Pure Edition was announced back in July and finally went up for pre-order on September 2nd, is available at BestBuy today and can be fully customized on Motorola.com. We chose all black, with dark silver metallic accents, and here's what buyers need to know.
Read: Moto X Pure vs Galaxy Note 5: Key Differences
This year Motorola took a completely different approach to previous years. They improved all aspects of the phone, fixed a few things past owners complained about, cut carriers out to have full control of sales, customization and updates, and delivered a good phone for a great price.
Now that the Galaxy Note 5, LG G4, and many other devices are available, buyers have a lot of different choices. There are also some new Nexus phones coming soon which should be on buyers radar, but with a 5.7-inch display, a great camera and better battery life, along with an excellent price tag, the 2015 Moto X Pure Edition is worth considering.
Our hands-on video above goes over a few initial details, our first impressions, and shows what to expect for those considering this new phone. I was pleasantly surprised by the overall build quality, and that they added a free bumper case in the box, along with an already low price tag. Motorola is firing on all cylinders lately, and this is one of many great Moto phones in 2015.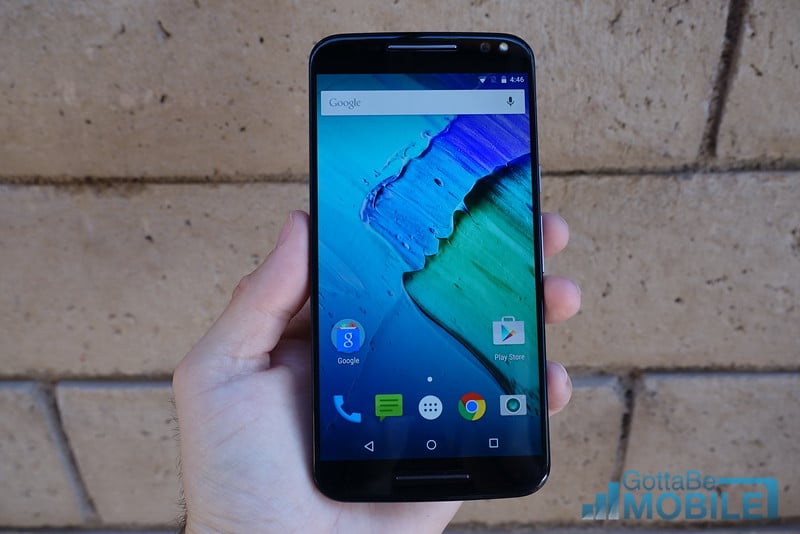 Right out of the box you'll notice the beautiful design of the new Moto X. Depending on the finish users choose, a certain wallpaper will be pre-installed, along with all the stock Android 5.1 Lollipop options. It starts up quick, and instantly is a fast and smooth device thanks to stock Android on board. You'll notice in our video above there are no carrier apps. That's because the Moto X Pure edition isn't available from Verizon, AT&T or any other carriers, but works on all major networks in the United States. Motorola is selling it on their own, so there's no bloatware, and they'll control how quick updates arrive. It's a bold move, and one that could pay off.
So what do buyers get from the Moto X Pure Edition? A lot, actually. It's one of the best phones released in 2015 yet costs hundreds less than the competition. It has a huge screen that can almost compete with the Note 5, a micro-SD slot, a huge 21 megapixel camera, and more customization than any smartphone on the planet.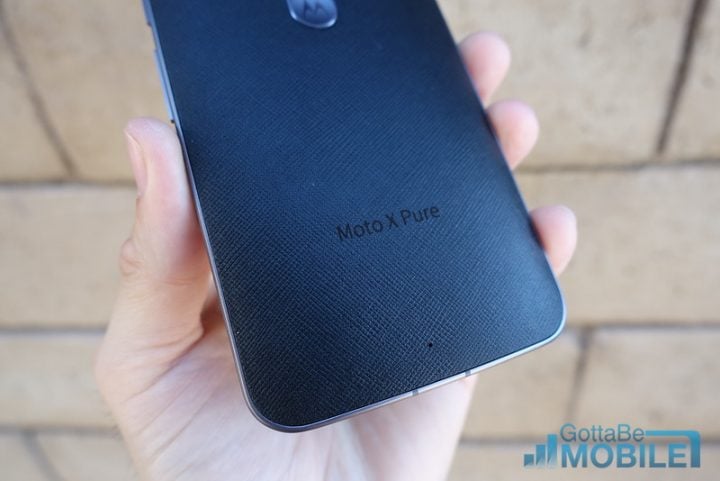 Buyers can choose from regular colors, leather, wood, a new silicon rubber in tons of fancy colors, then choose metallic accent colors, add an engraving and get it shipped right to their door for $399. Not bad. Here's the full specs for those curious.
Moto X Pure Edition Specs
5.7-inch 2560 x 1440 Quad-HD Display
6-core Snapdragon 808 processor with 3GB of RAM
16/32/64 GB of Storage with a Micro-SD slot for expandable storage
21 Megapixel F2.0 Rear and 5 Megapixel Front Camera (front and rear LED flash)
4k Video, HDR Video, Slo-Mo Video and more
Pure stock Android 5.1.1 Lollipop
Dual Stereo Front-facing speakers
Aluminum Design
3,000 mAh battery with the world's fastest "TurboPower" charging
Unlocked with Universal 4G LTE (Verizon, AT&T, T-Mobile, Sprint, etc.)
Water-repellent coating
Finished with Rubber, Wood, Leather, Plastic, Metallic Accents & more)
Motorola is asking $399 for the 16GB model, which is fine because we can simply add a micro-SD slot to expand the storage. Although some may spring for the 32 or 64GB version as well, especially considering most Best Buy stores have already sold out of the 16GB model.
A few things in the list above that need specific mentioning are the dual front-facing speakers, which so far sound great and could even be better than the HTC One M9. Yes, they're better than the dual speakers on the Nexus 9. The charger should recharge this phone faster than most devices on the market, and finally, there's a flash on the front. That means better selfies for that crowd with the bigger 5 megapixel front shooter.
First Impressions
My first impressions are extremely favorable, especially for only $399. This phone feels just as good as any Moto X, if not better, yet is bigger, more powerful and more advanced in every way. We still have the aluminum ring around the sides, and the beautiful customization.
I was expecting the leather to feel and look more like "leather" similar to last year, but for 2015 it is more textured and simple, but also looks like it will be more durable. It's soft, and not nearly as hard as the LG G4 leathers.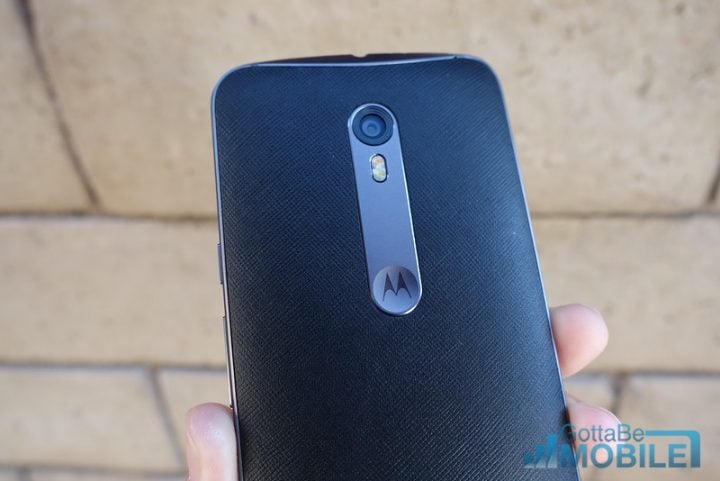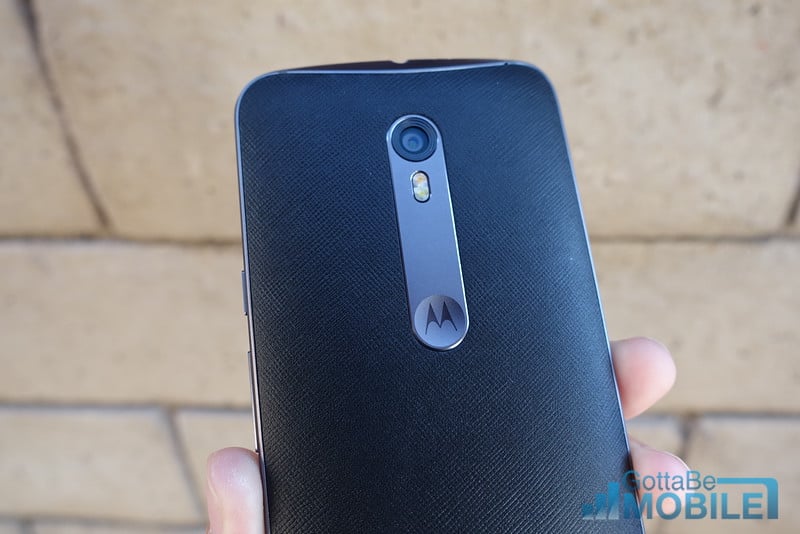 We've only had a few minutes with it so testing the camera, software, or battery will have to wait for a full review, but so far this is one stellar smartphone. Considering the price, it really is hard to beat. The build quality is great, the screen is vivid and crisp, and performance is excellent with stock Android 5.1.1 Lollipop on board.
There are no 3rd party apps, no carrier bloatware, nothing. Just a simple pure Android experience built to impressive, with a few added goodies from Motorola tossed in for good measure.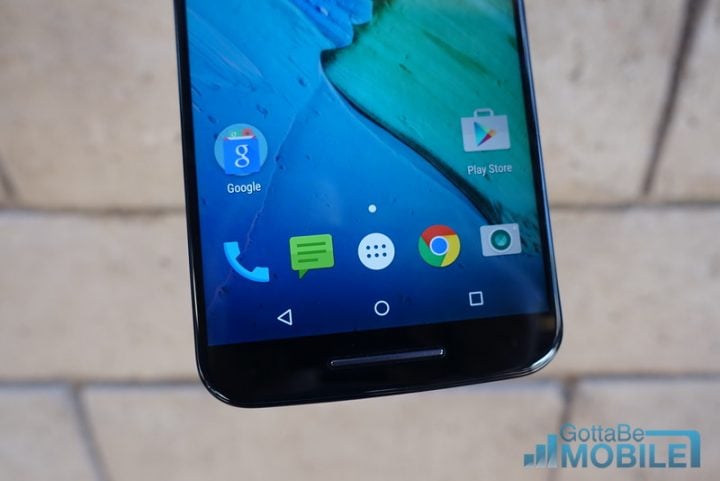 The two or three only complaints from previous versions were the camera, battery life, and maybe the processor not being top of the line. For 2015 with the Pure Edition we have the world's fastest TurboPower charger included in the box to recharge the 3,000 mAh battery, the biggest of any Moto X, and a new 21 megapixel camera that was barely beat by the Galaxy S6 in independent tests.
So what does this all mean? It means the Moto X looks and feels great, can be customized, should have excellent battery life with crazy fast recharge times, and finally take good photos that can compete with Samsung and Apple. Yet all of this starts at only $399. Keep in mind that adding more storage, leather, or wood backs will increase that price tag, not to mention it can't be bought on contract or with carrier payment plans. Either way, it's still cheap. We're impressed to say the least, so stay tuned for more details and our full Moto X Pure Edition Review. Did you buy the new Moto X this year? Drop a comment below with your thoughts, and why if you pulled the trigger and ordered one.

As an Amazon Associate I earn from qualifying purchases.