Motorola Admits Droid Bionic Owners Got Raw Ice Cream Sandwich Deal
Motorola's new Vice President of Product has admitted that Droid Bionic owners have gotten a raw deal as far as Ice Cream Sandwich is concerned and that the team is working to fix things, particularly for the future.
In a lengthy discussion on Google+, courtesy of Droid-Life, Motorola's new Vice President of Product, Punit Soni, has been answering the calls from owners of various Motorola devices in an effort to not only connect with customers but to also listen and learn.
Read: Droid Bionic Ice Cream Sandwich Update Makes Motorola Look Silly Yet Again.
Maybe the most vocal of the bunch are the Droid Bionic owners who have been asking Soni about the Droid Bionic Ice Cream Sandwich update which is still missing as we head into the last part of September.
Soni, in return, has been extremely candid with these users and one of his comments especially, was greeted with approval from the Droid Bionic owners who have been following along.
This is the first time, as far as we know, that anyone at Motorola has been this forthcoming about the Droid Bionic Ice Cream Sandwich update's whereabouts. Until this point, the company has only said that it would be coming at some point in Q3, which, of course, is much different than the tune they were singing in early summer.
Originally, the device was supposed to get ICS in early Q3, however, the update was delayed for unknown reasons. Speculation rests on the disastrous Droid RAZR and Droid RAZR MAXX Ice Cream Sandwich updates that brought heaps of bugs to users of those devices. Motorola, not wanting a similar disaster with the Droid Bionic ICS update, was rumored to have postponed the Droid Bionic update to iron out the kinks.
This is what a source conveyed to us in August and it's looking like a likely story.
The company has provided owners with zero answers since early Q3 passed, only saying that it was planned for September.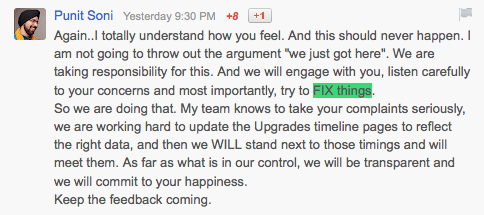 However, for many Droid Bionic owners, that was simply not good enough. Not after missing the promised roll out window, and certainly not after the previous blunders Motorola and Verizon made with the Droid Bionic.
It's now clear that Motorola's new leadership wants to make it right with Droid Bionic owners and make sure that miscommunication like this doesn't happen again. And for Bionic owners, hopefully, that means getting the ICS update soon.
https://www.youtube.com/watch?feature=player_embedded&v=TaJ4BlthS44
We've got our fingers crossed.

As an Amazon Associate I earn from qualifying purchases.