Motorola Android 7.0 Nougat Update Details
Motorola has always been quick with Android updates, and the Motorola Android Nougat release is no different. Many have already received the latest software, and more are being released every month. Back in August Google released Android 7.0 Nougat for select Nexus smartphones and tablets. Now, other smartphones are slowly getting the same treat. Here's what Motorola owners need to know.
The company recently released an extensive list of 15 devices that will get updates soon. So far we've seen a couple arrive, and more are coming. Like the unlocked Moto Z Android Nougat release, the G4, and even the Verizon DROID. Although this is only Android 7.0 and not the latest 7.1.2 Nougat.
Read: Android 6.0 vs Android 7.0 Nougat: What's New So Far
Android 6.0 Marshmallow hit Motorola devices before almost any other phone, and the same is happening with Nougat. They've been working hard to deliver timely updates for customers. The company recently confirmed some general update details and shared more information for users. And now we have a full list of incoming Motorola Android Nougat updates.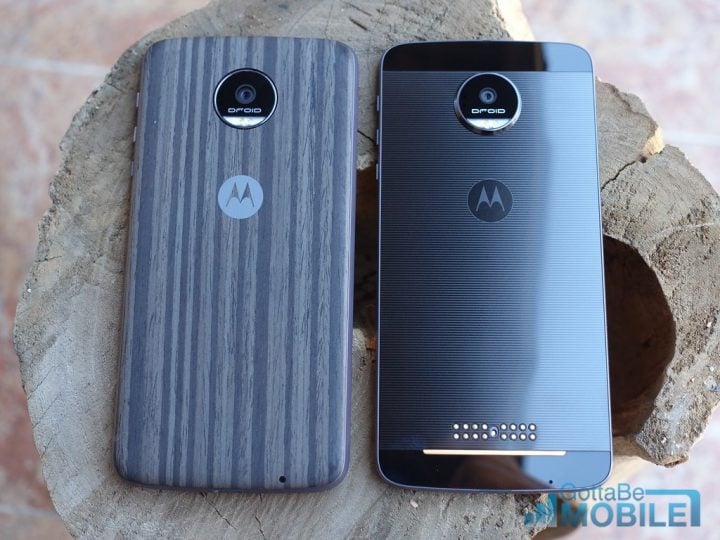 February was a successful month for the company. From releasing a slew of update to launching the new G5 budget smartphone. Owners can keep track of current or upcoming updates at the Motorola blog which details everything you need to know. Users with select Moto Z devices, Moto G4 and others have all received Android 7.0 Nougat. So what's next? Read on to find out.
While we don't have an actual release date for each device, more are arriving as 2017 continues. It's now March, and the unlocked Moto Z received Nougat last month following the Verizon model. Some were starting to get impatient, but we now have more good news.
In late November select users with the Moto Z started getting Android 7.0 Nougat early. Then within a few days it was officially confirmed by both Motorola and Verizon. Select unlocked models, like the Play, are still waiting. At least for now.
Shown above, is the Moto Z and Moto Z Force DROID update. It arrived earlier than many expected, thanks to a quick delivery by Verizon.
Alternatively, the impressive Moto G4 and G4 Plus received Android 7.0 Nougat in Brazil and India recently. We saw the updates start for the G4 on December 15th, and the US release quickly followed. Here is Motorola's official changelog and breakdown regarding the software update.
Motorola Android 7.0 Updates
According to a Motorola spokesperson, consumers can "expect to see Android N on the Moto Z family and Moto G4 beginning in Q4." That ended up being accurate, as they started in November and continued through December. However, not all devices received the update. Moto has been all over the place in terms of who or what gets it, and where.
Those with the Moto Z, Moto Z Force DROID, Moto Z Play or the Moto G4 will see Android 7.0 Nougat first, if they haven't already. Then the company will move on to other devices. Recently Motorola posted an official Android 7.0 update list. Many devices we expected to see updates are included, but "new" phones like the 2015 Moto G aren't included. Meaning a phone that isn't even two years old will not see an update. Here's the full list:
Moto G (4th Gen)
Moto G Plus (4th Gen)
Moto G Play (4th Gen)
Droid Turbo 2
Droid Maxx 2
Moto X Pure Edition (3rd Gen)
Moto X Style
Moto X Play
Moto X Force
Nexus 6
Moto Z
Moto Z Droid
Moto Z Force Droid
Moto Z Play
Moto Z Play Droid
As you can see most smartphones released at the end of 2015 or in 2016 are included. Flagships like the DROID Turbo 2, and even the DROID Maxx 2. However, the 2015 3rd Gen Moto G will not see an update, and none of the Moto E devices will get Android 7.0 Nougat.
With the Moto Z done and now the G4 and G4 Plus getting it, expect the company to move on to carrier models and the Moto X next. Alternatively, those with newer budget devices, like the Moto Z Play DROID, can expect it to arrive any day now. As of March 8th Verizon is updating the Z Play DROID, which is nice to see happen for a phone that isn't a flagship device.
What's New in Android Nougat
Our link at the top of the page is an in-depth look at Android 6.0.1 Marshmallow vs Android 7.0 Nougat, and everything that's new and different with comparison photos. It goes over many of the key changes for Motorola users. Some things will look a little different, but everything should be included.
As a quick recap, the Motorola Android 7.0 update will bring improved performance, better battery life with "Doze" features, split-screen multitasking, the recent apps button works like ALT+TAB and switches between the last used apps, and much more. Google has over 50 big changes in Android N. Like faster app installs, which are also smaller, a new JIT compiler, improved graphics and performance with the Vulkan API, revamped notifications with quick reply from the pulldown bar, customizable quick setting tiles and so much more. All of that and more will come to the Moto Z and Moto G4.
Not to mention things like a better and improved Google Search using the Google Assistant with machine learning, number blocking and call screening. Again, this is only Android 7.0 Nougat, and not the latest 7.1 software that Pixel users are enjoying. Expect that at a later date.
Of course most of this will come with Motorola's improvements baked in. Like hands-free controls, always-on display and more. Samsung has TouchWiz, HTC uses Sense UI, and LG has their own interface over stock Android as well. Not every new feature will be implemented, others will be changed, but this looks to be one big and exciting update to the Android operating system for Motorola users.
Motorola phones run nearly stock Android, so this should be a fast and painless software update. And while some may experience issues, overall it should be well worth the wait.
Motorola Android 7.1.2 Update Release Date
Now that Android 7.0 Nougat is on a lot of Motorola devices, owners are starting to look ahead to what's next. That's a good thing to do, but don't get too ahead. Google recently unveiled Android 7.1.2 as the first big update to Nougat. A release date is still a few months away. It's only available as a limited beta for select devices right now. Expect it sometime this summer.
In the meantime, expect Motorola and carriers to continue working together for general Nougat updates. All devices should see updates within the next few months, including the Moto X. Once that's all done, Motorola can move forward with Android 7.1.2 Nougat and beyond. At the same time, we're now starting to see rumors about Android O. Which is crazy considering most still haven't received Nougat which was released in August of 2016. Stay tuned for more details.

As an Amazon Associate I earn from qualifying purchases.