Motorola Announces Droid X Amidst iPhone Frenzy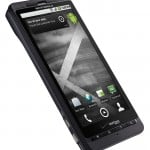 Making a continued resurgence from obscurity, Motorola looks to steal some of the blogosphere chatter with the announcement of its Droid X smartphone on Verizon's network today. The Droid X lands on July 15 and will come with Android 2.1 with a promised upgrade to 2.2 and Flash 10.1 support when Froyo is finalized in late summer. Besides full Google integration, the Droid X boasts some impressive features:
1GHz processor
4.3″ WVGA screen sporting 854×480 pixels
Swype Text Input
8GB Onboard memory with a 16GB microSD card preinstalled but can accommodate up to 32GB
8MP camera with dual flash and photo editing software
720p High Definition Video Capture
1540 mAh battery capable of 480 minutes talk and 220 hours stand-by times
Measures 2.6 (width) x 5.0 (height) x 0.4 (thickness) inches
HotSpot functionality to connect up to 5 devices through the Droid X's 3G connection
HDMI out
DLNA  wireless HD capabilities
802.11n connectivity
Verizon and Motorola released the first Droid phone back in November of 2009 and has since grown to be the most popular Android device and market share for Android-powered devices continue to grow. At the Droid X event, Eric Schmidt claims 160,000 Android phones are activated every day with access to over 65,000 apps in the Android Market. Even though many before it had claimed to be the next "iPhone killer," the Droid X is perhaps the most legitimate device yet to challenge the iPhone's dominance.
Update:
A few hands-on reviews are now available
Boy Genius Report First Impressions
Engadget Hands-on and Unboxing

As an Amazon Associate I earn from qualifying purchases.