Motorola Defy Pro Is A Rugged BlackBerry-Like Android Phone
With RIM flailing Android manufacturers are stepping up to fill the void. Yesterday we saw the Samsung Galaxy Chat, and today's BlackBerry-inspired Android device is the Motorola Defy Pro.
The Defy Pro isn't exactly the natural evolution of the original Motorola Defy, but it does share some similar qualities. Like the Defy, the Defy Pro can take a beating. Motorola claims the Defy Pro is dust-proof and water-resistant. The Gorilla Glass display also makes the phone scratch-resistant. Motorola doesn't quantify the shock resistance of the Defy Pro, but says it can handle throws and drops from kids.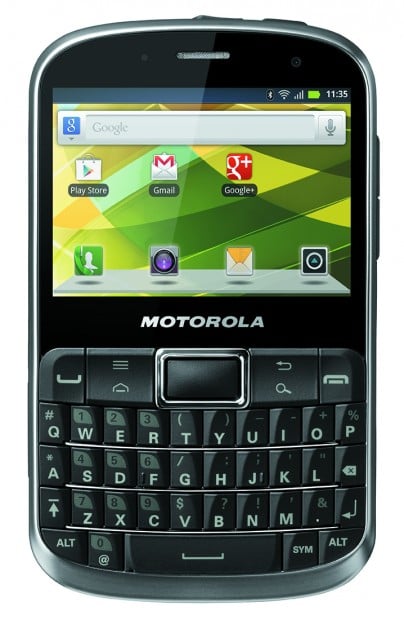 Unlike the original Defy, the Defy Pro has a full portrait QWERTY keyboard. At first glance the Defy Pro actually looks like it'd have more in common with the BlackBerry Bold or Curve instead of any slab Android device. The shape and button layout look very similar to the some RIM devices.
Motorola isn't talking about the specs of the Defy Pro beyond the radios inside (including Bluetooth and WiFi), and the screen size (2.7-inches). Sadly the phone ships with Android 2.3 Gingerbread. Without specs we assume the Defy Pro is either a low-end or mid-range smartphone.
Unfortunately for U.S. users looking for a BlackBerry replacement, this phone is only coming to Brazil. Like the Samsung Galaxy Chat there is no way for U.S. users to officially get their hands on the Motorola Defy Pro. We hope one of these BlackBerry competitors will come to the U.S. so Americans that prefer phones with physical keyboards have an option after RIM follows its death-spin to its natural conclusion.

This article may contain affiliate links. Click here for more details.