Motorola Droid 3 Begins to Appear in Verizon's Database System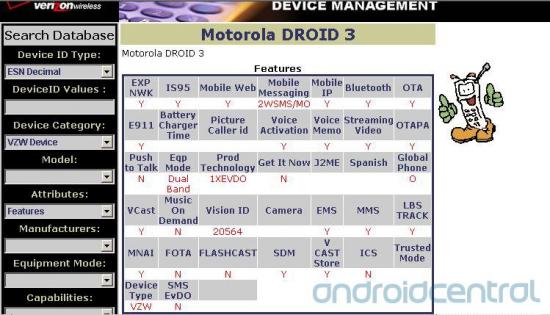 Though Verizon and Motorola have not announced availability for the Droid 3, the successor to the keyboarded Droid and Droid 2 (Droid 2, Droid 2 R2D2 Special Edition, and Droid 2 Global) franchises, the device had been leaked numerous times in the past. It seems that the 3G Android smartphone is now starting to appear in Verizon Wireless's device management system, suggesting that the carrier may be closer to launching the smartphone for its network.
The Droid 3 will offer a larger, higher resolution display than the model it will replace with a 4-inch qHD multitouch display, up from the 3.7-inch FWVGA display on the Droid 1 and 2. Unfortunately, though, the model will be a 3G-only model and won't offer support for Verizon's 4G LTE network, which can deliver up to 10 times the speed of 3G.
It's unclear if there will be a global edition of the Droid 3, like there is for the Droid 2. The global model of the Droid 2 also supports a SIM card for international travel where the device can operate on GSM/EDGE/UMTS/HSPA networks and on the CDMA and EV-DO network on Verizon's domestic network.
Via: Android Central

As an Amazon Associate I earn from qualifying purchases.