Motorola Droid 3 Details, Review & Hands-On Video Roundup
The Motorola Droid 3 is a yet to be announced follow up to the Motorola Droid 2 that will be available on Verizon at some point in the future. While Big Red has yet to release any official details on the handset, it has leaked out several times and we currently have a pretty good picture of what to expect when the Droid 3 finally decides to show its reclusive face — and hard keyboard.
UPDATE: The Droid 3 is available starting today for $199 at Verizonwireless.com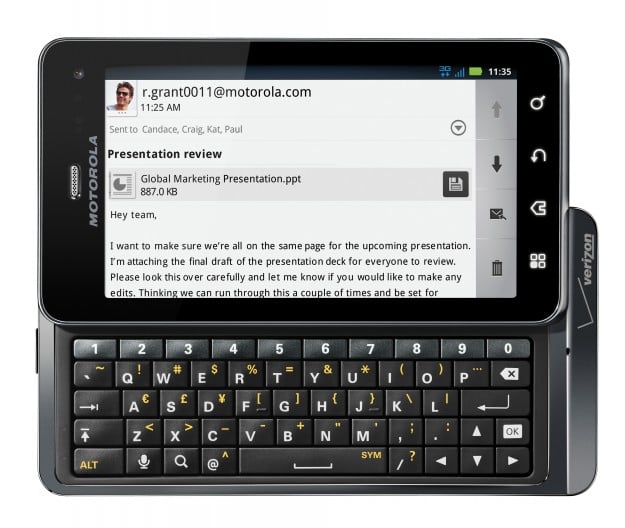 It hasn't even been a year since Motorola and Verizon released the Motorola Droid 2 Global and we're already talking about a successor. The Droid 3 should be a pretty worthy successor to the Droid 2 and looks to be a refresh similar to the Motorola Droid X2 which was recently released succeeding the wildly popular Motorola Droid X.
Before you get into this, keep in mind that none of this is official as neither Verizon nor Motorola acknowledges this phone's existence. So everything you see here is based on unofficial information, some of which has come from a leak of the Milestone 3, it's European brother. They are generally very similar.
Check back often as we'll keep adding to this as more information is leaked.
What is the Motorola Droid 3?
The Motorola Droid 3 is the upcoming successor of the Motorola Droid 2 Global and is going to bring several enhancements that will distinguish it from its older brother. The Droid 3 should be bringing a 4-inch qHD resolution display, that means 540×960 resolution, which will be a big step up from the display on the Droid 2.
Verizon's Droid 3 will also apparently get a boost in processor speed moving from a single-core 1.2GHz processor to a TI OMAP 4430 1GHz dual-core processor. It will likely also come with 512MB of RAM which is a little bit of a let down, an 8MP camera that's capable of shooting 1080p quality video.The Droid 3's keyboard is also going to feature five rows instead of the usual four with a dedicated numbers row. 
Sadly, the Droid 3 looks like it's going to be a 3G device and not a 4G LTE smartphone barring any major last minute changes. A disappointment to be sure and something that will make the Droid Bionic look a lot more appealing.
We don't know which version of Android the Droid 3 will be running, but we'd be shocked to see it launch with anything other than the newest version of Gingerbread, Android 2.3.4.
Update: The specs have been revealed, completely.
Motorola Droid 3 Release Date
While the phone hasn't been announced yet, rumor has it that the Droid 3 might be released on July 7th. It has shown up in Verizon's database recently and with supply of the Droid 2 Global dwindling, it should only be a matter of time before Verizon makes an official announcement.
We should also note that there is a rumor that the Milestone 3, the European version of the Droid 3, will apparently not be headed to the United Kingdom this according to UK retailer, Clove.
Motorola Droid 3 Hands-On Video
Motorola Droid 3 Features
Five-Row QWERTY Keyboard: The addition of a five-row QWERTY keyboard will bring a dedicated row of number keys with the Droid 3.
4-Inch qHD Display: The Droid 3 will feature a bigger screen than its predecessors and it will also bring the highest resolution yet checking in with 540×960 resolution.
Dual-Core Processor: It could be an OMAP, it might be a Tegra 2 but whatever it is, it's going to be dual-core and it's going to be fast.
Motorola Droid 3 Pricing
Pricing of the Motorola Droid 3 is currently unknown. However, considering the 3G Motorola Droid X2 was priced at $199 on a new two year contract, you'd have to think that Verizon is going to keep the Droid 3 in line with this. Expect the Droid to cost $199 at Verizon and possibly be cheaper at places like Amazon or Wirefly on launch day or soon afterwards.
Motorola Droid 3 vs. Motorola Droid 2
Like the Motorola Droid X2, the Motorola Droid 3 is going to be keeping its predecessors form factor but will be upgrading a lot of the hardware. While the Droid 2 employed a single-core processor and 3.7-inch display with 480 x 854 pixel resolution, the Droid 3 will be coming with a qHD display that checks in at 4 inches and will have a dual-core processor on board as well. Major upgrades.
The biggest change though is probably the addition of a fifth row to the famous QWERTY keyboard. The top row will now be a set of dedicated number keys, something that Droid owners have been campaigning for for awhile.
It's unknown whether or not the Droid 3 is a global device but if we had to guess it probably will be. If by chance it's not,  that feature will likely be the only thing that the Motorola Droid 2 has over the Droid 3. 
Motorola Droid 3 Hands-On, Review Videos
No known live hands-on videos of the Droid 3 exists. These demo videos are the closest thing we've got right now. This one shows off how to manage your Contacts and more.
—
This video shows off the new keyboard and some tips and tricks for typing with it.
Motorola Droid 3 Specs
| | |
| --- | --- |
| Networks: | CDMA |
| Operating system: | Android |
| Display: | 4-inch qHD display (540 x 960) |
| Camera: | 8MP rear camera with dual-LED flash, VGA front facing camera |
| Memory: | 512MB RAM |
| WLAN: | 802.11b, 802.11g, 802.11n Wi-Fi – Likely |
| Bluetooth: | Likely |
| GPS: | A-GPS – Likely |
| Battery: | 1500 mAH battery |
| Special features: | Speedy Processor/High-Res Display, Five-Row QWERTY Keyboard, 1080p Video Capture, HDMI Out |
| Chipset: | TI OMAP 4430 1GHz dual-core processor |
Motorola Droid 3 Gallery

As an Amazon Associate I earn from qualifying purchases.