Motorola Droid 3 Getting Bluetooth Certified?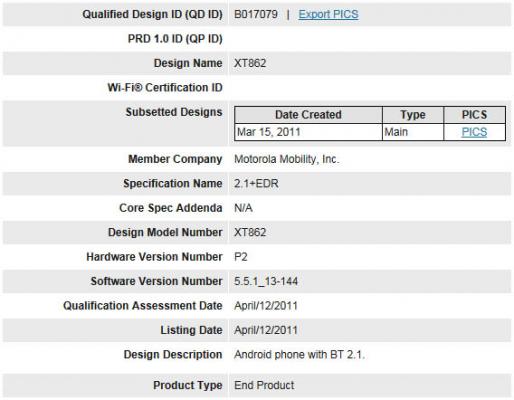 It looks like the Motorola Droid 3, which is destined for Verizon Wireless and rumored to support 4G LTE mobile broadband, is passing through the Bluetooth SIG for certification. The device, unlike the Motorola Droid Bionic–also destined for Verizon–will be utilizing a dual-core mobile processor from Texas Instruments, rather than NVIDIA's Tegra 2, though both chips are built around a similar ARM architecture and are clocked at 1 GHz.
Unlike the first and second generation Droid phones, the Droid 3 will herald in a larger 4-inch display rather than the 3.7-inch display. It is also expected to also support a keyboard in landscape orientation where the screen will slide up. The display's resolution gets a bump as well, up to qHD from the FWVGA format on prior generation Droids.
The Droid 3 was seen passing through the Bluetooth SIG for certification under the model number XT872. The device will support Bluetooth 2.1 + EDR, rather than the newer Bluetooth 3.0 standard.
Via: Android Central and Ameblo

As an Amazon Associate I earn from qualifying purchases.