Motorola Droid 3 Review (Video)
Usually, when a new Droid phone is rumored to be headed to shelves, people are beside themselves. Case in point, the Motorola Droid Bionic. Yet, when the Motorola Droid 3 began leaking out, there was far less interest than there had been for previous Droid devices.
Why? Well, for one, Verizon completely overshadowed the launch by announcing new tiered data plans but that's not the real reason.
The real reason is that Verizon has released a new, next-generation 4G LTE network. It's the network of the future and Verizon expects it to replace 3G completely by the year 2013. But unfortunately, it's a network that the Droid 3 doesn't support.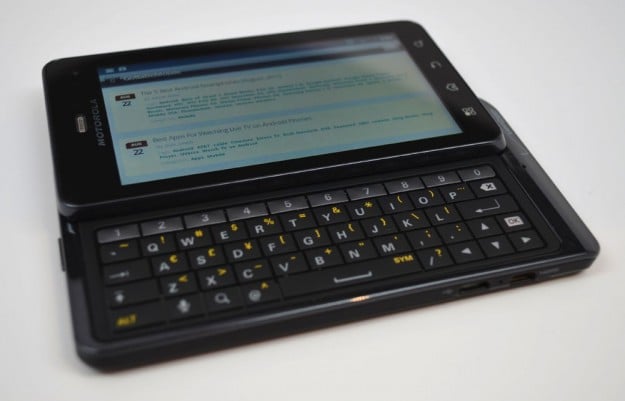 That's right. Verizon's former flagship is, like the Motorola Droid X2, a 3G phone. A 3G phone released in the middle of 2011 after Big Red already launched several 4G LTE compatible devices with several more on the horizon.
And even though it's 3G, the Droid 3 still has some compelling features to offer consumers. Moto has packed in a new dual-core processor, a bigger high-resolution screen, a new QWERTY keyboard and Android 2.3 Gingerbread. But can new hardware and software make up for the lack of 4G LTE?
You'll just have to read on to find out.
Hands-On Video
Form Factor
The Motorola Droid 3 keeps the same visible form factor as the previous Droid models. It' has a rectangular form factor with that same little lip that juts out at the bottom of the phone.
It has a slide-out physical QWERTY keyboard, navigation buttons that rest just below the Droid 3's 4-inch qHD display, a 3.5mm headphone jack and a power button on the top side, slightly redesigned volume rocker resting on the right side, and microUSB and microHDMI ports resting in the lower part of the left side.
It's built to last, like most Motorola phones, and it has a wonderful rubber backing that is both stylish and comfortable to grasp. Also housed on the back is the 8MP camera with dual-LED flash. Unlike the Droid X2, the Droid 3 has a front-facing camera which is situated in the upper right hand corner of the device.
The Droid 3 is also the thinnest of the Droid devices measuring in just around 13mm. You wouldn't really know it though because as soon as you pick this thing up, you'll notice that it's extremely heavy and the bezels are enormous.It just takes up a lot of space. It's about as big as the HTC ThunderBolt which is a 4G LTE phone and needs to pack a huge battery.
There is no reason a 3G phone in 2011, even one with a keyboard, should be this massive.
Display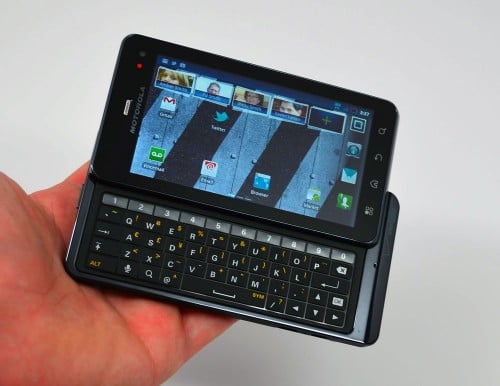 The Motorola Droid 3 employs the same Pentile qHD display that the Motorola Droid X2 has only the Droid 3 has a 4-inch screen instead of a 4.3-inch. This is actually a step up from the Droid 2 and Droid 3 Global which both packed a smaller 3.7-inch display. I was excited when I heard that the screen would be bigger but unfortunately, there are some things that might bother you.
Text at times can appear choppy or blurred making it hard to read. Colors are fairly vibrant but could be better. And overall, it's sometimes a little too pixelated for my tastes.
It's not all bad though.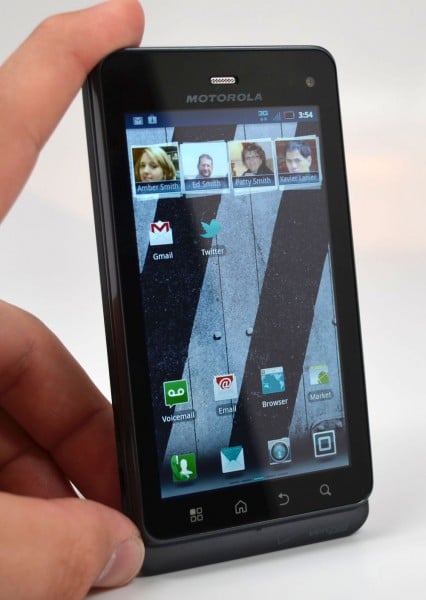 It's PenTile which means that it's going to help conserve battery life and like the Droid X, the Droid 3's display performs well when used outdoors. I should also point out that those of you that aren't used to high-resolution screens probably won't really notice flaws unless you look hard for them. The Droid 3's display is certainly not the best display on the market but it's not the worst either.
Performance
The Droid 3 houses a 1GHz dual-core TI OMAP4430 processor and 512MB of RAM which put it on par with the Droid X2 and a lot of the higher end Android phones out there. Both were able just about everything I threw at them. Games, surfing the web, multitasking, you name it. However, for some reason, the MotoBlur UI on top of Android 2.3 Gingerbread isn't as crisp.
Animations and transitions in the UI are choppy and it grew really tiresome waiting a few seconds for things to load that shouldn't be taking a few seconds to load. Outside of MotoBlur, the phone zips along. I just don't understand why Motorola didn't throw a 1GB of RAM in here to better handle the UI. Or at least cut down on all of the senseless animations.
As for benchmarks, the Droid 3 had a Quandrant score of 2156 (I've seen some higher scores elsewhere) and it also showed up with a 46.8 FPS score on Nenamark1.
Camera
On paper, the Droid 3's camera sounds fantastic. 8MP shooter with 1080p video recording. But unfortunately, it's not as amazing as it sounds. First, like the Droid X2, the Droid 3 is missing the physical camera button on the side.
That to me doesn't make much sense considering the bulkiness of the handset. Moto very well could have fit it on here and it's a let down that it wasn't included.
 Picture and video quality are good but not great and that was what I was hoping I would get from the Droid 3's camera. Several times, I had trouble getting the camera to focus, especially when it was overcast, and when it was able to do so, the photos and video just weren't crisp enough.
Again, good but not great and this is somewhere that the Droid 3 needed to shine.
Battery Life
The battery life on the Motorola Droid 3 is exactly what we've come to expect from high-end 3G smartphones. It's good. I was able to get through a day and some change with moderate use – web browsing, playing a game or two, making calls – and still had some battery to spare.
If you're a heavy user – you use the camera to record video, love playing tons of games – you should be able to get around a day out of it, maybe a little less.
But still, battery life is one of the key aspects to the smartphone experience and Verizon and Motorola were able to optimize the dual-core processor, high-res screen and the 1500 mAh battery nicely.
Software
Motorola's Droid 3 has Android 2.3 on board but it's not of the vanilla flavor. Instead, it has Motorola's Blur UI aboard for the ride. And sadly, Gingerbread is extremely hard to find amongst all of the tweaks and customizations that Motorola has thrown in.
As I told you in my review of the Droid X, Motorola's headed in the right direction as far as their MotoBlur user interface is concerned but there is still a way to go before it will be on the same level as HTC Sense. Sure, there are some nice elements to Blur but the bad definitely overwhelms the good here.
Let's start with the good. I really enjoy the static navigation menu on the bottom of the home screen. It allows you to easily access the things you use most and I found myself going back to it time and time again. I also like how you scroll to the side in the app drawer instead of having to pull down. It breaks up your applications much better this way.
In addition, if you hold down on the home button, it'll bring up your most recently used applications which allows you to bring up applications which you recently interacted with.
Unfortunately, MotoBlur also brings a lot of bad to the table as well. Animations are slow, scrolling around is a disaster and the UI just tends to get into the way in the times where you least want it too.
And yes, Verizon decided to go ahead and install an absolute ton of bloatware aka software that you can't uninstall without rooting. At least the Droid 3 has 16GB of on board storage to combat the bloatware and not a pitiful 8GB like the Droid X2.
Sprint has started taking a no-bloatware policy and I hope Verizon decides to head that way soon.
Keyboard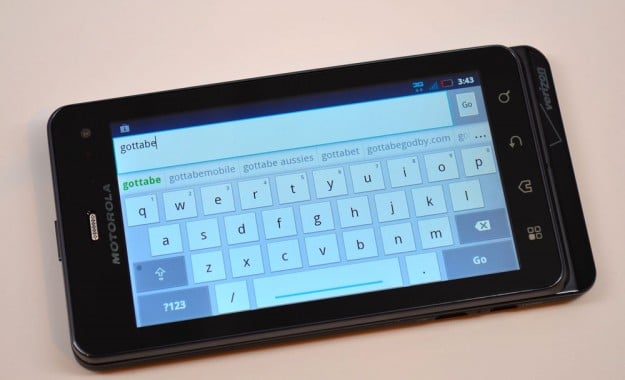 The keyboards on the Droid 3 are probably the most well-done aspects of this phone. In fact, this is the best physical keyboard that Motorola has ever put out. It's spacious, easy to use, responsive, and feels good to the touch. The definition and positioning of the keys are about as perfect as it gets and the new fifth row of dedicated number keys really come in handy. Trust me, you really start to appreciate them after a while.
Keys on the physical keyboard are backlit and make it easy to use the keyboard in the dark and the directional arrows in the lower right hand corner, retained from the Droid 2, are as good as ever.
As for the virtual keyboard, I found myself using and loving it as well. It's really well done and one of the best that I've ever used. Seriously.
The only problem I have with the keyboard is the sliding mechanism. It's lousy. Now, this might just be my device, I don't really know, but it takes too much effort to slide the physical keyboard out. I like how it isn't loose but it definitely could have been a little less rigid.
Voice and Call Quality/Speakers
Sadly, the Droid 3 is pretty subpar when it comes to voice and call quality which is extremely odd considering the Droid X2 had fantastic call quality. Now keep in mind, I am in San Francisco, but that shouldn't excuse the fact that calls on the Droid 3 often times would come in choppy and sometimes to the point where the person on the other end of unintelligible.
That's just unacceptable for a 3G phone and to be honest, it was one of the major let downs that I found with the Droid 3. Hopefully, Verizon pushes out a software fix that takes care of the problems in this arena but with all of the stuff it has on its plate right now, I doubt that the Droid 3 is a priority. I mean, this is a phone that didn't even have a pre-order.
In order to watch movies or listen to music, I had to turn the speakers way up to be satisfied. I shouldn't have to do that on a phone that's out this late in 2011. The original Droid X had all kinds of volume issues and it's sad to see a phone released more than a year later have the same kind of issues.
Conclusion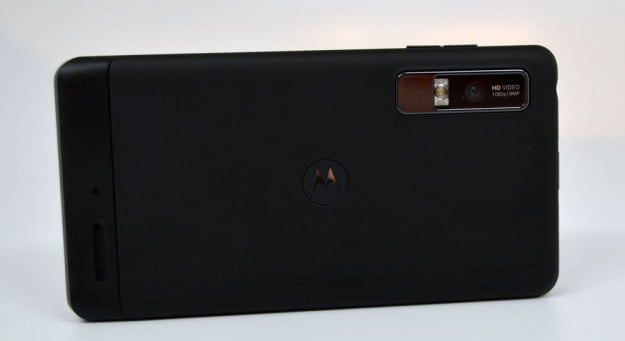 Overall, the Droid 3 seems a bit rushed out the door (if it had LTE, it would have made sense) and quite frankly, the original Droid series seems like a dying breed. A shame, considering its rich history. That being said, it's not a bad phone. It has some features that will certainly delight those of you who are capable of passing on the upcoming onslaught of smartphones.
From its phenomenal physical QWERTY keyboard to the way its processor can handle games and web pages, there are things to like. But there are just too many downsides to push this phone any higher than 'above average.'
No LTE, an average display, an average camera, tons of pre-loaded software, and a bulky form factor are all downsides to phone that would have been fantastic had it been released closer to the beginning of 2011 rather than in the summer. As it stands, the Droid Bionic is only days away from launch and it will soon make the Droid 3 look like a second-class device even if it has first-class specs.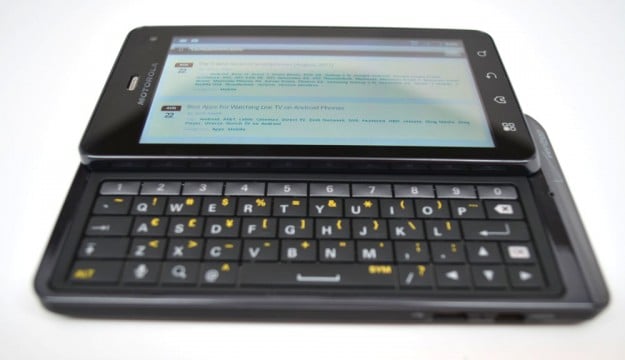 For those of you who can deal with 3G, the Droid 3 is a dependable phone. But unless you're getting it for a bargain, I would hold off and wait for the next crop of phones to come out.
Pros:
Feels great in hand
Fantastic physical QWERTY keyboard
Good battery life
Global capabilities make it smart choice for travelers
Cons:
No physical camera button
No 4G LTE
Phone call quality is subpar
Tons of bloatware