Motorola Droid 4 Features and Photos Leak Out
One of the biggest gripes that we had with the Motorola Droid 3 was that it didn't have 4G LTE on board when it arrived. And this meant that those looking to get their hands on a 4G LTE device with the original Droid design would have to wait and see if it would come with the Droid 4. Yes, we're already talking about the Droid 4. We had heard that it might have it on board and now we have further confirmation courtesy of Droid-Life.
The Droid 4 has just leaked out on camera for the first time and we also have a full spec rundown. If you've been waiting for a 4G LTE device with a physical QWERTY, this might just end up being the phone that you buy. Apparently, it has the best physical keyboard ever to grace a smartphone. Oh, and it has some other specs as well.
Those include:
4″ screen
Full 5-row "illuminated" keyboard
RAZR styling
4G LTE
Non-removable battery
Android 2.3.5
1080p video recording
Front camera
HDMI out
MotoACTV syncing
So, essentially, everything the Droid 3 should have been. No Ice Cream Sandwich on board though which is a little bizarre but seeing as though we have yet to hear about a release date, Android 4,0 out of the box is certainly possible.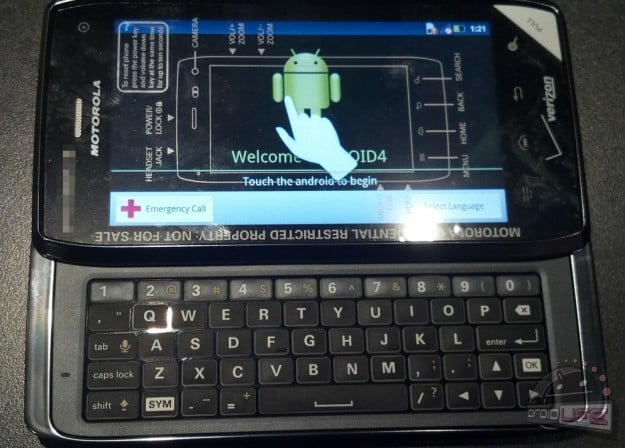 Speaking of a release date, while previous incarnations of the original Droid have launched during the summer, this phone appears to be done and that means that we could see it show up sooner rather than later. CES perhaps.
Or maybe sooner than that.
Who's buying?

As an Amazon Associate I earn from qualifying purchases.