Motorola Droid Bionic: Details, Review & Hands-On Video Roundup
The Motorola Droid Bionic is a slim Android 4G smartphone with a dual core 1GHz Tegra 2 processor, 512MB RAM, a 4.3″ qHD display and two cameras, a front facing webcam and a rear facing 8MP camera for capturing snapshots.
The Motorola Bionic was officially announced at CES 2011, but we have been waiting eagerly since then to see when the Droid Bionic, Verizon's second 4G LTE phone, will arrive and join the HTC Thunderbolt.
When the Bionic arrives, we can expect to enjoy similarly fast 4G LTE speeds, and we'll be hoping that the Bionic battery life is better than the HTC Thunderbolt's battery life.
Droid Bionic Review [Update]
The Motorola Droid Bionic is available starting on September 8th at Verizon retailers. You can find out everything you need to know about the device in our full Motorola Droid Bionic review.
Head on over to see why we gave Verizon's first 4G LTE dual core smartphone an Editor's Choice award.
Droid Bionic Release Date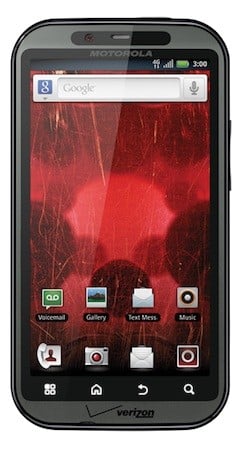 Verizon and Motorola have not announced when the Motorola Droid Bionic would be available for purchase, but recent leaks are pointing to a Droid Bionic release date in May. Many had assumed that the Droid Bionic would be available already, but the delay which kept the HTC Thunderbolt on hold appears to have pushed back the Droid Bionic release date as well. Recent checks with Verizon retail locations show that while Verizon salespeople are familiar with the device, they have not received formal training on the Droid Bionic.
Update, the Motorola Droid Bionic will be available on September 8th for $299.
What is the Droid Bionic?
The Motorola Droid Bionic is a new smartphone that  will run Android 2.2 and is being dubbed an "Android Social Smartphone" by Motorola. We're hoping that with the delay comes an upgrade to the latest Android 2.3, known as Gingerbread. From a spec standpoint, the Droid Bionic appears to have pretty much everything you would want in a new 4G Android device; a dual core Tegra 2 processor, decent amount of RAM, front and rear cameras and of course a beautiful qHD display.
Droid Bionic Hands On Video
We shot the above video at CES 2011. You can get a sense of what it's like to browse the web on the Droid Bionic and its display quality.
Droid Bionic Features
Gaming and Video: The Droid Bionic comes with multiplayer gaming capabilities, which Verizon says will allow for live peer to peer gaming with your friends over the 10x faster than 3G network. The video can be sent to your HDTV over an HDMI cable, and viewed simultaneously on the phone if you choose.
qHD Display: The 4.3″ qHD display is the standout feature that will immediately catch your attention when it lands on store shelves in a few months. The qHD display has a 960 x 560 pixel display that beats out the typical 854 x 480 displays found on high end droid devices like the Motorola Droid X and HTC Thunderbolt. You owe it to yourself to go see this screen in person when the Droid Bionic arrives in May.
4G LTE Network: The Verizon Wireless 4G LTE Network continues to expand and with it, the advanced 4G connection brings speeds 10X that found on 3G. In some cases you will see speeds faster than your typical home cable connection!
4G Hotspot: The Droid Bionic will come with a 4G Mobile Hotspot feature which will require an extra fee, but should allow you to connect up to 8 devices to your phone for fast connectivity on the go.
Verizon 4G Network Speed Test:
Like the HTC Thunderbolt, the Droid Bionic will run on Verizon's 4G LTE network. In this SpeedTest.net test, you'll see what you can expect in areas that are covered by Verizon LTE. This test was performed in San Francisco.
At the same location, we ran the Speedtest.net test on an iPhone 4 on AT&T's 3G network. As you can see, there is a huge difference between Verizon LTE and what most smartphone users are used to in terms of upload/download speeds.
Performance: With a Dual Core Tegra 2 Processor, we expect to see performance on par with the Motorola Atrix 4G which runs on AT&T. In our hands on time with the Motorola Droid Bionic we found the device to performance to be snappy with smooth screen transitions.
The Droid Bionic vs.  HTC Thunderbolt vs. iPhone 4
The Droid Bionic is shaping up to be a very popular device, and thanks to the features; it can compete well with the iPhone 4 and the HTC Thunderbolt. To see how the three popular smartphones stack up, check out this infographic from Skattertech.
Droid Bionic Hands-On, Review Videos
Droid Bionic walkthrough and Screen Demo from Phandroid. This video provides an overview of the Droid Bionic's features and gives a look at the nice display.
https://www.viddler.com/explore/engadget/videos/2233/
Engadget shares a hands on look at the Droid Bionic from CES 2011 which provides a better look at browsing on the Droid Bionic and a pretty snappy switching from screen to screen.
Phonedog provides another nice Hands on with the Droid Bionic from CES 2011 including a glance under the battery cover and some talk about the battery life expectations.
TalkAndroid also gives a look at the Droid Bionic from CES 2011 in one of the brighter environments. This hands on will show you a look around the device in a setting that actually allows you to see what the Droid Bionic looks like. You can also look at the Settings to see the official model numbers and such, if that is of interest.
Motorola Bionic Hands on from AndroidPolice. This hands on covers how Skype will play into the Bionic when it launches. This is also another well lit hands on, allowing you to get a nice look at the Droid Bionic.
Motorola Droid Bionic Feature Tour from Mobileburn. This demo touches on how you might be gaming on the Droid Bionic when it arrives.
Droid Bionic Availability and Pricing
The Motorola Droid Bionic is expected to arrive in May 2011 on Verizon Wireless and will likely have a starting price of $249.99 after rebates and a two year contract. The Motola Droid Bionic was briefly priced at $150 on Amazon, but we expect a higher price, in line with the HTC Thunderbolt when it is first released. You can expect to see some Motorola Droid Bionic deals from Amazon Wireless and Wirefly near the launch date. If tradition holds true, you will be able to purchase the Motorola Droid Bionic for around $320 on a one year contract.
Droid Bionic Specs (Verizon Wireless LTE)
| | |
| --- | --- |
| Networks: | LTE 700, CDMA EvDO revA |
| Operating system: | Android™ 2.2 |
| Display: | 4.3" qHD capacitive touch screen |
| Camera: | 8MP with autofocus, Dual LED Flash (2x LED), 1.3MP front facing camera |
| Memory: | 16GB Internal + 512MB RAM, supports up to a 32 GB microSD™ |
| WLAN: | 802.11 b/g/n |
| Bluetooth: | 2.1 with EDR |
| GPS: | GPS/AGPS |
| Battery: | 1930mAh, swappable, 8Hr 3G rating. 312Hr standby |
| Special features: | Compass, Proximity sensor, Light sensor, 3.5mm audio jack, MicroUSB, LTE SIM slot , HDMI Out, |
| Chipset: | NVIDIA Tegra 2 Processor |
Droid Bionic Gallery

As an Amazon Associate I earn from qualifying purchases.