Motorola Droid Bionic for Verizon Wireless at CES (Video)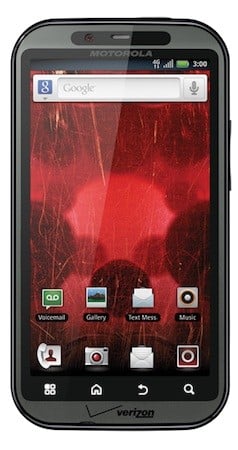 Motorola had announced the Motorola Droid Bionic for Verizon Wireless yesterday at a press conference in Las Vegas, NV and we were there to get some hands-on time and a demo from Motorola's team. The Bionic is the next generation of Droid, and as a Droid device, the "Droid [Bionic] Does" a lot with its dual-core gigahertz CPU from Texas Instruments along with a 4G LTE modem support. Unfortunately, though, we weren't able to test download speeds as Motorola would not demo the 4G radio at this time.
Update: Check out our Motorola Droid Bionic Details, Reviews and Hands-on Video Roundup.
In our hands-on, the smartphone performed very well and screen transitions were very smooth, thanks to the powerful ARM-based processor design.
Like the Motorola Atrix from AT&T–we'll also have videos of that one posted soon–the Droid Bionic from Verizon Wireless will also support a high resolution 4.3-inch qHD display, which has a resolution of 960 X 540 pixels, up from the FWVGA resolution of 854 X 480 found on today's high-end Droid handsets, including Motorola's Droid X on Verizon Wireless with the same 4.3-inch display.
Press Release:
Packing a dual core processor with each core running at 1GHz, delivering up to two GHz of processing power, and 512 MB RAM, the sleekly designed DROID BIONIC smartphone with 4G LTE delivers a mobile Internet experience that's up to 10 times faster than 3G. This means consumers can stream their favorite music and the latest TV shows with unparalleled quality experience. DROID BIONIC also races through loading of complex web pages and media that take advantage of Adobe® Flash® Player and HTML5, rendering graphics faster than previous generation single-core devices.
Motorola's DROID BIONIC gives new meaning to the word "socialize" by delivering multiple ways for customers to stay connected. With the device's front-facing VGA camera and See What I See video feature, consumers can share experiences – either via Wi-Fi or 4G – with family, friends and co-workers. A rear-facing 8-megapixel camera also allows consumers to capture their favorite pictures and videos.
DROID BIONIC's multiplayer gaming capabilities allow consumers to challenge friends to live peer-to-peer gaming, viewed through the device's 4.3-inch qHD quality screen that delivers console-quality graphics. DROID BIONIC's HDMI connectivity also enables consumers to connect the device to their HD televisions to experience their favorite games, as well as purchased HD content, in full 1080p. And for multi-taskers, DROID 4G's Mirror Mode function enables simultaneous streaming of video to the TV and on the device.
As a fully featured work device, DROID BIONIC comes equipped with corporate email, remote wipe and data security and encryption capabilities IT departments appreciate. DROID BIONIC also features productivity tools such as Quickoffice® for document review and editing, full calendar management, one-click access to conference calling, and a full suite of Google applications and services.
"DROID BIONIC brings to life the speed and power of Verizon's 4G LTE network, giving consumers an unrivaled mobile experience," said Marni Walden, vice president and chief marketing officer for Verizon Wireless. "Whether downloading movies in minutes, connecting with friends or co-workers through video conferencing, or blazing through the Internet, Motorola's DROID BIONIC is what the 4G LTE experience is all about."
"DROID BIONIC is the epitome of speed, providing consumers with instantaneous access to their personal and work content, anytime and anyplace," said Alain Mutricy, senior vice president of portfolio and device product management, Motorola Mobility. "By combining such a powerful mobile device with the performance and capabilities of Verizon's 4G LTE network, we're empowering consumers to define how they want to live their mobile lifestyles."
The Verizon Wireless 4G LTE Mobile Broadband network, launched in December 2010, is the fastest, most advanced 4G network in the United States, providing speeds up to 10 times faster than Verizon Wireless' 3G network. Verizon Wireless' 4G LTE Mobile Broadband network currently reaches one-third of all Americans, with plans to expand the network to the company's entire 3G coverage area over the next three years.

As an Amazon Associate I earn from qualifying purchases.