Motorola Droid Bionic Ice Cream Sandwich Update Available for All Users
Motorola has informed Droid Bionic soak test participants that the Ice Cream Sandwich soak test is over and that due to the positive results of the soak test, the Droid Bionic Ice Cream Sandwich is now rolling out for more users. However, based on what we've heard from owners, it looks like it might be available to everyone right now.
The email, which was delivered to Droid Bionic Ice Cream Sandwich soak test participants last night says that because the testing went well, Motorola made the decision to roll out the Droid Bionic Ice Cream Sandwich update to more owners last night, though it says that the update will be rolling out in phases.
What we've heard though is that all Droid Bionic owners should be able to pull down the Ice Cream Sandwich update today.
Read: Motorola Droid Bionic Ice Cream Sandwich Update Should Roll Out to More Users Soon.
Here is the full email that Motorola sent to those who were apart of the Droid Bionic soak test over the last few days.
Hi.

Thanks to everyone who participated in our soak test of new software for the Droid Bionic on Verizon. After reviewing your community comments and survey feedback, we've made the decision to release the software in stages for all owners starting later this evening.

Overall, the feedback we received was extremely positive — the survey results was among the best we've seen. We will continue to investigate issues reported in our soak community and in the survey. And I may be in contact with some of you to follow up on some of the problems you have reported.

I will shortly remove you from the private soak community though it will remain open for a short period of time. To return to the public communities, simply log out of the forums and log back in. Remember, all communications related to this soak test, and the details of our processes, are confidential and should not be shared.

Again, accept our thanks for sharing your time and insights to test this software, and for joining the Motorola Feedback Network.
So, as we told you, the last few days of the Droid Bionic Ice Cream Sandwich have been a soak test to ensure that the update is up to snuff for both Motorola and Verizon. This, it seems, has become Verizon's new way of rolling out updates. Announce the update, roll out the soak test, and if all goes well, roll out the update to the public.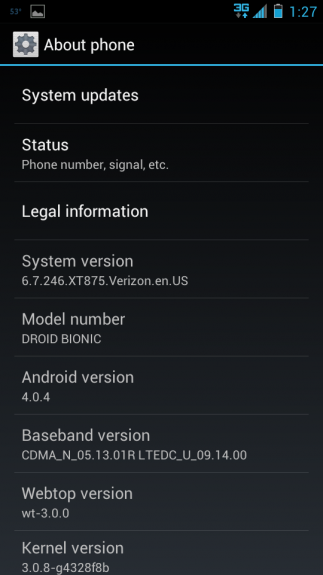 It seems though that Motorola and Verizon made some improvements as far as the timing of the public roll out is concerned. We heard from several Droid RAZR and Droid RAZR MAXX owners who went through the same process but didn't see their updates arrive for many days after the soak test ended.
It doesn't appear that Droid Bionic owners will have to wait for the update, it should be available right now. Droid Bionic owners should head into Settings, then About, then Check for the update. It should be there ready to download and install.
Enjoy the update everyone.
Thanks, A, W!

As an Amazon Associate I earn from qualifying purchases.