Motorola Droid Bionic Launching August 4th, Droid 3 on July 14th?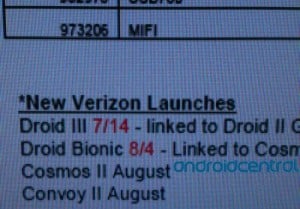 A leaked Verizon Wireless screenshot shows that the carrier may launch the Motorola Droid Bionic on August 4th and the flagship Motorola Droid 3 on July 14th. Though the carrier never announced the launch date for the Droid Bionic, the handset was anticipated to be the second 4G LTE Android smartphone for Verizon's network, however undisclosed issues with the smartphone forced Motorola to re-design the handset.
Since then, Motorola's rivals have launched the HTC Thunderbolt, the Samsung Droid Charge, and the LG Revolution as 4G LTE handsets on Verizon's network. With 4G LTE, Verizon is promising data speeds up to ten times faster than 3G speeds; real life performance of 4G LTE is around 6-12 Mbps for downlink speeds and 2-5 Mbps on the uplink side.
The Droid Bionic was initially believed to have been released with a dual-core Tegra 2 chipset made by NVIDIA. Since the handset's CES introduction, however, it is now believed that the device will launch with a dual-core ARM-based OMAP chipset from Texas Instruments.
The Motorola Droid 3 may launch on July 14th, after the anticipated July 7th launch date for Verizon's new wireless metered data plans. The Droid 3 was initially believed to be launched on July 7th, but the latest screen shot shows that Verizon may be delaying the handset to launch a week later.
Via: Android Central

As an Amazon Associate I earn from qualifying purchases.