Motorola Droid Bionic Makes Appearance on Verizon's Front Page
We've pretty much seen as much unofficial Motorola Droid Bionic content as we could possibly see. From our exclusive photos showing off the design to a full-fledged feature leak to advertisements. Heck, we even have a very credible release date with possible pricing. In other words, we've seen it all. Problem is, none of it is official.
However, it seems Motorola and Verizon are finally inching their way towards making the Droid Bionic official as the the handset briefly hit Verizon's front page showing off nothing but a 'coming soon' tag and a 'Rule All Machines' by line. Yes, another Droid Bionic tease I'm afraid.
Still, this is a good sign that things are headed in the right direction and we'll hopefully see a release on September 8th. Unfortunately, that still hasn't been confirmed and we still have no idea when pre-orders might start.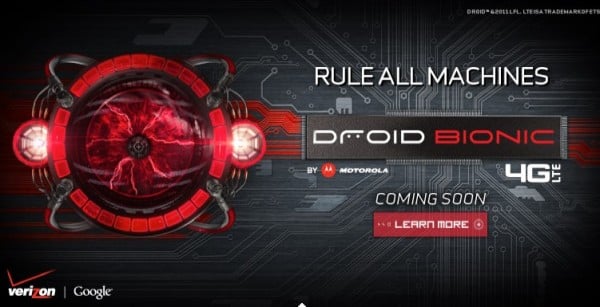 So, the Droid Bionic is getting more and more official by the day but the longer it waits to do so, the more people waver. The Nexus Prime has a possible October release date so it would be wise for Verizon and Motorola to toss out a pre-order and an official announcement soon.
Anyone else tired of waiting? I know I am.
Via: Droid-Life

This article may contain affiliate links. Click here for more details.