Motorola Droid Bionic Price Falls at Verizon
A sign that it's on the way out? Or is Verizon just being nice? Either way, the carrier has dropped the price of the Motorola Droid Bionic today with it falling down to a mere $100 on-contract. In order to achieve this price,Verizon employed the method that it used when it dropped the price of the Motorola Droid RAZR. Specially, it has taken out the microSD card that is usually included with the device.
What this means is that those of you who are going to need memory beyond the 16GB of internal storage that come with the Droid Bionic will have to buy the microSD card separately from the phone.
Many of you probably never exceed 16GB anyway.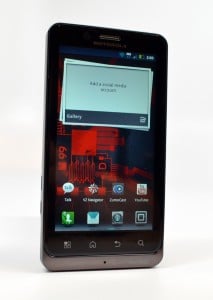 But if you do, just know that you'll have to snag the extra memory separate from the phone.
The Motorola Droid Bionic launched in September of 2011 to much fan fare as it was the first 4G LTE smartphone to feature a dual-core processor. However, because its release had been delayed for so long, its launch was quickly overshadowed by that of the Motorola Droid RAZR which quickly rendered the Droid Bionic as an afterthought.
But don't let the silence fool you, this is a solid phone that we thought highly enough of to reward it with our Editor's Choice. Translation: The $99 price tag means that it at least warrants a look, even if it's surrounded by newer phones like the Droid 4 and Droid RAZR MAXX.
(Read: Motorola Droid Bionic Review: Editor's Choice.)
There is one headache that comes with the Droid Bionic and all current Motorola smartphones and that's the fact that they don't run Google's Android 4.0 Ice Cream Sandwich operating system, its latest operating system.
Right now, Motorola is offering no time table for the update, something that we believe is completely unfair to those who bought the device back in September.
(Read: Droid Bionic Owners Deserve Some Android 4.0 Answers Too.)
It will be getting the update at some point though and the Droid Bionic will be better for it.
If you're interested now that the price has dropped to $99, you can find it through Verizon here. Or, if you're looking to save even more money and you're a new customer, you can snag it through Amazon for a mere $30.
Via: Electronista

This article may contain affiliate links. Click here for more details.