Motorola Droid RAZR Shipping with Locked Bootloader
One of the burning questions we had following the Motorola Droid RAZR announcement was whether or not the phone's bootloader would be locked when it arrives in November, possibly on November 10th. Many of you I'm sure had been hoping for some good news in this arena but unfortunately, I have to break the bad news. I know, it's a drag.
Motorola's official Twitter account has confirmed the Droid RAZR's bootloader to be locked stating that it was locked "per the carrier, in addition to meeting security, safety and regulatory guidelines."
Obviously, that's not what we wanted to hear but it's safe to say that this shouldn't shock anyone. Motorola's phones on Verizon have a long history of being locked down.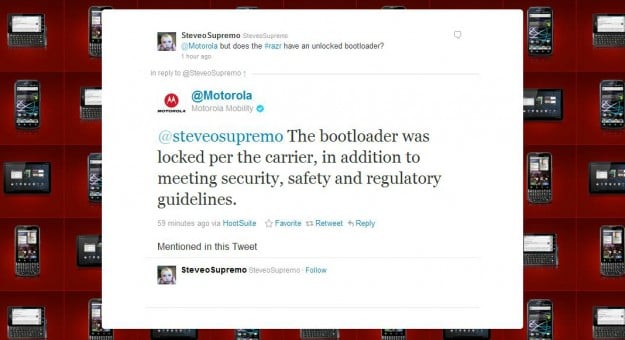 Fortunately, there is another Verizon-bound device that will be coming out later today, the Galaxy Nexus, that shouldn't have these limitations when it arrives. So you'll probably want to keep your eyes open later tonight when Samsung and Google announce their latest phone.
Anyone disappointed? Or did you prepare yourself for this?

As an Amazon Associate I earn from qualifying purchases.