Motorola Droid X 2 benchmarks confirm qHD display, Tegra 2
While Verizon has yet to make the successor to the original Motorola Droid X official, that hasn't stopped the Motorola Droid X 2 from leaking out and today it has shown up again in some benchmark scores from NeraMark.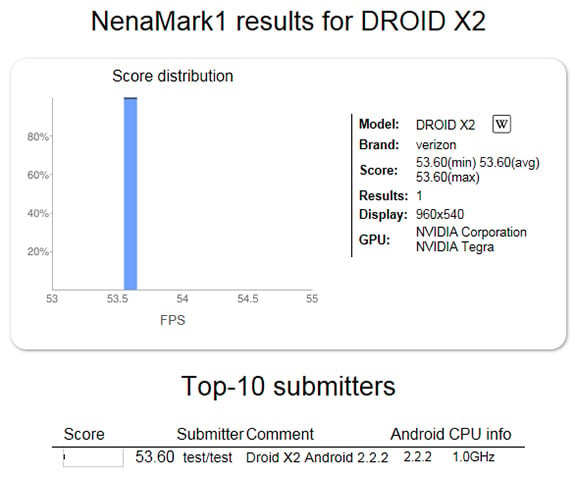 We've heard for a few months now that the Droid X 2 would come loaded with some upgrades including a bump in screen resolution, an NVIDIA Tegra 2 dual-core 1GHz processor, an 8MP rear facing camera, and the same qHD LCD display that will be on the upcoming Motorola Droid Bionic.
Well, the benchmarks have confirmed a couple of these specs and it like the Droid X 2 will indeed come loaded with a high-resolution qHD display and a 1GHz Tegra 2 processor. The test device was also running Android 2.2.2 Froyo but that shouldn't be the operating system that the Droid X 2 has at launch.
Android 2.3 Gingerbread is more likely. The benchmarks also have confirmed the obvious and show the Droid X 2 heading to none other than Big Red itself, Verizon. However, when and for how much remain a mystery.
A recent Verizon roadmap leak indicates that we will likely see the Motorola Droid X show up at some point in May and seeing as though it probably won't have a 4G LTE radio, it'll likely check in at $199 on a two year contract.
(Via Pocketnow)

As an Amazon Associate I earn from qualifying purchases.