Motorola Droid X Gingerbread Update Rolling Out on May 27th
The wait is finally over as Verizon has confirmed that the Motorola Droid X Android 2.3 Gingerbread update will be rolling out starting this Friday, May 27th. The official roll out comes after some controversy, plenty of leaks and of course, after a long wait.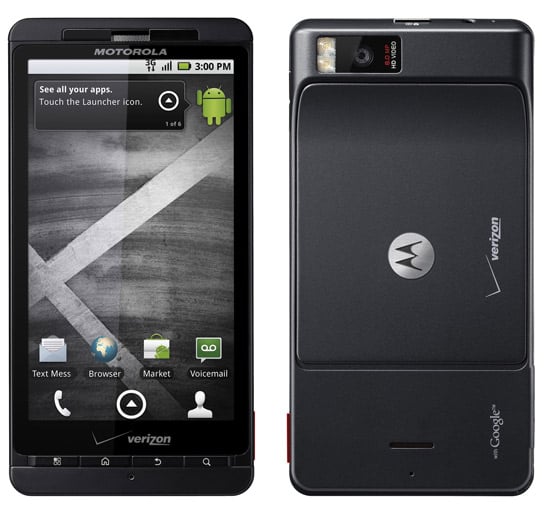 It appears that the Gingerbread update will roll out in batches meaning not every Droid X owner will see it at once.  So, if you don't see it on Friday, be patient. The confirmation from Verizon comes just hours after the carrier put up the new Android 2.3 changelog on its site indicating that a release was near.
Besides the update to Gingerbread, Droid X owners will also be seeing some other things as well, things that include:
Enhancements:

+ Download Manager App:

New App to manage all of your downloads from web browsing, email attachments and other apps.

+ App and Power Management Details:

Under Manage Applications, a new "Running" tab displays a list of active applications and the storage and memory being used by each.

+ Multi-Touch Key-Chording:

New ability to enter numbers and symbols with keyboard shortcut combos, instead of having to change to the numeric keyboard mode.

+ Improved Word Selection and Copy Functionality:

New capability to select a word via press-hold. A second press of the selected word copies the selected characters.

+ New User Interface and Color Scheme:

New widgets, icons and screens with refreshed colors.

+ Dock Icons:

Static Phone, App Launcher and Contacts icons are replaced within a customizable dock. Three swappable icons and the App Launcher icon are fixed to the Dock at the bottom of all home screen panels for easy and instant access.

+ App Groups:

New App Menu allows creation of custom app groups, in addition to 3 default groups:

All Apps, Recent and Downloaded.

+ Emergent Groups and Smart Contacts:

Based on usage, participant and addressee suggestions are made in Calendar entries, emails and text messages. Create groups instantly based on the context of what

you're doing. For example, quickly create a group based on a suggestion Calendar invitee list or the group of people with whom you're texting.
So, Droid X owners, the day is almost upon you. How does it feel?
Via: Android Central

As an Amazon Associate I earn from qualifying purchases.