Motorola Droid X2 Now Referenced on Verizon, Motorola Websites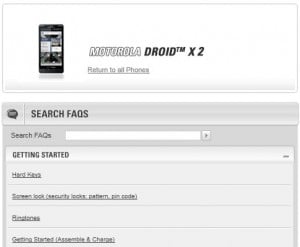 The yet to be announced and often rumored Motorola Droid X2 has now shown up in references on Verizon Wireless's accessories page and Motorola's support site. The device is expected to be an upgrade to the original Motorola Droid X1, yet retain the overall form factor of the original device. The new Droid X2 is expected to have a dual-core CPU, a qHD display, and maintain a 4.3-inch display form factor with physical Android navigation buttons, rather than the capacitive buttons found on devices like the HTC Thunderbolt.
On the carrier's accessories page, the device is compatible with a Bluetooth headset and also a generic leather carrying case.
In the recent past, a user manual for the device was also leaked online. The device is rumored to be launched on May 26th.
Via: Engadget

As an Amazon Associate I earn from qualifying purchases.