Motorola Droid X2 Review (Video)
You know the saying "if it ain't broke, don't fix it?" Well, Motorola and Verizon apparently had that phrase posted all over their offices when mulling over ideas for the successor to the original Motorola Droid X because the Motorola Droid X2 is a splitting image of its older brother.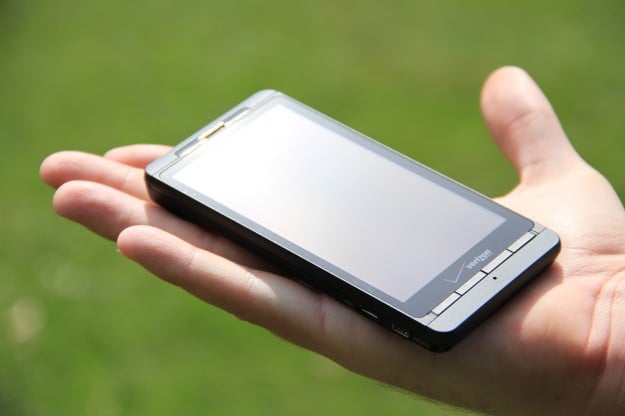 Beneath the hood though, the Droid X2 is a different device almost entirely. From a new display to a fresh processor, the Droid X2 has some things that the original doesn't. But how well do they work?  Is it worth investing in a phone that doesn't have 4G LTE capabilities?
Read our full review of the Motorola Droid X2 to find out.
Motorola Droid X2 Form Factor
While Verizon and HTC changed the screen size and a couple of things with the form factor of the HTC Droid Incredible 2, Motorola did nothing to the form factor of the Motorola Droid X2. In fact, both the Droid X and the Droid X2 have the same exact measurements: 2.58 inches wide, 5.02 inches tall, .039 inches thick, and both weighed 5.47 ounces. For those that need to know, that's 0.341875 pounds.
Like the Droid X before it, the Droid X2 fits well in the hand and its design feels extremely sturdy. If you've never held a Droid X before, know this. It's a large phone. At first it may seem a little bit troublesome to lug around, especially if you're coming from a smaller device, but after awhile you'll get used to it.
There is one major difference between the Droid X2's form factor and that of the original and that is the lack of the physical camera button that used to be housed on the left side of the original. It's unclear exactly why Motorola decided to ditch it and it's a little disappointing that it chose to do so. You can use a double tap of the home button to launch the camera app when the phone is unlocked, but it is no replacement for a dedicated button.
Everything else though made it from the Droid X to the Motorola Droid X2. You've got the 3.5mm headphone jack in the top left corner next to the dedicated power button that's situated in the middle. On the left side you have the usual microUSB slot and HDMI port. And on the right, the volume rocker.
Those who have held the Droid X will notice that the bump on the back where the camera is housed is back and will add a little extra bulk at the top of the device. Trust us; it's not that big of a deal.  Speaking of the camera, it's the same 8MP camera with dual LED flash that came with the original.
One thing that it does lack though is a front facing camera which is going to be a disappointment for those who love to video chat.
Motorola Droid X2 Display
The Motorola Droid X2's 4.3-inch qHD display is one of the features not found on the older model and it's definitely one of the highlights on Verizon's new 3G device. The Droid X2's qHD display offers 540×960-pixel resolution and is a departure from the WVGA (480×854) screen found on the Droid X.
Text on the Droid X2's display is easy to read, the colors on web pages are vibrant, and pictures and video are rendered beautifully. It's an extremely sharp experience and those who play games will be especially delighted by how good graphics look on the Droid X2's massive screen. It also performs admirably outdoors even though it's not specifically designed to be. The tests that we ran against the HTC ThunderBolt's screen left us amazed at the shear quality of the Droid X2's screen.

The Droid X2 is currently the only device on Verizon that sports a qHD display. The Motorola Droid Bionic will likely be the next device that arrives with one.
Motorola Droid X2 Performance
Another feature that was upgraded with the Motorola Droid X2 was the processor. Gone is the 1GHz single-core TI OMAP3630-1000. In its place is a high-end Tegra 2 dual-core processor from NVIDIA which makes the Droid X2 the first device on Verizon to sport dual-core capabilities.
At first, the differences weren't really noticeable. But after a few days of using the Droid X2, the power of the Tegra 2 really became noticeable. Web pages and Flash content loads faster. Games run a lot more smoothly.  Switching between menus is done painlessly without any slow down.
Overall, it's just a smoother and better experience than what you get from a phone with a single-core processor. Gamers should know that the Droid X2 packs a GeForce GPU graphics processor which is really just the icing on the cake of a phone that really delivers when it comes to gamers needs.
Yes, the Droid X2 has 512MB of RAM and not 768MB or 1GB like some of the newer phones on the market but it's not something that is going to hinder your experience with the device. It has enough bells and whistles to compensate.
Motorola Droid X2 Camera
There are a couple of flaws that mare an otherwise awesome 8 megapixel rear facing camera. The Droid X2 retains the same dual-LED flash supported camera from last year and while it's capable of taking some beautiful photos there are times when we wished that the shutter speed was faster.
There were a couple of instances when photos would come out on the blurry side. However, when it captures stuff properly, it does so beautifully.
One of the bright spots of the Droid X2's camera experience is the new photo gallery which provides carousel style access to your content and offers a multitude of ways to share and access your photo galleries.
Video capture on the Droid X2 also left something to be desired. Don't get us wrong, it can shoot fabulous video but more times than not there was stuttering whilst shooting a clip. It's not the end of the world but it certainly gets annoying when it happens virtually every time you're recording.
It's likely that this will be addressed in some sort of firmware update for the Droid X2 or at least we hope it is.
And while the Tegra 2 processor adds the ability for 1080p playback through the device's HDMI Mirror Mode, it doesn't offer 1080p video recording. Yes, the Droid X2 is unfortunately only able to capture 720p video quality. It would be nice if Motorola and Verizon addressed that in a future update as well but don't hold your breath.
Motorola Droid X2 Speakers
Overall, the speakers on the Motorola Droid X2 are solid. From movies to music, we found them to be rich and vibrant and enough to get a party inside of a small room started. Watching sports through ESPN's app was an enjoyable experience and the speakers never seemed to miss a beat. They also worked well with Netflix, which isn't officially supported yet, but can be installed manually with a little magic.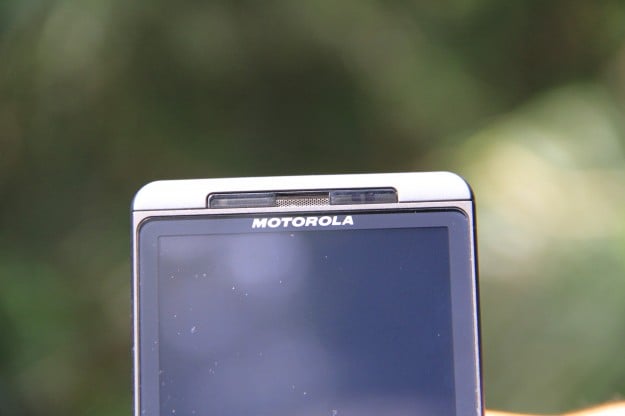 Playing music through the Droid X2 was also an enjoyable experience. Even when cranked up to full volume, the speakers barely wavered and the distortion that you might find on lower-end handsets was almost non-existent.
That being said, there were some times when the depth could have been better, audiophiles will notice, but this is a phone that we're talking about and not a full-blown speaker system so it's a forgivable offense.
Motorola Droid X2 GPS
GPS on the Motorola Droid X2 is speedy and comparable to what we found on the HTC Droid Incredible 2. It was able to pinpoint a location in around 20 seconds when indoors which is far and away better than the GPS found on the HTC ThunderBolt.
Motorola Droid X2 Battery Life
The Droid X2 employs a 1,540mAh lithium ion battery which is the exact same battery found on last year's model. Before we got the device we had assumed that the Tegra 2 would be a menace to the battery but we were pleasantly surprised by how it performed in conjunction with the Droid X2's upgraded features.
We found that the Motorola Droid X2's battery life is pretty amazing for a phone with a dual-core processor. With moderate usage – which included things like web browsing, taking photos and video, and playing some games – we got just around a full day's worth out of device.
When we pushed the Droid X2 with heavy usage which included using auto brightness on outdoors, we got around 13.5 hours.  This puts the Droid X2 right on par with most of the smartphones on the market which is certainly nice considering the powerful features it has on board.
Motorola Droid X2 Software
Verizon has pushed the Motorola Droid X2 out with Android 2.2.2 Froyo instead of the latest software, Android 2.3 Gingerbread. Luckily, Verizon and Motorola are going to be upgrading this thing in the future, so don't let the fact that it comes with an older version of the Android OS scare you off. It also comes with Motorola's MotoBlur software which has brought some improvements along with it but still is no where close to as good as HTC's Sense UI.
The Droid x2 has a grand total of seven homescreens for you to plop down widgets and a new feature from MotoBlur allows you to take a peek and navigate to all of them by pressing the home button while on the main homescreen. You'll also notice that as you scroll through the different homescreens, there are four items that stay stationary which include shortcuts for your apps, your camera, your messages, and for your phone. It's a nice little touch that original Droid X owners will appreciate.
Other additions like the aforementioned photo gallery and the bundled Task Manager are great additions and Motorola's inclusion of a neat little toolbar on the apps page that helps you sort your applications is something that many of you will likely use quite often. The toolbar provides quick access to your applications and you are quickly able to find which applications you recently used or downloaded. There is also a shortcut for easy access to the Android Market.
You also can now press down on any application to bring up a menu that will allow you to easily place applications on your home screen or put them within groups in order to keep them organized.
The Droid X2, as you might have guessed, is a Google device, which means that it comes stocked with apps for Gmail, Google Maps and more. It's also a Verizon phone which means that it comes with a ton of bloatware as well.
Overall, the dual-core processor works extremely well with Froyo and will likely be able to handle Gingerbread just the same. You can easily maneuver through all of the different homescreens, widgets are extremely receptive to the touch and open without any noticeable lag, and while MotoBlur is still not amazing, it brings a couple of nice new features without getting in the way.
Motorola Droid X2 Keyboard
Those of you familiar with Motorola's on-screen keyboard or Swype will already be familiar with the keyboard on the Droid X2. The large 4.3-inch screen provides ample space to type and the display is extremely responsive both when using Swype and when using Motorola's keyboard. Writing emails is a breeze as is texting and inputting URLs for webpages.
Also, we should note that the lag that many original Motorola Droid X owners experienced when using the keyboard has been neutralized by the Tegra 2 dual-core processor. The Droid X2's high-resolution display also helps to make each key extremely visible.
Motorola Droid X2 Voice and Call Quality
The voice and call quality on the Motorola Droid X2 was nothing short of amazing. Verizon's 3G network here in San Francisco provided great connections and the microphone and speakers provided way above average sound and voice quality.
Those on the other end of our tests were impressed by the lack of background noise and by the lack of voice distortion on our end and it easily handled a stroll down one of the busiest streets in San Francisco.
Obviously, service is going to vary by location but when there is service, the Droid X2 is going to perform admirably even when you're surrounded by loud background noise.
Motorola Droid X2 Mobile Hotspot
In the past, we've (me) have had problems with Verizon's mobile hotspot application. On both the Droid 2 and the Droid X, the service was extremely spotty and would often cut out after minimal amounts of use.
Fortunately, Verizon seems to have cleaned up its act with the mobile hotspot app working flawlessly on the HTC Droid Incredible 2 and it performing much the same way on the Motorola Droid X2. We haven't experienced any sort of connection problems yet and the speeds, while not 4G LTE fast, are what you would expect from Verizon's 3G network.
Unfortunately, if you want to tether, you're going to have to cough up an extra $20 a month for the service just like you would with any of the other devices that offer the feature.
Conclusion
The Motorola Droid X2 and the Motorola Droid X might share similar form factors but any similarities end there. The Droid X2's qHD display and Tegra 2 dual-core processor make everything from web browsing to gaming more enjoyable. There might be a temptation to snag the Droid X for the next-to-nothing prices that some retailers are offering for it but trust us when we say this, the Motorola Droid X2 is one of the best 3G smartphones on the market. It's certainly better than the Droid X and it's arguably better than the HTC Droid Incredible 2.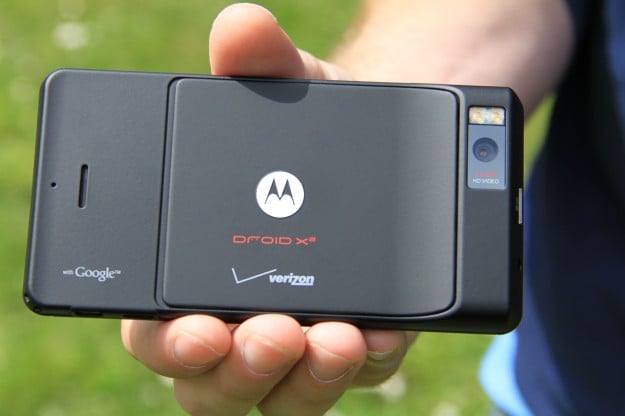 It is a 3G phone though and that means if you sign your name on the dotted line, you're going to have to sit through two years of 4G LTE device releases. However, if you can live without 4G speeds and are just looking for a solid smartphone that serves all your basic needs (email, texting, web), then the Droid X2 is certainly a phone to consider picking up.
The Droid X2 is currently available online for $199 through Verizon or $150 at Wirefly and it will be on sale in retail stores starting May 26th.
Pros:
qHD Display is crisp, games look fantastic
Tegra 2 dual-core processor handles pretty much everything you throw at it
Same amazing form factor
Cons:
Physical camera button is gone
No 4G LTE
No 1080p video capture
Motorola Droid X2 Gallery
Motorola Droid X2 Specs
| | |
| --- | --- |
| Networks: | CDMA 800 and 1900 |
| Operating system: | Android 2.2/2.3 – Froyo/Gingerbread |
| Display: | 4.3-inch qHD Display (540 x 960) |
| Camera: | 8MP rear camera with dual LED flash |
| Memory: | 512MB of RAM, 2GB of internal storage |
| WLAN: | 802.11b, 802.11g, 802.11n Wi-Fi |
| Bluetooth: | Bluetooth 2.1 w/EDR |
| GPS: | A-GPS |
| Battery: | Unknown |
| Special features: | Droid-branding, high-resolution screen, dual-core processor |
| Chipset: | 1GHz NVIDIA Tegra 2 dual-core processor |

As an Amazon Associate I earn from qualifying purchases.