Motorola Elite Sliver Bluetooth Headset Review
When my wife threw my old Bluetooth headset away at a Subway Restaurant in New Orléans, LA, I acted like I was really upset and took the opportunity to buy a newer and better one.
The Motorola Elite Sliver Bluetooth Headset now adorns my ear and connects to my Samsung Galaxy S III and occasionally my MacBook Pro.
It pairs swiftly, sounds pretty good and feels comfortable, but costs a little more than most. So far, I'm pleased. The Motorola Elite Sliver Bluetooth headset has its problems, but there's more good than bad.
I picked the Motorola Elite Sliver for four reasons.
It's small
Uses Bluetooth 4.0
Offers plenty of talk time thanks to the battery case
Uses NFC to tell the phone what kind of connection to use and automatically pair (in theory)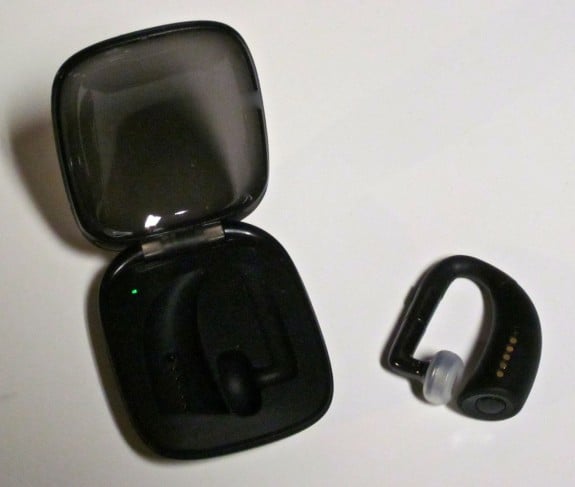 NFC Pairing
Let's start by looking at the NFC pairing option and the case. The Elite Sliver comes in a useful carrying case that functions as a backup battery and storage. It also includes an NFC chip. Tap an NFC enabled phone, like my Samsung Galaxy S III and its supposed to communicate with the phone, turn on the Bluetooth and automatically connect the headset to the phone.
Instead of turning on Bluetooth with the tap of a finger, I'm supposed to tap the case to the back of my phone with the headset inside.
NFC pairing never worked with my phone. After some investigation I found that it only works with a couple of Motorola phones and doesn't work with any phones from other manufacturers due to obscure requirements that most don't meet. Since the user only pairs a headset with a phone on first use, this didn't lower my appreciation too much. Motorola should make it clear on the packaging that it only works with Motorola headsets at present.
Design and Function
Ignoring the NFC debacle, I really like the design of the Motorola Elite Sliver. The term sliver implies small size, the first of my four reasons for buying it. Indeed, it fits on my ear and disappears for a while. I don't mean others can't see it, but I stopped noticing it.
After about an hour I need to take it off for a few minutes since it has a round ear bud style speaker instead of a more comfortable in-ear style speaker. Still, going a full hour works for me.
The headset turns on and off by swiveling the ear bud (see picture above). The ear bud swivels in both directions so I can wear it on either ear.
With the headset turned off, it fits into the carrying case. The case fits the ear buds with form-fitting cutouts. Metal connectors touch the connectors on the headset to charge it. The case adds about five hours of talk time.
The headset lasts about four to five hours of talk time as well. In two weeks, I've never used up the battery. I charged it to 100% the first night. Used it a couple of days putting it back in the case when I didn't need it and then after a week charged the case with the headset in the case. With only two full charges after a week each time, the headset announces that it holds a few hours of talk.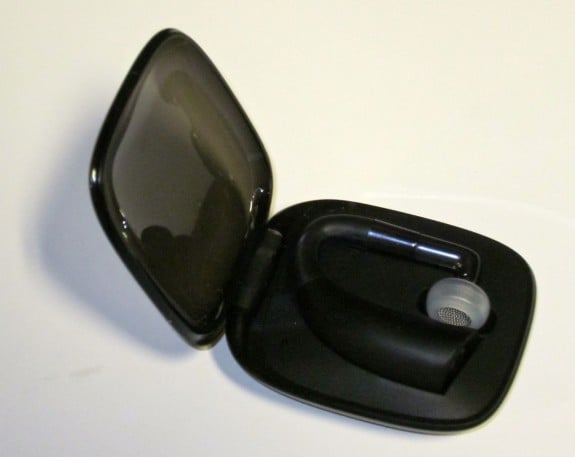 Those who use their headset constantly can get about ten to twelve hours of talk time. It charges in the case in under an hour.
The Motorola Elite Sliver uses two buttons. One, on the bottom of the ear holder, handles calls and interacts with the phone bringing up functions like Siri on the iPhone 4S or S-Voice on my Galaxy S III. It also works with My Moto Speak, a free Android app from Motorola that gives phones a poor man's Siri or S-Voice.
The other button, just above the earbud, called the Smart Button, handles things like changing volume and muting the mic.
The LED indicates battery status, pairing status and call status. A second mic on the device listens for environmental noise to cancel it so it doesn't interfere with conversations.
Sound and Voice Quality
The Motorola Elite Sliver sounds pretty good. This takes me to the second reason for picking the headset – Bluetooth 4.0. The latest Bluetooth technology offers a wider range meaning the headset won't disconnect when I put the phone in my pocket or even lay on my desk and walk across the room. It offers great connectivity for compatible phones. Not every phone uses Bluetooth 4.0, but my Galaxy S III does as does the iPhone 4S our family uses as the family line. My New iPad uses it as well as the Nexus 7 Tablet I just bought.
Clearer sound and longer range makes Bluetooth 4.0 a must for any future phone or headset I buy.
When other people talk to me, they seem to hear me fine. No one asked me to repeat myself more than normal. I asked others how I sounded and every person said I sounded great. They couldn't tell the difference between the headset and using the built-in phone mic on my Galaxy S III.
Value
The Motorola Elite Sliver costs $129.99 retail. Save some money and buy it on Amazon for only $94.88.
At either price, I'm happy to own the Motorola Elite Sliver. It's easily the best Bluetooth headset I've owned.
My wife threw away my Plantronics Voyager HD Pro, also a great headset that made our Best of 2011 list. This one's smaller and feels more comfortable and lasts longer. I like it much better due to sound quality, the useful case and the battery longevity.
I'd like a smaller earbud and I wish the NFC worked with my phone, but those are minor complaints. My wife better not throw this one away!