Motorola i1Q Will Be a Rugged Droid Pro for Sprint Nextel?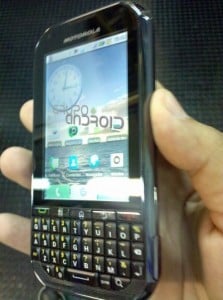 It looks like Motorola may be making deeper pushes into the space led by RIM. After Motorola had released the Motorola Droid Pro (review forthcoming) for Verizon Wireless late last year with a front-facing keyboard and enterprise enhancements targeted at business BlackBerry-toting customers, the company may be releasing a rugged follow-up to Sprint Nextel's iDEN network with push-to-talk in the form of the Motorola i1Q. The company had released a slim, sleek rugged Android smartphone last year in the form of the Motorola i1, which boasted military specs rugged features in a very attractive package, and the i1Q looks to be a worthy successor, melding the ruggedness of the original i1 along with the BlackBerry-centric features of the Droid Pro.
Unlike the Motorola Droid Pro, the Android menu buttons here are physical buttons and not capacitive touch buttons. The Motorola i1Q has a front-facing keyboard along with contiguous keys with beveled edges that will assist in typing. The device is said to be running on Android 2.1 with a version of the MOTO BLUR proprietary user interface overlay on top of Android.
Via: Android Central