Motorola Lapdock 500 Review: Turn Your Phone Into a Laptop
The Motorola Lapdock 500 is a laptop dock for your Motorola smartphone. Connect your Droid 4, Droid RAZR or Droid RAZR MAXX to the Lapdock 500 and you can use a full version of FireFox, access your phone and work on documents on the larger 14 inch display.
One of the best things about this setup is that it uses your phone's 4G LTE connection with no additional charges. So, while you are traveling, you can connect your phone and start working, no fiddling with finicky 4G LTE hotpsots or hunting for WiFi.
Verizon was kind enough to send over a demo unit, which I used for the past few weeks, mainly while out and about, to see if it could replace a laptop. At $300, there is a definite appeal to increasing your productivity without purchasing a cheap $500 laptop. The downside of course is that you cannot use the Lapdock 500 without your phone.
Lapdock 500 Video Review
In the video below I highlight the features of the Lapdock 500 and show it in use with the Droid 4. You can see all the ports and hear more about the performance of the phone, Lapdock combo.
Design
The Lapdock 500 is made of plastic, which makes it look like a cheap laptop, but the good news is that Motorola made it as sturdy as they make their phones, so I have no fears of breaking the Lapdock 500 while taking it on the road.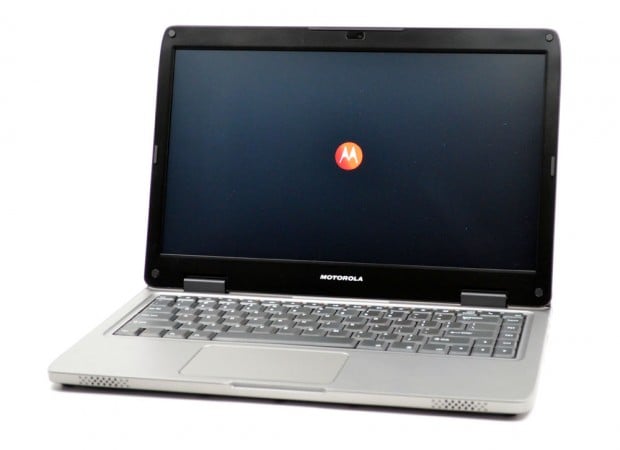 The Lapdock 500 isn't particularly heavy at just 2 pounds, but it is somewhat thick, especially if you compare it to ultraportables like the MacBook Air or Dell XPS 13, both of which have more processing power and components. If you want something light, and can spare the extra space, this notebook alternative is a good travel companion.
The Lapdock 500 has a Kensington lock slot, 2 USB 2.0 ports, an SD card reader, headphone jack, Ethernet and VGA connections.
Display
The Lapdock 500 has a 14 inch display with a 1366 x 768 resolution. Viewing angle are good and the display is well utilized by the webtop software.
It would be nice to see a higher resolution on the 14 inch display, but that may be a limitation of the processing power available from the phone, or a decision to keep the price low.
Keyboard and Touchpad
The keyboard on the Lapdock 500 isn't the chiclet or island style you find on most notebooks these days, but it does offer good travel once you adjust to the layout. That said, I wouldn't want to type on this every day. There were times when the cursor would have to catch up with what I was typing. I didn't lose any words or characters when it lagged, but it made typing fast a challenge.
The touchpad on the Lapdock 500 is large and is very accurate, but it can be slow to move around the 14 inch display and I found that tap to click is not always successful. The two integrated mouse buttons worked great and didn't suffer from the same issues as tap to click.
Webcam and Speakers
The Lapdock 500 has a built-in webcam that works with pretty much any app your front facing camera does. This allows you to use it for a video chat on Google Talk and more. Image quality is good.
The Lapdock 500 has a set of built-in speakers that are louder than the phone, but nothing that blew me away.
Performance and Usability
I could see myself using the Lapdock 500 as a laptop replacement while I was traveling, and it definitely provides more productivity than carrying a phone and a tablet.
That said, I would never want this setup as my permanent workstation. The lag while typing is something I can deal with on the road, but not so much while on your couch or at a desk.
I really enjoy being able ot use all the phone's functionality and apps while connected to the Lapdock. I sent many text messages and responded to notifications with the mouse and keyboard very easily. When I disconnected from the Lapdock, Motorola's Webtop software brought my tabs with me.
Because the phone is present and available, you can use your photos and all the documents you store on it or in the cloud.
Battery Life
The Lapdock 500 has an internal battery rated at 7 hours, which will charge your Droid while docked. During our review I was able to go a full day of use without the need to find a plug.
Bottom Line
The Lapdock 500 isn't a netbook or a laptop, but it is a useful accessory for Motorola phones like the Droid 4, Droid RAZR and RAZR MAXX.
So long as you don't plan to replace your laptop with the Droid 4 and a Lapdock 500, this accessory offers a good value. If you are a fast typer, the lag in keystrokes appearing on the screen will be an issue..
For travelers who want a larger screen, full size keyboard and no extra tethering connection, the Lapdock 500 is a solid accessory at $300.
Gallery

As an Amazon Associate I earn from qualifying purchases.