Motorola MT870 Android Super Phone is Like an Atrix on Steroids for China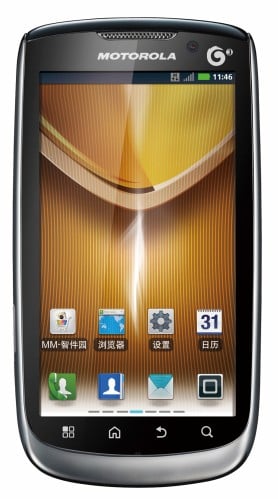 The Motorola MT870 is like an enhanced version of the Motorola Atrix 4G, which was released for AT&T in the U.S. market. The MT870, like the Atrix, runs Android, is powered by a dual-core 1 GHz NVIDIA Tegra 2 CPU, renders pictures and videos beautifully on a qHD high resolution display, and can capture images and videos with front- and rear-facing cameras.
Like the Atrix, this one has a 4-inch qHD display, which slots in nicely between larger 4.3-inch and larger displays found on today's high-end handsets like the Droid Charge and the EVO 3D on Sprint, and smaller 3.7- or 3.8-inch displays like those of the Motorola Droid and some mid-range handsets. The size makes it a bit more portable while giving users a little bit extra room to type on and view content, which is nice for those who want a more compact smartphone.
Also, unlike the Atrix 4G, this handset has an 8-megapixel camera–the Atrix has a 5-megapixel camera–along with a VGA front-facing camera. It has a capacious 1880 mAh battery and will ship with Android 2.3.3, which unfortunately means no Google video chat–that feature requires Android 2.3.4.
The chrome trim around the handset reminds me of a BlackBerry and the handset's got the new version of what appears to be MOTO BLUR, similar to that found on the Droid X2 on Verizon Wireless. This new skin has four buttons on the bottom, rather than the three found on the older BLUR interface.
Expected to cost around $700, this handset is China-only, so kiss your hopes of seeing an 'Atrix plus' handset stateside this time around.
Via: IntoMobile

As an Amazon Associate I earn from qualifying purchases.