Motorola Obake Smartphone Spotted for Verizon
A new and unannounced Motorola Obake smartphone for Verizon Wireless was seen on a leaked benchmark report from AnTuTu. There is little information about the phone available at this time, but the benchmarking score was an 18218 and the device is believed to be running a 1.7 GHz Snapdragon processor with Android 4.2.2 Jelly Bean under the hood. The device was listed as obake_verizon on the benchmarks.
In the past, a Motorola XT1055 was leaked showing similar benchmarking scores and a similar 1.7 GHz processor. This may indicate that Obake may be the XT1055 for Motorola, and that the Obake may be a Verizon-specific variant of the XT1055.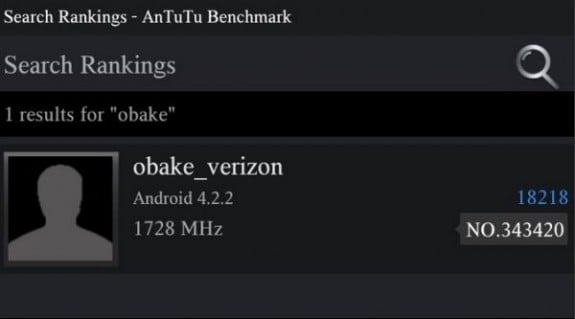 Another Motorola device was leaked with a benchmark score of 15479. That device was believed to be the Motorola X Phone with a 1.5 GHz processor and Android 5.0.1, though it's later speculated that the benchmark was faked and forged.
Currently, there is still a lot of speculations and uncertainty about the phone, but Obake could potentially be code named Motorola Ghost phone that will bear the XT105 model number. According to The Droid Guy, Obake is Japanese for Ghost, which could lend credence to the leaked benchmarks.
Google is expected to announce some Motorola devices this month at its Google I/O conference and potentially Ghost could be that device.
Another possibility for the device, if it won't be part of the X Phone series, would be that this will be a Verizon Droid model. Depending on how Motorola positions the device(s), this model could use a Snapdragon S4 Pro processor and fulfill a more budget-conscious slot or it could utilize a Snapdragon 600 processor and have more competitive flagship specs.
Either way, these are still early rumors and should be taken with caution as benchmark scores and reports could easily be faked. Hopefully, with Google I/O just around the corner and CTIA's industry spring show coming up, we'll begin to hear more about the device from either Google or Verizon Wireless.