Motorola Photon 4G Details, Review & Hands-On Video Roundup
On June 9th, Motorola and Sprint hosted an event in New York City where they introduced Motorola's first WiMax smartphone, the Motorola Photon 4G. The Photon 4G had been rumored to be Sprint's version of the Motorola Droid X2 but as it turns out, the Photon 4G is actually quite different than its relative on Verizon. In fact, the Photon 4G is more like a souped up version of the Motorola Atrix 4G on AT&T.
The Photon 4G is going to be one of Sprint's flagship devices, joining the HTC EVO 3D, when it arrives this summer and it's going to directly appeal to those that do a lot of traveling because the Photon 4G is a world phone and will be capable of working on GSM networks around the globe.
Besides being 4G and global, the Photon 4G also boasts an impressive specification sheet that should excite those who have been looking forward to a Motorola device on Sprint.
What is the Motorola Photon 4G?
The Motorola Photon 4G is a dual-core, world phone from Motorola and Sprint that will run on the U.S. carrier's 4G WiMax network. It sports a large 4.3-inch touchscreen with qHD (Quarter High Definition) display – the Atrix 4G has a 4-inch screen – and is powered by a dual-core NVIDIA Tegra 2 processor. It also possesses 1GB of RAM and will run Android 2.3 Gingerbread out of the box. The Atrix 4G runs Android 2.2 Froyo.
It also has dual cameras for those that enjoy taking pictures with their phone. On the front, we have a VGA camera for things like video chat and in the rear, an 8MP shooter that has dual-LED flash.
Like the Atrix 4G, the Photon 4G will also be compatible with the Motorola accessory dock which turns the smartphone into a laptop hybrid.
Motorola Photon 4G Release Date
Motorola and Sprint were unfortunately coy about a specific release date only to say that the Motorola Photon 4G would be out at some point during the summer of 2011. Not surprising, considering Sprint is launching another flagship phone, the HTC EVO 3D, on June 24th. So, look for the Photon 4G to hit shelves sometime in July or August.
Update: It's rolling out July 31st.
Motorola Photon 4G Hands-On Video
A hands-on video with the Motorola Photon 4G courtesy of ThisIsMyNext. We are unfortunately couldn't make it all the way to New York.
Motorola Photon 4G Features
Tegra 2 Dual-Core Processor: The Tegra 2 dual-core processor has finally come to Sprint and along with the WiMax connectivity, makes the Photon 4G a device to be reckoned with.
World Phone: Because the Photon 4G is a global device, it will allow you to access emails, calendars and news around the world.
High-Resolution Display: The Motorola Photon 4G rocks a 4.3 qHD display which means that it has a screen resolution of 960×540 screen resolution. It's extremely crisp and is a big step up from the displays that most phone owners are accustomed to.
3G/4G Mobile Hotspot Capabilities: The Photon 4G's mobile hotspot supports up to eight devices on the Sprint 3G or 4G networks and one while roaming internationally on GSM.
Motorola Photon 4G Pricing
Like the release date, the pricing on the Motorola Photon 4G remains a mystery. However, we don't expect it to cost any different than the HTC EVO 3D which is currently available at most places for $199 on a two year contract. In other words, $199 for the Photon 4G seems very probable.
Motorola Photon 4G vs HTC EVO 3D
Sprint is releasing two flagship smartphones this summer and that means many people will have a tough choice on their hands. Motorola Photon 4G or HTC EVO 3D? Well, there are some key differences between the two that we'll point out that might make your decision a little bit easier.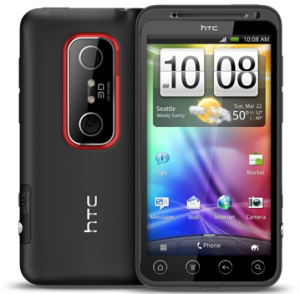 First, the EVO 3D as you can tell by its name, has a display that is capable of  showing 3D content. It can also shoot 3D video. The Photon 4G on the other hand cannot do either. If you're a fan of 3D or just want to have it handy, the EVO 3D wins here.
Second, and we're going to hammer this home, the Photon 4G is a world phone. You can travel with it and it will work internationally as long as there is a GSM network to be found. The HTC EVO 3D does not possess this feature. So, if you travel for pleasure or business, it might be worth snagging the Photon 4G.
Next, the EVO 3D has HTC Sense 3.0 while the Photon 4G will have the new MotoBlur over the top of Android. This is really up to your personal preference as both offer some neat abilities although we should point out that most people like Sense over MotoBlur.
Last, the bootloader on the HTC EVO 3D will be unlocked by a software update in the future. And while we had believe that the Photon 4G's bootloader would be unlocked at launch, that's not the case. The Photon 4G's bootloader will be unlocked later on this year if Sprint approves it. No guarantees.
Motorola Photon 4G Hands-On, Review Videos
An official video from Sprint showing off the specifications of the Motorola Photon 4G.
—

An extensive look at the Motorola Photon 4G courtesy of BWOne.
—
A demo of the Photon 4G docked in the multimedia docking station from UnwiredView.
Motorola Photon 4G Specs
| | |
| --- | --- |
| Networks: | GSM 850, 900, 1900, WiMax 802.16e |
| Operating system: | Android 2.3 with New MotoBlur |
| Display: | 4.3-inch qHD display (540 x 960) |
| Camera: | 8MP rear camera with dual-LED flash, 1.3MP front facing camera |
| Memory: | 1GB RAM, 16GB of internal storage |
| WLAN: | 802.11b, 802.11g, 802.11n Wi-Fi |
| Bluetooth: | Yes |
| GPS: | Yes |
| Battery: | 1700 mAh LiIon battery |
| Special features: | World Phone, Speedy Processor/High-Res Display, WiMax 4G, Kickstand |
| Chipset: | NVIDIA Tegra 2 dual-core processor |
Motorola Photon 4G Gallery

As an Amazon Associate I earn from qualifying purchases.