Motorola Pro+ Set to Target BlackBerry Users in Europe and Asia in October
Remember the Motorola Droid Pro? You know, one of Motorola's Droid phones that is still waiting for its official upgrade to Android 2.3 Gingerbread here in the United States? Well, it never launched outside the United States but all of that has changed today as Motorola has announced that the Motorola PRO+ will be headed to Asia and Europe at some point in October.
For those unfamiliar, Motorola's Pro line is aimed at those who love BlackBerry devices. Don't believe me? Have a look at that full QWERTY keyboard right there. Very BlackBerry-esque wouldn't you say?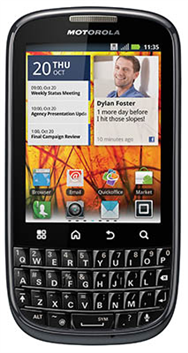 It seems Motorola has followed RIM in the spec department as well as the Motorola PRO+ doesn't have anything spectacular on board. It has a single-core 1GHz processor, 512MB of RAM, 1600mAh battery, 5MP rear camera with flash, 4GB of internal stores, and Android 2.3 Gingerbread on board.
Of course, it's not aimed at enthusiasts though, It's aimed at business-types who love the BlackBerry keyboard.
No pricing was announced but that will likely become available closer to launch next month.

As an Amazon Associate I earn from qualifying purchases.