Motorola RAZR HD Shows Itself in China
After two versions of the new RAZR, Motorola is planning another iteration of the same phone, this time with an HD display and Ice Cream Sandwich.
According to Android Community, the blurry image below is the Droid RAZR HD with a China Mobile logo imprinted on it. Despite the shaky cam used, the screen clearly shows that the phone is running Android 4.0.3 Ice Cream Sandwich. The phone has a 4-inch 720p display and the virtual buttons of Ice Cream Sandwich, like the Galaxy Nexus.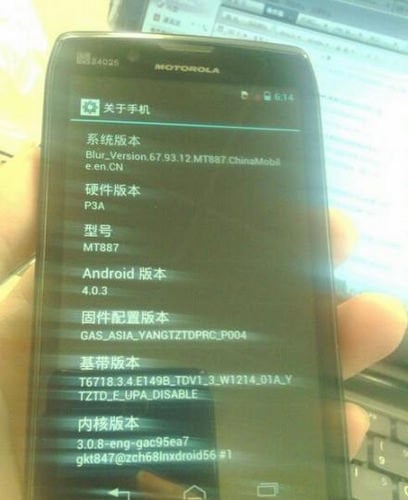 Aside from ICS, the 720p display, and the virtual buttons, the RAZR HD is just like the two previous RAZR phones we've seen on Verizon. It has the same 1.2GHz dual-core CPU as the Droid RAZR, same RAM, and same 8MP rear-facing camera. It's not clear, but the phone might also have the same battery as the RAZR MAXX.
While the RAZR HD is likely heading to China Mobile, it's probable that the U.S. will never receive the phone. U.S. users will instead see the Droid Fighter, which is very similar to this phone aside from a few differences.
The Droid Fighter looks similar based on images we've seen, but has a 4.6-inch display instead of a 4-inch display. It's also rumored to have a front-facing camera for video chat, and  a RAZR MAXX-sized battery. It will still have the same CPU, however.
The Droid Fighter has already blown past a few rumored release dates, and we still haven't heard any word from Verizon regarding the phone. Between it and the HTC Droid Incredible 4G LTE, Verizon has a few new Droid phones up its sleeve that it isn't talking about yet. Hopefully we'll see some announcements soon.

As an Amazon Associate I earn from qualifying purchases.