Motorola RAZR i: A Droid RAZR M with Intel Atom
Motorola has finally taken off the wraps of its Intel-powered Motorola RAZR i smartphone, which uses the same edge-to-edge glass design as the recently announced Motorola Droid RAZR M for Verizon Wireless, but swaps Qualcomm's dual-core Snapdragon S4 Plus chip for a single-core 2 GHz Intel Atom processor.
Earlier this year at the Consumer Electronics Show, Motorola had announced that it would be partnering with Intel to release multiple phones with Intel's mobile x86 processors inside. The Droid RAZR i is the first of those efforts. Since that announcement, Motorola Mobility had been acquired by Google and given Google's and Intel's partnership in the past to make Android work on x86, the announcement of the RAZR i comes as little surprise.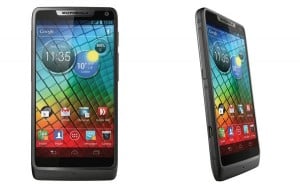 Other than the swap to Intel, many of the specs on the inside and outside remain the same. The phone will launch with Android 4.0 Ice Cream Sandwich and is upgradeable to Jelly Bean at a later date. The RAZR i will come with a nano coating to make it splash-proof, a durable Gorilla Glass screen, and Kevlar backing like the Droid RAZR M.
In early hands-on previews, we've heard from various media outlets that the smartphone performs admirably well. We'll have to wait to find out how well the phone handles compared to dual-core ARM architectures like the S4 on the Droid RAZR M, or even compared to newer quad-core ARM CPUs, like Samsung's Exynos CPU.
For now, the phone will be limited to a few European and Latin American markets. Customers in the UK, France, Germany, Argentina, Brazil, and Mexico will be able to get their 'Intel Inside' RAZR i in either black or a white color option.