Motorola Reassures Us That The Motorola Droid Bionic Is Coming This Summer
In case the confirmation earlier today wasn't enough, Motorola has taken to Twitter to soothe worried consumers about the Motorola Droid Bionic. In a bunch of responses, Motorola's official Twitter account has confirmed that yes, the Droid Bionic will be arriving this summer with more details to follow.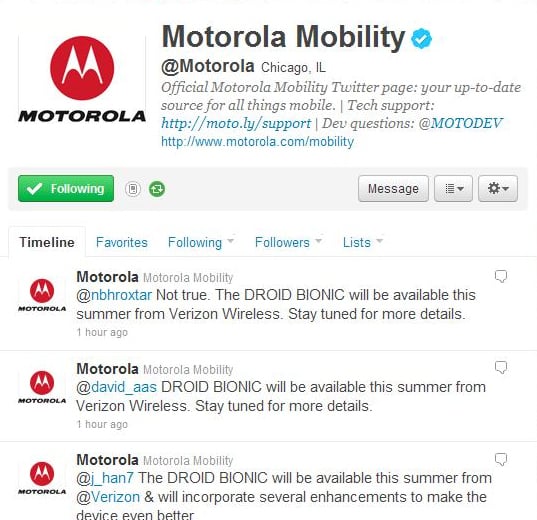 This should put to rest any fears that people had about a phone called the Droid Bionic getting canceled and seems to mean that a phone called the Droid Bionic will indeed launch at some point in the next couple of months.
Motorola again confirmed that the device will be rolling out with "several enhancements" that will apparently make the device even better. Those enhancements? Well, those remain a complete and utter mystery.
It's looking like there is a distinct possibility that the Motorola Targa could be taking the over the Droid Bionic's moniker but as of right now, it's too early to tell.
The company's confirmations through Twitter come after it released a statement saying that it the device would be delayed past its scheduled Q2 release date.
(Via Droid-Life)

This article may contain affiliate links. Click here for more details.