Motorola Rumored to Launch Rugged Enterprise Android Tablet
After having launched the world's first Android 3.0 Honeycomb consumer tablet, Motorola is gearing up to tackle the enterprise space with a rugged tablet running the Android operating system and a complementing stylus for signature capture, similar to the HTC Flyer, which is getting branded as the HTC EVO View 4G for Sprint's wireless network.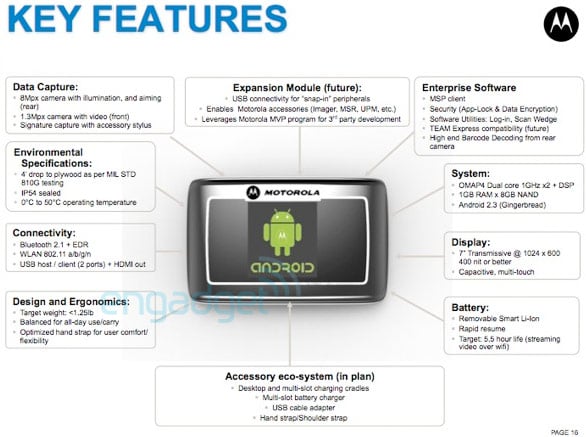 Unlike the Motorola Xoom, however, this rugged tablet will be sporting Android 2.3, also known as Gingerbread, rather than the newer tablet-optimized Android 3.0 OS. The device will complement Motorola's line of rugged smartphones running the Android operating system, including the Sprint Nextel Motorola i1 and the T-Mobile Motorola Defy.
Like the HTC Flyer, the rugged Moto tab will be a 7-inch slate; additionally, the Motorola tablet will be able to handle more extreme temperatures, dust, weather, and a four-foot drop.
After having launched the Motorola Atrix smartphone and the Xoom tablet using NVIDIA's dual-core Tegra 2 processor, Motorola may be going back to its roots by utilizing Texas Instruments' chipset in the rugged tablet. Motorola had originally used a TI OMAP chipset in the launch of the original Motorola Droid on Verizon Wireless and its adoption of Tegra 2 for the Atrix, Xoom, and the Droid Bionic with Tegra 2 was seen as an uncharacteristic departure. With the rugged 7-inch slate, Motorola will now go full circle with a dual-core Texas Instruments processor, perhaps the same variety that's being used currently in the BlackBerry PlayBook tablet, which is also aimed at the enterprise space and also with a 7-inch display.
In addition to the signature capture capabilities–the tablet will come with a stylus similar to the HTC Flyer–there will be an 8-megapixel camera with lighting in a move to capture barcodes and perhaps use as a scanner for enterprise documentation.
According to Engadget, the company won't begin testing the tablet until October this year, so a release may not happen until late this year or in 2012.
Motorola has been more aggressive in pursuing the enterprise space than rival Android smartphone-makers. It had launched the Motorola Droid Pro with a BlackBerry-esque design and focused on enterprise-driven features to appeal to corporate users and IT managers. The rugged tablet will probably continue to expand Motorola's software and OS customizations to cater to this space.

As an Amazon Associate I earn from qualifying purchases.