Motorola, Sprint Hosting Event on June 9th; Photon 4G Launching?
Motorola and Sprint have begun sending out invitations for a press event that the companies will be hosting on June 9th in New York City. And while the contents of the event are unknown, we suspect that it might have something to do with the newly rumored Motorola Photon 4G.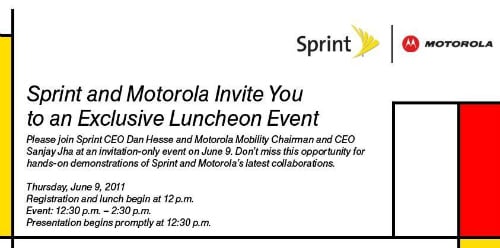 While the invitations don't say anything specific other than beckoning press to a luncheon and some hands-on demonstrations, there is a possibility that the companies have a lot more up their sleeve than demos and food.
Just yesterday, it become apparent that Sprint might be launching a phone called the Motorola Photon 4G, a device that will apparently be the same device as the Motorola Droid X2.
If true, there is a possibility that on June 9th we could see a WiMax flavored Droid X2 hit Sprint, a device that is bound to be an exciting one for Sprint customers who have never been able to buy a top of the line Motorola phone due to exclusivity rights.
Of course, the event could also just be a nice little get together but the fact that both Sprint CEO Dan Hesse and Motorola Mobility CEO and Chariman Sanjay Jha will be there has us thinking it will be much bigger than that.

As an Amazon Associate I earn from qualifying purchases.