Motorola to Launch Major MOTOACTV Update on March 7
A major new software update will be coming to Motorola's fitness-centric Android smart watch come this March 7th that will bring a host of new features. The software will allow users to track more types of workouts and make the watch more intuitive to use for first-time users out of the box.
According to a blog post on Motorola's own site, the update will bring:
Coming March 7 – via a free software update, you'll be able to track your performance across over 40 new activities including yoga, Pilates, dancing and martial arts—and monitor your data online.

You'll also be able to activate your display with a flick of the wrist, set up Wi-Fi directly on your device, and host your own competitions at the MOTOACTV Training Portal.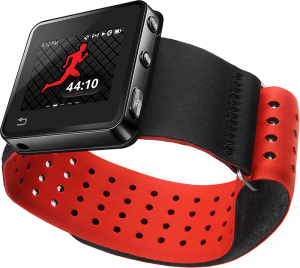 Motorola had initially debuted the MOTOACTV smart watch with its water-repellant qualities when the company had introduced the Motorola Droid RAZR smartphone at a press event. The watch, which is intended to be used in conjunction with Motorola's smartphones, like the Droid RAZR or Droid RAZR MAXX, will allow users to also view their smartphone's notifications–like calls, and text messages–on the watch's display without having to pull out their phones. The phone and watch are paired together over Bluetooth.
The watch itself can be used as a standalone product as well, with the ability to track runs and other workout routines with the GPS sensor directly embedded on the watch. With 8 GB or 16 GB of capacity, the MOTOACTV can also store songs and MP3s and will track which songs will push you the hardest during a workout.
Most recently, the MOTOACTV watch was hacked to dual-boot the smart watch interface or a full version of the Android Honeycomb OS, which extends more apps and utility to the watch as a diminutive wrist tablet.
The concept is similar to Apple's iPod Nano watch, and since the MOTOACTV had launched, other companies are looking at the space as well, including Sony and WiMM.