Motorola Triumph Details, Review & Hands-On Video Roundup
The Motorola Photon 4G wasn't the only smartphone announced at an event in New York at the beginning of June. In fact, Motorola also announced a new, fairly high-end smartphone for Virgin Mobile called the Motorola Triumph that the company said would be hitting shelves at some point in July of this year.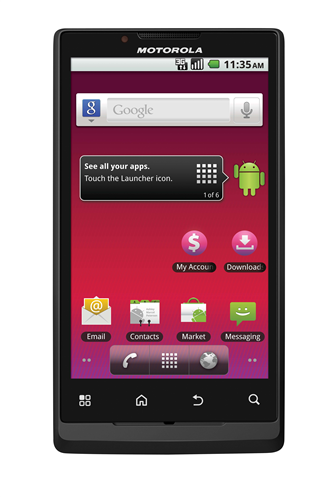 The Triumph looks like an extremely capable device and the Virgin Mobile faithful have been buzzing about it ever since the announcement. As they should. The Triumph is an extremely thin, 3G Android device that will be coming to the market without the need for a contract. And while we know the specifications of the device, there still are a few mysteries about a device that is shaping up to be one of, if not the best smartphone to Virgin in quite some time.
Let's have a look at it.
What is the Motorola Triumph?
The Motorola Triumph is an Android 2.2 Froyo powered smartphone that will employ a spacious 4.1-inch display with 800×480 WVGA screen resolution, a perfect size for those that don't feel comfortable with 4.3-inch displays and want it a tad bit smaller.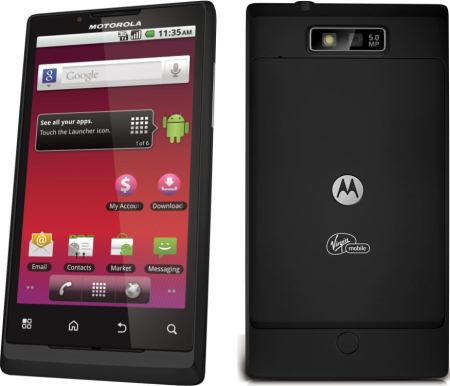 Virgin Mobile's Motorola device is also going to come equipped with a 1GHz single-core Snapdragon processor, a 5MP rear facing camera and a VGA front facing cam for video chat, 720p playback and video capture, a 1400 mAh battery, 512MB RAM, and 2GB of on board storage with microSD card slot in case you need more space to put stuff.
The nice thing about the Triumph is that it manages to fit all of this into an extremely thin design with its thinnest point measuring a mere .4 inches.
Motorola Triumph Release Date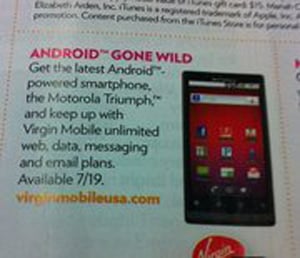 Motorola and Virgin Mobile failed to give us a concrete date at the launch event only saying that the device would be out sometime in July. Well, since then, evidence has surfaced indicating that the Triumph is on a crash course with July 19th. So, it's pretty safe to assume that it will be out somewhere around in and around that Friday.
Motorola Triumph Hands-On Video
—
Brief hands-on video of the Motorola Triumph from the New York event courtesy of ThisIsMyNext.
Motorola Triumph Features
Extremely Thin Form Factor: Again, at it's thinnest point, the Motorola Triumph is a mere .4 inches thick.
HDMI-Out: The Motorola Triumph comes with an HDMI port so you can hook it up to watch content from your phone on a bigger screen, say, on a TV.
Pre-Paid Smartphone: Dislike contracts? Well, then this is probably the phone you want to take a look at. The Triumph is a pre-paid phone and it's likely going to be one of the best on the market.
Motorola Triumph Pricing
Unfortunately, the release date leak didn't reveal anything about the pricing. If we had to guess, we'd say anywhere from $250-$400. If it's at $250, expect it to sell extremely, extremely well. Keep those fingers crossed that Virgin offers it for $200 or so.
Motorola Triumph Hands-On, Review Video
A lengthy hands on video from PhoneDog giving you a look at one of the most exciting pre-paid Android phones.
—
A look at the Triumph's HDMI-out capabilities from LaptopMag.
—
Motorola Triumph Specs
| | |
| --- | --- |
| Networks: | CDMA 1900 |
| Operating system: | Android 2.2 Froyo |
| Display: | 4.1-inch display (480×800 resolution) |
| Camera: | 5MP rear camera with 720p video capture, VGA front facing camera |
| Memory: | 512MB RAM |
| WLAN: | 802.11b, 802.11g, 802.11n Wi-Fi – Likely |
| Bluetooth: | Bluetooth 2.1 |
| GPS: | A-GPS, S-GPS |
| Battery: | 1400 mAH battery |
| Special features: | Pre-Paid, spacious screen, HDMI out, thin design |
| Chipset: | 1GHz single-core snapdragon processor |
Motorola Triumph Gallery

As an Amazon Associate I earn from qualifying purchases.